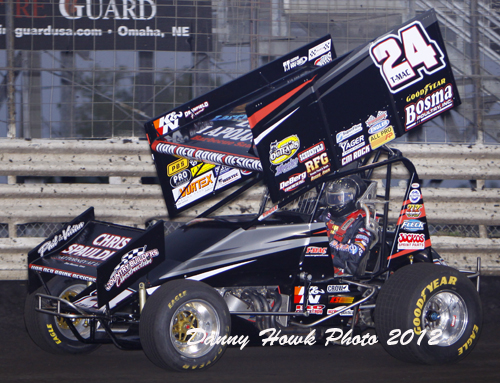 By Bill W
May 15, 2012 – Terry McCarl registered a pair of podium finishes last weekend at Knoxville Raceway and Huset's Speedway. This weekend, he'll return to the venues and hopes to improve on his third and second place finishes, respectively. The Altoona, Iowa driver rides aboard the TMAC Motorsports #24.
Saturday night at Knoxville, TMAC was last out to qualify and registered the sixth quick time of the night. "I don't think going out last really hurt us," he says. "The motor ran good. We weren't too far off I guess."
He worked his way from fifth to second in his heat. "In the heat race, I tried a little different setup than usual," says TMAC. "We were really fast in that. We started third row in, and I thought we had a shot at winning it. We got up beside the leader, and I got in a little bad air with about a lap to go."
The main event would see TMAC starting outside of row two. "We were confident going in," he says. "The motor was running good. We just had a horrible start in the feature. (Mark) Dobmeier and someone else got us. We didn't have the momentum going."
Slowly TMAC worked his way forward. He entered a three-way battle for the lead. "As it was, the car and motor were awesome," he says. "I just started picking them off one by one coming up through there. If it didn't lay rubber towards the end, I think we may have had a shot. I came up on a lapped car and I wasn't paying attention. Brian (Brown) got by us, and when the rubber went down it was tough to pass."
The feature couldn't have been more entertaining and TMAC finished third behind Davey Heskin and Brown. "I remember thinking going into turn three…it was Brian and I and three lapped cars together," he says. "It was a big time chess game. That's what I like. I knew if I was liking it, the fans were too. It would have been nice to run the whole thing under the green flag."
Sunday night at Huset's near Brandon, South Dakota, TMAC registered quick time of the night. "Getting quick time doesn't pay anything, but it sure makes you feel good!" he says. "I don't know who draws but it was ten invert for the feature. It was fun. We have a great time."
After finishing fifth in his heat, he lined up outside of row five for the main event. "It started laying rubber in the 360 feature," says TMAC of the track conditions. "It was difficult at that point. We slowly picked them off here and there. We were fourth with four to go. The guys in front of us had some tire problems and we were able to get by a couple of them on the restart."
The six-time Huset's Speedway champion would finish in the runner-up spot. "We were happy to run second," says TMAC. "It was good to see Jody Rosenboom win a feature too."
The team found some good speed and looks forward to a win this weekend. "All in all, it was a good weekend for us," says TMAC. "We were capable of winning both races. We didn't quite get it done, but we were in the game. We just didn't quite win them. We're looking forward to winning one."
To check out opportunities to partner with TMAC Motorsports on a nightly basis, visit www.TerryMcCarl.com or call 515 957-0020!
Websites for the McCarl Gang!
Driverwebsites.com develops the websites for the McCarl boys. Check out www.TerryMcCarl.com, as well as www.AustinMcCarl.com and www.CarsonMcCarl.com!
In"Terry"gation
Dale Atkinson asks: What kind of setup changes have you had to make with the Goodyear tires the last couple of years?
TMAC Answers: That is a good question! I haven't figured that out yet. They are not good. You can't hook up your racecar when it is slick. You can almost put the same tires on for qualifying and never change them. It doesn't really make a difference. It's difficult.
Got a question for TMAC? Send it to us at sprntcar@iowatelecom.net , and we may answer it in this section! Put "? for TMAC" in your subject line.
This Month in TMAC History!
May 20, 2006 was a painful date in history for TMAC. He suffered a serious broken leg after crossing the line 7th at Sharon Speedway (OH), and had to sit out a good share of the next month. Though he was in serious pain, he returned to action on June 18, and won from the tail of the field at Huset's Speedway, topping Larry Ball Jr., Dusty Zomer, Jake Peters and Gary DeWall! He returned to WoO action on June 30, finishing third at 81 Speedway in Wichita, Kansas.
"Tuesdays with TMAC"!
"Tuesdays with TMAC" is an up close and personal look at colorful sprint car veteran Terry McCarl. To receive "Tuesdays with TMAC", send an e-mail to sprntcar@iowatelecom.net with "TMAC" in the subject line.
TMAC Motorsports would like to thank sponsors "Lord I Apologize BBQ Sauce", Deanfield Farms, Bosma Poultry, Eagle Chassis, DeBerg Concrete, AmeriCashAdvance.com, RFG, Phil and Vivian, Ryan Yager Trucking, 212 The Boiling Point Bar & Grill, Vortex Racing, Hoosier Tire, Chris Spaulding – Attorney at Law, Schoenfeld Headers, K&N Filters, Don Ott Engines, HRP, All Pro Cylinder Heads, Bob and Beulah Elder, Country Builders Construction, Engler Injection, Superflow Technologies, T&P Brothers, Larry Fleck Trucking, Winters, DriverWebsites.com, CM Rock, Jocko's Sprint Parts, Sander, Brown and Miller, Chase Graphics, Pro Shocks, Ben Cook, Bell Helmets, Burnett's Rock and Landscaping, Fatheadz Eyewear, Morgan Strawberry Farms, Bulldog Pest Control, Aurora Rod Ends, Crow Safety, Justice Brothers, KSE Steering, Strange Performance, Saldana Racing Products, Scribner Plastics, Waterman Fuel Pumps, Weiland Racing, Butlerbuilt, PBS Bushings.
DSC_2066