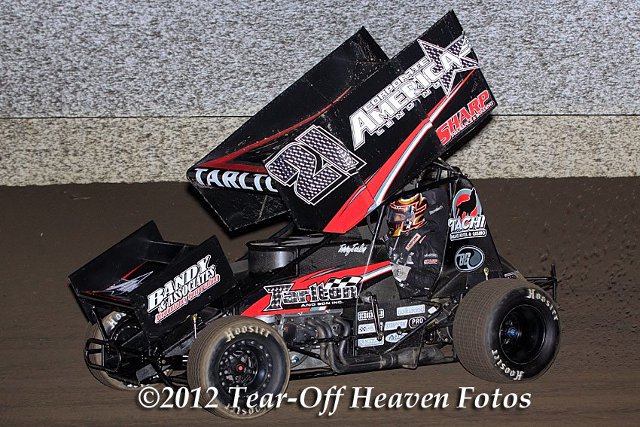 PETERSEN MEDIA
– The last time Tommy Tarlton raced at the Ocean-Watsonville Speedway he was passed on the last corner of the last lap while leading; fast forward to his 2012 debut at the facility and Tarlton wired the field and picked up the top prize.
"It left a bitter taste in our mouth," said Tarlton in regards to the season finale at the track. "It is great to come back here and put on a great show, and grab the win."
With 24 cars checked into the pits for the ultra competitive Taco Bravo series race, Tarlton timed his Corporate Lending America/Tachi Palace and Casino/Sharp Insurance machine in ninth fastest.
Winning the third heat put 'The Terminator' on the pole for the feature, and that was bad news for the rest of the field.
"Paul Baines and my guys gave me a great car all night, and I knew we would be pretty tough to beat starting on the pole," he continued. "I knew traffic would be an issue and just reminded myself to hit my marks"
As the feature got underway, Tarlton rocketed out to an early lead with Shane Golobic on his tail, but the field would slow on the third lap as the caution waved.
Back underway, Tarlton continued to lead the way aboard his Bandy and Associates/Pro Signs/BG Lubricants machine as Golobic began pressuring the Easton, CA driver, but the caution again waved on the 10th lap, bunching the field back together.
Tarlton would endure two more yellows throughout the event, but they wouldn't deter him as he went on to pick up his second win of the 2012 season, and his fourth straight top four finish since returning from a two week hiatus.
"This thing was bad fast all night," said Tarlton. "The yellows helped calm me down in the thick of traffic, but fortunately we had great restarts and kept everyone behind us. I have to thank all of my sponsors who make this possible because they truly help make this possible."
Tommy would like to thank Corporate Lending America, Tachi Palace and Casino, Sharp Insurance, Bandy and Associates, Pro Signs, BG Lubricants, and Astro Titanium for their continued support.
VIDEO: Check out some behind the scenes action as well as some of the racing action from Tommy's opening night of action at the Marysville Raceway Park at http://vimeo.com/37919846
STAY CONNECTED: Stay connected with Tommy by visiting www.tommytarlton.com or follow @Tarlton_Racing on Twitter.