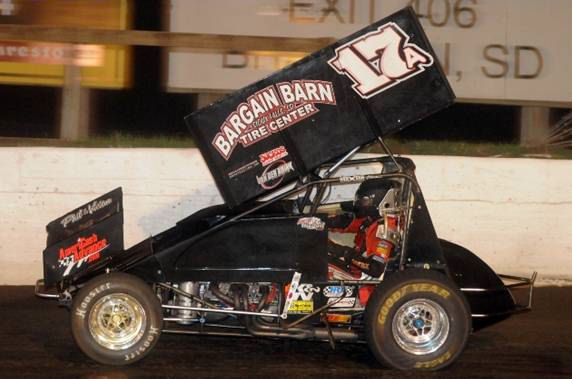 By Bill W
May 22, 2012 – Austin McCarl was able to get a little more seat time last weekend with two big shows. On Friday night, he finished eighth at the Rapid Speedway in Rock Rapids, Iowa before a strong third place finish at Huset's Speedway near Brandon, South Dakota on Sunday night. The South Dakota bullring hosts a pair of events this Memorial Day weekend.
Friday night's 410 special at Rapid Speedway is the first of two for the 3/8-mile oval. "I hadn't been there in a couple of years," says Austin. "It was good to go back, because that's where I got my first win. Last year, we didn't go because of weather."
Rubber-down conditions greeted competitors. The weather had much to do with that. "Unfortunately, the racetrack wasn't good, but there wasn't much we could do," says Austin. "Mother Nature had hurricane force winds which are never good."
Austin finished fourth in his heat race, just ahead of his father, Terry. "The heat was kind of hairy," he says. "My Dad and I, and I can't remember who it was, were going three-wide down the backstretch for the transfer spot. It was kind of nuts. In eight laps, the racetrack changed a lot."
The Altoona, Iowa driver started in row five and finished eighth in the main event. "It ended up being a good race," he says. "Being my second race, I was still getting the mental edge back. It was fun to be back. I didn't get the result I necessarily wanted, but it was a good stepping stone to getting back."
Austin would time in fifth quick at Huset's on Sunday night. He would drive to third in his heat. "We qualified better than the first week," he says. "I turned a pretty good lap. I got beat by some good guys in the heat. We learned some things and tried some things."
Austin would start the feature inside row three. "The track was heavy," he says. "Unfortunately, the invert was four and we qualified fifth putting us in the third row. I went down in three and four on the second lap and about crashed really bad. Thank goodness the yellow came out for (Gregg) Bakker and (Mark) Dobmeier. That gave me a chance to reevaluate."
Austin showed the form that grabbed him two wins at Huset's last year. "We were able to get by (Jody) Rosenboom and raced with Lynton (Jeffrey) for a few laps," he says. "By the time I got to third, Dad and (Ian) Madsen were gone. I just started hitting my marks, and ran them down with no yellows."
A bid for the lead was next. "Madsen did a 360 and I got by him," says Austin. "Then I ran down my Dad and thought I was going to get a shot at the lead. Unfortunately, a lapped car kind of cost me too much time. Madsen was able to get around us again."
The third place finish was a good omen going into this weekend. "After the race, I've never been so pumped up," says Austin. "I hadn't had that much fun in a long time. It's fun to be back."
Visit Austin on the Web!
Keep up to date on Austin's exploits and check out the new look at www.AustinMcCarl.com!
Austin's Releases
If you'd like to be included via e-mail, shoot one to sprntcar@hotmail.com with "Austin" in the subject line.
Austin would like to thank Bargain Barn Tire Center of Sioux Falls, AmeriCashAdvance.com, Rossie Feed and Grain, DeBerg Concrete, Sweeter Construction, Deanfield Farms, Phil and Vivian, Bosma Poultry, Vortex, Kosama of Altoona, Chris Spaulding-Attorney at Law, CM Rock, 212 Bar & Grill, Maxim Chassis, Van Der Brink Designs, Engler, HRP, Aurora Rod Ends, Butlerbuilt, KSE, Hoosier Tire, BRMS, K&N Filters, Sander, Jocko's Sprint Parts, Crow Safety and Bell Helmets for all their help!
DSC_6745