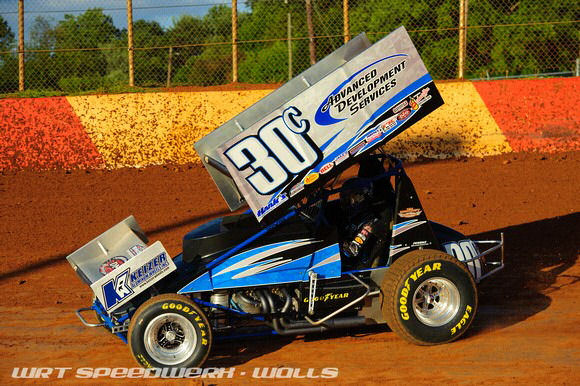 PETERSEN MEDIA
Fresh off of his 80th career win at the Williams Grove Speedway last weekend, Lance Dewease went into the annual Keystone Cup with the utmost confidence, and when the dust settled he was fourth in the standings with three top-ten finishes in the three races.
What was supposed to be five races in five nights was shortened to three races in three nights, as Mother Nature played her part in the annual speedweek
Wednesday night was slated to kick things off at Grandview, but relentless showers forced officials to cancel the show, moving the opening night of Keystone Cup to Port Royal.
During Thursday night's event, Dewease was fast as soon as the Viper Risk Management/Wings Unlimited/Hank's Performance Parts No. 30c unloaded out of the trailer.
Racing his way into second, Dewease looked to track down Gregg Hodnett who had set a torrid pace early in the feature.
As the leaders hit traffic around the midway point, Dewease dramatically closed in on Hodnett, but the yellow came out haulting progress.
With 12 to go, Hodnett restarted with a clear track in front of him, but Dewease kept within striking distance, and with one to go, Dewease pulled up alongside Hodnett but couldn't take the lead and wound up second.
"We were fast all night," said Dewease. "We had a shot at Gregg right at the end, but unfortunately he got the better of us, and were standing here in second."
Friday it was time for the ultra competitive PA Posse to hit the Williams Grove Speedway, the track where Dewease is the reigning track champion.
A bad time trial effort for Dewease put his Schaeffer Racing Oils, Penske Shocks/FK Rod Ends machine at the back of the feature, as he started in the 17th spot.
Starting deep in the stacked field, Dewease made the most of it, as he was able to rip around the historic speedway as he salvaged a fourth place finish.
"We had a great car at the Grove, but unfortunately we didn't time in well, and we were forced to start in the back," LD continued.
Saturday night would ultimately be the final night of the Keystone Cup as they took to the Lincoln Speedway.
Things looked to be going in Dewease's favor as he started on the front row of the feature, but when the race went green, that was not the case.
Getting underway at Lincoln, Dewease simply went backwards. Over the duration of the event, Dewease couldn't seem to get going, as he fell back to the seventh spot as the race concluded.
"We just missed it in the feature, and struggled," he said. "When you start up front with these guys you have to capitalize and not squander it away, and we did that tonight."
Sunday the scene was supposed to be in Selinsgrove, but Mother Nature again had her way and took the win, ending the speedweek, and Dewease sat fourth overall.
"It's kind of a bummer we got rained out twice this week, because this is such a fun and competitive week," Dewease remarked. "We had a pretty good car in all three races, but really shot ourselves in the foot at Lincoln."
Dewease would like to thank Viper Risk Management Group, Wings Unlimited,
Hank's Performance Products, Schaeffer Racing Oils,
Penske Racing Shock,s
FK Rodends,
Keizer Aluminum Wheels,
DMI Racing Components,
Astro Titanium,
Morrison Racing Engines,
Tom Shockey Collision, Kirkey Seats, FW Graphics,
WRT Web Designs,
WRT SpeedWerx, ViperVenom Fuels, and Schoenfeld Headers for their continued support.
ON TAP: Lance and his team are now set for another triple-header weekend as they will be in action Friday night at the Williams Grove Speedway before heading to either Lincoln or Port Royal on Saturday and ending the weekend at Bedford on Sunday.
STAY CONNECTED: Stay up to speed with Lance by visiting his website, www.lancedewease.com.