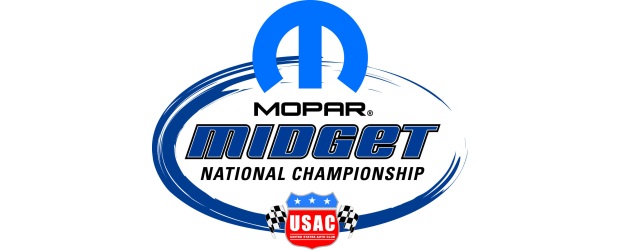 From USAC
Clermont, Indiana…….With just a few laps to go in Saturday's 67th "Night Before the 500" Mopar National Midget race, it appeared as though Kyle Larson would hold on for his second straight series win at Lucas Oil Raceway. Tracy Hines had other ideas, however. With a last-ditch surge, the veteran from New Castle, Indiana claimed the top spot exiting turn four on the 50th and final lap to capture his 30th career National Midget victory in breath-taking fashion. A huge crowd saluted the 40-year old as he climbed from the Parker Machinery – Turbines, Inc. #24 Spike/Stanton Toyota.
"I didn't mean to take that long, but I was trying to save my stuff as much as possible throughout the race and adjust on it when I could. I knew a long race, I had to save tires and it showed there towards the end. I found my little sweet spot in the track, stuff I've learned over the years here," an excited Hines said from the victory stage.
Larson, who set quick time after pacing the day's practice sessions, tracked down early leader Darren Hagen to claim the point on lap 16, but the pace slowed shortly after when a hard-charging Kyle Hamilton laid down oil that led to a stack-up in turns three and four.
From there, it appeared the Elk Grove, California driver would go untouched, as he held a comfortable lead for most of the remainder of the race. With laps winding down, Hines' car finally came around to his liking, and his march seemed more and more possible with every lap. As Hines reeled in Hagen for the second spot, the duo was creeping closer to the leader.
It took Hines every last corner to make it happen, as he dove to the inside of Larson in turn-three and swept to the bottom of turn four to get to the checkered. Larson saw his lead that had lasted 34 laps turn into a heart-breaking second-place finish aboard the Keith Kunz Motorsports – Toyota TRD #71 Beast/Speedway Toyota.
"I started getting pretty loose there at the end. I was just trying to keep my tires under me, but I knew Tracy would be coming. I just came up a little bit short. There were some things I could have done differently. I'm definitely not happy, this one hurts, but we ran well and just have to take something from it for next year," an obviously dejected Larson said.
Hagen got a front-row seat to the move of the night and took a close third in the RFMS Racing – Liberty Village #3 Beast/Esslinger.
"I can't thank my guys enough. We've had an awesome year so far, and we're gonna keep digging. I tried to run him down there at the end, but then Tracy Hines just put it to us," Hagen said.
Dalton Armstrong finished fourth in the Syngenta Seed – EverFi #7A Beast/Toyota. Rounding out the top-five was Kody Swanson in the Wilke-Pak Racing – Speedway Motors #11 Spike/Toyota.
MOPAR USAC NATIONAL MIDGET RACE RESULTS: May 26, 2012 – Clermont, IN – Lucas Oil Raceway at Indianapolis – 67th "Night Before the 500"
QUALIFICATIONS: 1. Kyle Larson, 71, Kunz-20.949; 2. Tracy Hines, 24, Parker-21.074; 3. Rico Abreu, 67K, Kunz-21.238; 4. Bobby Santos, 17, RW-21.318; 5. Mario Clouser, 27, RW-21.332; 6. Darren Hagen, 3, RFMS-21.336; 7. Kody Swanson, 11, Wilke-Pak-21.350; 8. Dalton Armstrong, 7A, C&A-21.426; 9. Caleb Armstrong, 7c, C&A-21.430; 10. Bobby East, 4, Klatt-21.457; 11. Brad Kuhn, 17B, RW-21.463; 12. Kyle Hamilton, 33x, Hamilton-21.477; 13. Levi Jones, 56, Hmiel-21.490; 14. Levi Roberts, 39, Tucker/BCI/Curb-Agajanian-21.574; 15. Adam Kramer, 2, Kramer-21.596; 16. Mike Larrison, 501, Hamilton-21.639; 17. Tanner Swanson, 3F, RFMS-21.668; 18. Nick Drake, 5, East-21.683; 19. Jason Leffler, 25, Rodela-21.685; 20. Davey Ray, 33, RAYPRO-21.729; 21. Jimmy Simpson, 21, Simpson-21.813; 22. David Byrne, 20, Byrne-21.859; 23. Jason Wolfe, 6, East-21.932; 24. Cole Carter, 39x, Bertrand-21.995; 25. James Robertson, 7K, Irwin-22.158; 26. Zach Daum, 5D, Daum-22.203; 27. Bryan Nuckles, 59, Nuckles-22.233; 28. Nick Wagner, 93, Wagner-22.275; 29. Travis Young, 11y, Young-22.289; 30. Randy Cabral, 47, Bertrand-22.487; 31. Andy Nock, 51, Nock-NT.
FIRST HEAT: (8 laps) 1. Clouser, 2. Larson, 3. C. Armstrong, 4. Jones, 5. T. Swanson, 6. Simpson, 7. Robertson, 8. Young. 2:53.49
SECOND HEAT: (8 laps) 1. Hagen, 2. Roberts, 3. Hines, 4. Drake, 5. East, 6. Daum, 7. Byrne, 8. Cabral.
THIRD HEAT: (8 laps) 1. Kuhn, 2. K. Swanson, 3. Abreu, 4. Kramer, 5. Wolfe, 6. Nuckles, 7. Leffler. NT
FOURTH HEAT: (8 laps) 1. D. Armstrong, 2. Larrison, 3. Ray, 4. Hamilton, 5. Carter, 6. Wagner, 7. Santos. 2:54.85
SEMI: (12 laps) 1. T. Swanson, 2. Simpson, 3. East, 4. Leffler, 5. Daum, 6. Wolfe, 7. Byrne, 8. Carter, 9. Robertson, 10. Cabral, 11. Young, 12. Nuckles, 13. Wagner. 4:29.08
FEATURE: (50 laps) 1. Tracy Hines, 2. Kyle Larson, 3. Darren Hagen, 4. Dalton Armstrong, 5. Kody Swanson, 6. Brad Kuhn, 7. Adam Kramer, 8. Bobby Santos, 9. Levi Roberts, 10. Bobby East, 11. Caleb Armstrong, 12. Tanner Swanson, 13. Jimmy Simpson, 14. Nick Drake, 15. Levi Jones, 16. Rico Abreu, 17. Zach Daum, 18. Kyle Hamilton, 19. Davey Ray, 20. Jason Leffler, 21. Mario Clouser, 22. David Byrne, 23. Mike Larrison, 24. Jason Wolfe, 25. Cole Carter. NT
——————————–
FEATURE LAP LEADERS: Laps 1-15 Hagen, Laps 16-49 Larson, Lap 50 Hines
NEW MOPAR NATIONAL MIDGET POINTS: 1-Hagen-285; 2-Larson-262; 3-East-254; 4-C.Armstrong-232; 5-Hines-212; 6-Clouser-210; 7-Jones-185; 8-Roberts-179; 9-Kuhn-176; 10-D.Armstrong-175.
NEXT MOPAR NATIONAL MIDGET RACE: June 2 – Haubstadt, IN – Tri-State Speedway – 60th "Hut Hundred"