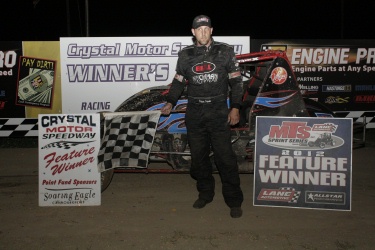 By Trevor Hollis
Nineteen Lane Automotive Michigan Traditional sprints made the trip for the
Michigan opener of the 2012 racing season. In house was the defending series
champion Joe Bares and he picked up right where he left off in 2011, in victory
lane to start the night. As the three heats hit the track it was Bares starting
on the pole of the first one. The caution flew early as Steve Irwin went off the
top side of turn number three and came to a stop, Irwin was able to continue
however and was able to fight his way back to the front but ultimately ended up
fifth. Bares was able to hold of Tim Champlin and Keith Love who rounded out the
top three in heat one. Heat two saw Joe Irwin on the pole but a two spot penalty
was assessed as he was deemed to have jumped the start. Irwin would come home
third, while Jim Gerard was second. Mike Austrauskas was able to lead wire to
wire and pick up the second heat race win. In the third and final heat race of
the night Jay Steinbach would start on the pole but an early incident in turn
one dropped him to the rear of the field. Tim Evilsizer would capitalize and
make it to the checkers first. Rounding out the top three would be Don Smith and
Nate Bostrom.
As the 25 lap Northwestern auto machine A main rolled on to the track, it was
anyone's race. Tim Evilsizer was able to jump out to an early lead over Keith
Love and defending champ Joe Bares but it was Steve Irwin working his way thru
the field. An early caution however slowed them down as the 10s of Jay Steinbach
made contact with another car and went end over end down the front strait. Jay
was visibly shaken but was able to walk off the track under his own power after
being checked out by medical. When things restarted, Evilsizer continued to show
the way until Irwin was able to take the lead with only a couple of laps left.
Steve Irwin was able to hold on for those final laps and put his machine in
victory lane for the first time since 2009. Tim Evilsizer was able to hold on
for a second place finish while Don Smith was third,Keith Love finished fourth
and Joe Bares rounded out the top five.
The next action the Lane Automotive Michigan Traditional Sprints will see
will be June 9th at the waynesfield speedway.
Strpko Engineering Heat Race #1
1. Joe Bares, 2.Tim Champlin, 3.Keith Love, 4.Mark Irwin, 5.Steve Irwin, 6. Don Bostrom, 7. Randy Kreple
Hoosier Tire Heat race # 2
1. Mike Astrauskas , 2. Jim Girard, 3.Joe Irwin, 4.Jacob Caines, 5.Eric Smith, 6. Mike Baker
Allstar Performance Heat race #3
1.Tim Evilsizer 2. Don Smith, 3.Nate Bostrom, 4.Jay Stienebach, 5.Mark Strpko, 6.Kevin Hawk
North Western Auto Machine A Main
1. Steve Irwin, 2.Tim Evilsizer, 3.Don Smith, 4.Keith Love, 5.Joe Bares,
6.Kevin Hawk, 7. Joe Irwin, 8. Mark Irwin, 9.Mike Astrauskas, 10. Tim Champlin,
11. Mark Strpko, 12. Don Bostrom, 13. Nate Bostrom, 14. Eric Smith, 15. Jacob Caines,
16. Jay Steinebach, 17. Jim Girard, 18. Mike Baker, 19. Randy Kreple.