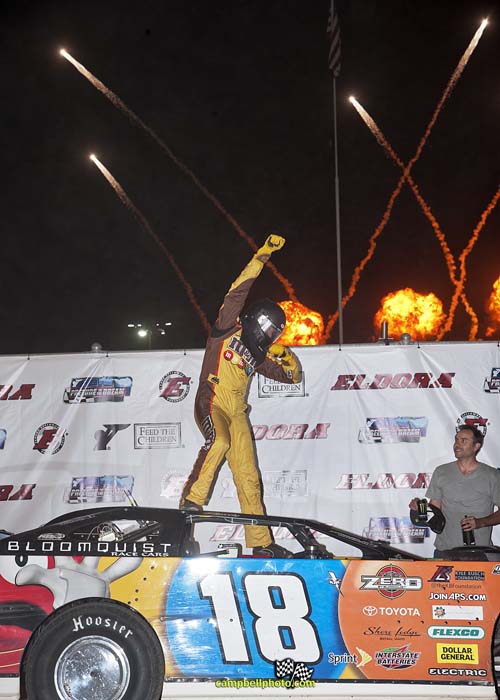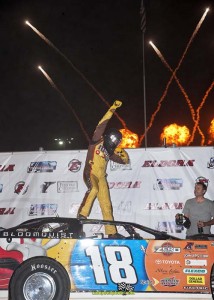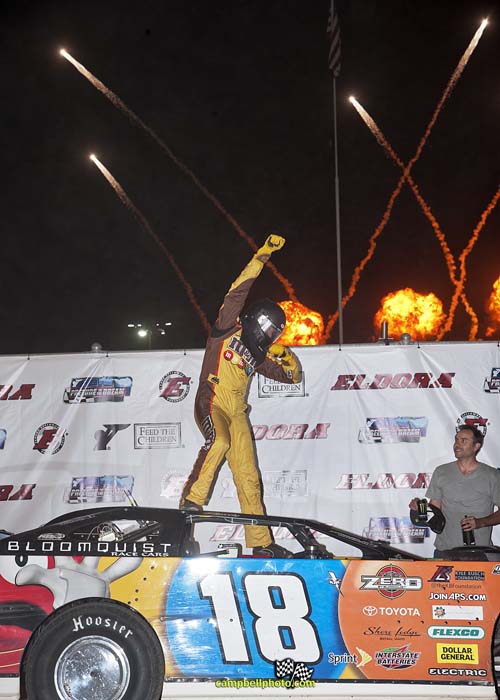 New Weston, OH — (June 7, 2012) — ROSSBURG, Ohio (June 6, 2012) – After knocking on the door to victory lane countless times in his five previous runs in the Prelude To The Dream at Eldora Speedway in Rossburg, Ohio, Kyle Busch finally broke through Wednesday night to score his first win in the all-star dirt Late Model race benefiting Feed The Children.
"This is cool," said Busch, who outlasted strong challenges from Kasey Kahne and Clint Bowyer before finishing 2.283 seconds over runner-up Tony Stewart. "This is what it's all about when you go dirt racing. It's a lot of fun. I can't say enough about (team owner) Scott Bloomquist and all these guys. They give me great racecars every time we come here and I've torn them up a few times, including tonight (in qualifying). We were able to come back through, get a good heat race, get a good starting spot for the main event and run up front there with the leaders all night."
Busch started the 40-lap feature event in second place and dueled with Kahne and Bowyer, who together led the first 24 laps (Kahne 1-12; Bowyer 13-21; Kahne 22-24) before Busch took over the lead on lap 25 when Kahne crashed into Bobby Labonte. Busch then checked out, beating three-time Prelude winner Stewart to nab his first career victory at Eldora.
"When Kahne had his mishap, we inherited the lead and just were able to set sail from there," Busch said. "I felt like Kahne had a fast car tonight. He was probably the class of the field. Bowyer was really hustling hard and making it work through traffic and got by him. Then we caught the lapped cars and everybody just slowed down, the pace slowed up and everybody got loose trying to slide each other. Crazy, freak deal there with Kahne sliding (into the No. 44 car of Labonte) in (turn) three. I don't know if he didn't see him, or what. They called the caution a little late and I bet he didn't even have time to react. From there, we had 16 laps to go and it felt like the longest 16 laps of my career here at Eldora."
Finishing third was Austin Dillon in just his second Prelude start. Four-time World of Outlaws Sprint Car Series champion Donny Schatz finished fourth in his dirt Late Model debut. Stewart's NASCAR teammate at Stewart-Haas Racing, Ryan Newman, finished fifth. Aric Almirola, Cruz Pedregon, Dave Blaney, Ty Dillon and Justin Allgaier completed the top-10, all of whom will get a tractor-trailer filled with food from Feed The Children delivered to their hometown or city of choice.
Stewart, owner of Eldora Speedway, took great pride in seeing the sixth different winner take the checkered flag in the charity race he created back in 2005.
"We had another first-time winner tonight. That's what the fun part is," said Stewart, the three-time and reigning NASCAR Sprint Cup Series champion who like the rest of his Sprint Cup counterparts had to commute between a test at Pocono (Pa.) Raceway and the Prelude To The Dream at Eldora. "There's a lot of stuff going on. Five days in a row at Pocono, and for these guys to leave practice at the end of the day today, fly here and race, and then fly back to Pocono tonight and be back in cars at Pocono at nine in the morning, I think that speaks volumes to what this event is all about and what it means for these guys to be here. I know as a promoter and a fellow driver in the Cup series, I'm honored they were that committed to doing this with us tonight to benefit such a good cause as Feed The Children. Really, 'honored' is the best word I can think of to describe it. It's truly an honor with the week we've got this week at Eldora and Pocono."
Event: FEED THE CHILDREN PRELUDE TO THE DREAM
Date: June 6, 2012
Prelude Late Models
HEAT 1 – 1. 3-Austin Dillon [3]; 2. 41-Ty Dillon [1]; 3. 14-Tony Stewart [4]; 4. 11-Tony Kanaan [7]; 5. 11K-Steve Kinser [5]; 6. 38-David Gilliland [2]; 7. 10-Danika Patrick [6];
HEAT 2 – 1. 15B-Clint Bowyer [1]; 2. 39-Ryan Newman [2]; 3. 43-Aric Almirola [3]; 4. 48-Jimmy Johnston [4]; 5. 75-Cruz Pedregon [6]; 6. 31-Justin Allgaier [5];
HEAT 3 – 1. 18-Kyle Busch [1]; 2. 44-Bobby Labonte [2]; 3. 9-Kenny Schrader [3]; 4. 36-Kenny Wallace [5]; 5. 9E-Bill Elliott [4]; 6. 28-Ron Capps [6];
HEAT 4 – 1. 5-Kasey Kahne [3]; 2. 15-Donny Schatz [4]; 3. 71-Jason Leffler [2]; 4. 19-Ray Evernham [6]; 5. 22-Dave Blaney [7]; 6. 1G-J.J. Yeley [5]; 7. 51-Kurt Busch [1];
FEATURE – 1. 18-Kyle Busch [2]; 2. 14-Tony Stewart [9]; 3. 3-Austin Dillon [4]; 4. 15-Donny Schatz [8]; 5. 39-Ryan Newman [6]; 6. 43-Aric Almirola [10]; 7. 75-Cruz Pedregon [18]; 8. 22-Dave Blaney [20]; 9. 41-Ty Dillon [5]; 10. 31-Justin Allgaier [22]; 11. 48-Jimmy Johnson [14]; 12. 36-Kenny Wallace [15]; 13. 19-Ray Evernham [16]; 14. 9E-Bill Elliott [19]; 15. 10-Danica Patrick [25]; 16. 5-Kasey Kahne [1]; 17. 44-Bobby Labonte [7]; 18. 71-Jason Leffler [12]; 19. 15B-Clint Bowyer [3]; 20. 38-David Gilliland [21]; 21. 28-Ron Capps [23]; 22. 11-Tony Kanaan [13]; 23. 1G-J.J. Yeley [24]; 24. 9-Kenny Schrader [11]; 25. 11K-Steve Kinser [17]; 26. 51-Kurt Busch [DNS];
UMP DIRTcar MODIFIED
FEATURE – 1. 225-Jesse Bitterling [2]; 2. 77-Joey Kramer [6]; 3. 88-Scott Orr [9]; 4. 0-Brent Hole [3]; 5. 20W-Matt Westfall [5]; 6. 7-Evan Taylor [8]; 7. 05-David Smith [14]; 8. 11-Rob Williams [4]; 9. 45P-Brian Post [7]; 10. 1-Scott Williams [13]; 11. 36-Brandon Vaughan [18]; 12. 26-Mike Dirksen [12]; 13. 5-Jonathan Taylor [10]; 14. 1S-Steve Billenstein [20]; 15. 4-Mike Chrisman [16]; 16. 4J-David Treon, Jr [21]; 17. 5X-Tim Richardson [22]; 18. 52-John Phlipot, Jr [1]; 19. 21T-Tom Treon [19]; 20. 15-Nick Katterhenry [15]; 21. 10-Scott Bowersock [11]; 22. 21M-Donnie Miller [DNS];
STOCK CAR
FEATURE – 1. 71C-Barney Craig [6]; 2. 410-Paul Pardo [16]; 3. 20-Shawn Phillipi [4]; 4. M1-Jeremy Creech [17]; 5. 1W-Mark Wooten [7]; 6. 7W-Dan Wooten [15]; 7. 52-John Phlipot, Jr [8]; 8. 23-Casey Barr [9]; 9. 00-Dean Pitts [3]; 10. 36-Adam Schaeff [1]; 11. 115-Benjamin Myers [12]; 12. 19-Wayne Williams [10]; 13. 5-Ricky Rae Dillon [11]; 14. 17-Corey Wooten [14]; 15. 01-Earnie Woodard [2]; 16. 49-Eric Sandlin [13]; 17. 3-Rob Trent [DNS];
Photo Gallery