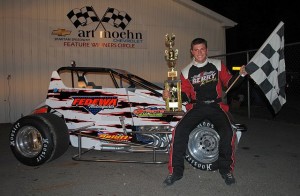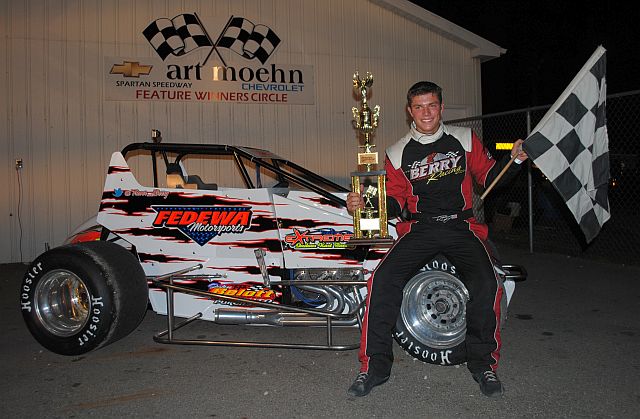 By T.J. Buffenbarger
Mason, MI – (June 8, 2012) – Trevor Berry won the non-wing sprint car feature Friday night at Spartan Speedway. The victory was the second during Berry's rookie season of sprint car racing in just three starts. Berry was driving the Fedewa motorsports Beast chassis.
"(Ellis) is known to run he top around here, saw him running the top before the caution. We had a good car on the bottom and got I just a run on him," said Berry. "Got by him pretty clean and the car stayed good all night."
Former Spartan track champion Jim Heeney and first year driver Leroy Ellis led the field for the green flag. Heeney and Ellis battled side by side for the first complete lap until Ellis motored into the lead. Meanwhile Heeney, Gary Sherman, and 2011 Spartan track champion Tommy Fedewa battled for the second spot.
By Lap five Berry managed to pass Heeney, Sherman, and Fedewa to move into second and chase after Ellis for the lead. With five laps complete Berry caught a break when Dustin Daggett brought out the caution flag by stopping between turns one and two. Daggett restarted at the tail of the field.
During the restart Sherman dropped back several spots as Berry started to challenge Ellis for the lead. After running two laps side by side Berry moved into the lead on lap seven. Ellis hung to Berry's back bumper while Fedewa, Doug Dietch, Heeney, and Hayden Reeves raced for third. Fedewa eventually caught Ellis, but lost his brakes and dropped out of the event.
Meanwhile Berry cut through slower traffic increasing his lead including one very impressive move off turn four running three abreast through the middle of the track between the slower cars. Berry held on for the win over Ellis, Dietch, Ryan Litt, and Reeves.
Berry was the fastest qualifier with a 12.051 second lap around the ¼-mile oval. Daggett and Heeney won heat race events.
Photo Gallery