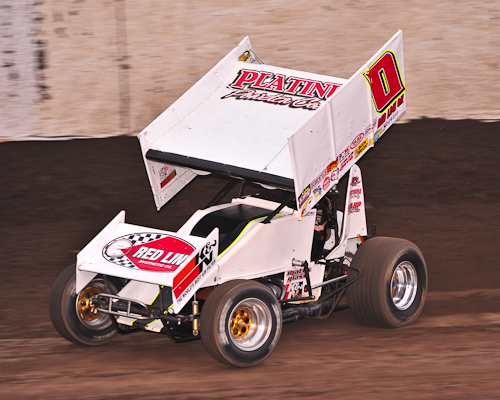 PETERSEN MEDIA
Identical to his 2011 campaign, Chico, CA driver, Jonathan Allard, has again caught on fire on the third annual "Road to Dirt Cup" speedweek, as the Cancen Oil King of the West points leader has finished on the podium in all four nights of racing including two victories.
"This car has been fast all week, and I would love nothing more than to win our fourth Dirt Cup this weekend," explained Allard.
Kicking off with two points races in Chico, CA and Medford, OR, Allard ran the Friday night portion of the speedweek, like the rest of the field, with a very heavy heart.
Just prior to the drivers meeting a fellow competitor, David Tarter, was involved in a fatal accident in the pit area as he was making preparations for the evening's race.
"It was a tough and emotional night in Chico," said Allard. "Starting the drivers meeting off with a prayer for a fellow driver is rough, and I send all my thoughts and prayers to the Tarter family."
On the track, Allard was simply dominant.
Starting in the second row behind Shane Stewart, JA grabbed the lead on the initial start and never looked back.
A few untimely cautions allowed a charging Tim Kaeding to reach the second spot and share the front row with JA during a double file restart, but Allard was too good on this night and picked off the win, and extended his points lead.
The Cancen Oil King of the West Series again sanctioned Saturday night at the Southern Oregon Speedway in Medford, OR, and JA again looked very strong from the beginning of the night.
"We finally got our first win in Medford last year, and I thought we were looking pretty good to get another one," Allard commented.
Starting in the fifth spot after finishing fifth in the dash, Allard worked his way up to the second spot, getting around Tim Kaeding, and as two cars spun, Allard lifted anticipating a yellow, but they remained under power, and JA fell back to the sixth spot.
As he regrouped, he was able to fight back to the third spot at the finish line.
"I think we had a car that was capable to win a race, but there were a few questionable calls through the race that didn't really play in to our favor," he explained.
Sunday night the Williams Motorsports team continued through Oregon and made a stop at the Cottage Grove Speedway.
Starting in the seventh spot, Allard simply put on a clinic in front of a very large crowd.
Putting his Maxim chassis on the ragged edge of the racy, ¼ mile, JA was able to rip up to the lead past Tim Kaeding and picked up his second win of the week in convincing fashion.
"For the third night in a row this car was awesome," said Allard. "There is no doubt in my mind we are a threat to win any time we unload right now, and this is the perfect time to be performing."
Monday night saw a second consecutive unsanctioned 410ci race invade the Willamette Speedway in Lebanon, OR for the first time in the tracks history, and Allard proved himself to a contender once again.
Running second in the dash to T. Kaeding, Allard found himself on the front row again for the feature event.
Falling back to the third spot on the initial start, JA remained on the rear bumper of second running Shane Stewart early in the event.
Fighting through traffic, Allard was able to get around TK for second, but was unable to reel in Stewart and settled for second, and his fourth consecutive top three finish.
"Stewart was really tough in Lebanon, but so was this zero car," Allard said with a smile. "Unfortunately we got rained out in Elma, so we will have to take a couple nights off and get back up to Skagit, and try to defend our Dirt Cup title."
ON TAP: Allard and his team will now take two days to get to the Skagit Speedway where they will compete in the 26th Annual Jim Raper Memorial Dirt Cup, an event Allard has won three previous times including the 2011 edition.
STAY CONNECTED: For more information on Jonathan, including upcoming events, pictures, and news please check out www.allardmotorsports.com, or follow JA on twitter @Allard0.