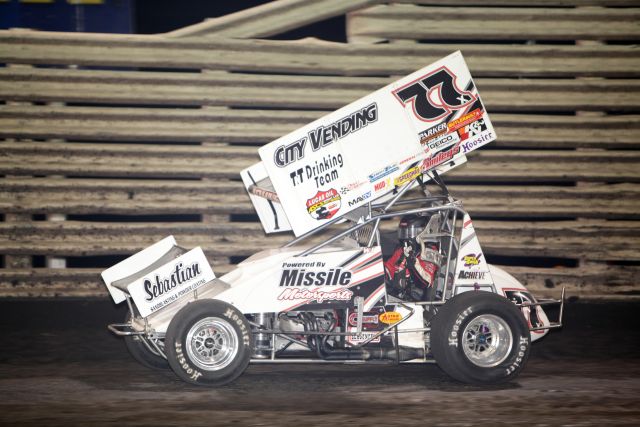 By Bill W
June 13, 2012 – Fours had it for Wayne Johnson last weekend at the Eagle Nationals near Eagle, Nebraska. A pair of fourth place finishes, paired with two wins by Brady Bacon have made for a great race in the Lucas Oil ASCS National point standings. Wayne hopes that when the dust clears from seven races in just over a week's time, he will be on top.
Things started with Friday's prelim at Eagle Raceway. Wayne ran second in his heat after starting third. "Seth Bergman and Brad Loyet were messing with each other on the start," he says. "Loyet took off and jammed the brakes. I got into the back of him and knocked the nose wing off. But I still outrun Bergman with no nose wing (laughs)! That got us in the redraw."
The redraw saw Wayne start the main event outside of row three. "The car was really not any good," he says. "We were just hanging on. I just didn't get the car tight enough it was too loose for the way the track slicked off."
Still he would come home a respectable fourth amongst a stout field. "We were just free," says Wayne. "The first night was a little bit harder to pass. The track was slick to a curb. You could run the bottom or the top in three and four. In one and two, it was usually the top. Guys like Brady (Bacon) could run the bottom on both ends."
The Knoxville, Iowa driver had locked himself into Saturday's finale and drew the fourth starting spot. "We tightened it more than we had Friday, but it still wasn't enough," says Wayne. "We were still way too loose in the feature. Right now, I'm just going off the notes we used with success earlier in the year, and I'm not tightening it up enough. Early in the year, the racetracks have a lot more grip. Doing the same thing isn't working."
Still, Wayne found his way to battle for the runner-up spot Saturday. "We were up to second at one point, battling with (Jack) Dover," he says. "I got messed up, and into some other cars. At one point, we were back to sixth. We rebounded alright."
This week will be a busy one. ASCS Speedweek begins with the Summer Nationals this Friday and Saturday night at the Devil's Bowl Speedway near Mesquite. It will then continue in Chatham, Louisiana (Monday), Murfreesboro, Arkansas (Tuesday), Lawton, Oklahoma (Wednesday) and Salina, Oklahoma (Friday). The seventh race will be at Lucas Oil Speedway near Wheatland, Missouri. "We're struggling a little bit without one of our guys, but we'll be ready," says Wayne. "I've never been to Chatham or Murfreesboro, so that will be interesting. It's been awhile since we've been to Lawton too, but we were there plenty."
The tight point race between Wayne, Bacon and Jason Johnson has them separated by just five points from first to third. "Isn't that crazy?" says Wayne. "They've all taken provisionals and I've yet to. I hate provisionals. I would be leading by a good margin without those, but you have to play the game."
Follow Updates on Facebook!
Wayne will update as his race night goes on at his Facebook page. Find it by searching for Wayne Johnson Racing or clicking the following link…
http://www.facebook.com/#!/WayneJohnsonRacing
Outlaw Wings – "The Wing with an Attitude"!
Check out the new "recessed rivet" design put out by Outlaw Wings. Talk to Wayne about purchasing Outlaw Wings for your car! Outlaw Wings – "The Wing with an Attitude"!
Wayne's World
Paul Wolfe asks: What's the key to getting ready for a week like this one with so many races?
Wayne answers: We're prepared with the race team and with equipment. We've been fortunate not to have torn up any racecars. You just go through a little more thorough maintenance with this many races. We put a brand new rear-end together because our other one had some time on it. We're ready. The driver needs to prepare!
Got a question for Wayne? Each week, Wayne will answer your questions about "Tech Tips", or anything that's on your mind. If you ever wondered what a part on a sprint car is all about, send an e-mail to us at sprntcar@iowatelecom.net, and we may answer it in this section! Put "? for Wayne" in your subject line. He'll try to keep it clean if you do!
Wayne's Fast Facts
Wayne has five ASCS National wins to his credit at Devil's Bowl. They came on June 18, 1996, June 18, 1997, October 4, 2002, March 16, 2007 and October 21, 2011.
Partner of the Week – Smiley's Racing Products
Smileys Racing Products and Hoosier Tire Southwest have been in the racing business for 30 years in the Dallas, Fort Worth area. Visit Smiley's, either in Kennedale, at the showroom store in Mesquite, or at the racetracks. All employees at Smiley's Racing Products and Hoosier Tire Southwest are directly involved with race teams either as owners, drivers, pit crew members etc. What this means to you our customers is racing advice that has been tested on the track first, and then they pass their findings on to the customer. From parts and tires to complete race cars, Smiley's Racing Products and Hoosier Tire Southwest is ready to help you get to the checkered flag first. All aspects of their business can be seen at www.SmileysRacing.com. Click on catalog and put your information in and you will be sent a catalog free of charge.
"Wednesday's with Wayne"
"Wednesday's With Wayne" is an up close look at the past, present and future of colorful and talented sprint car driver Wayne Johnson. You'll never know what to expect next with Wayne, so don't miss us on Wednesdays!
To receive "Wednesday's with Wayne", send an e-mail to sprntcar@iowatelecom.net with "Wayne" in the subject line.
Wayne Johnson Racing would like to thank Vern Rengen and Missile Motorsports, Sebastian Sandblasting & Powdercoating, City Vending, Outlaw Wings, Team Achieve, The Oil Medics, Century Signs, Smiley's Racing Products, Hoosier Tire Southwest, Simpson, Butlerbuilt, Super Shox, Maxim, Speedway Motors, Rod End Supply, Schoenfeld Headers and RCM Design.