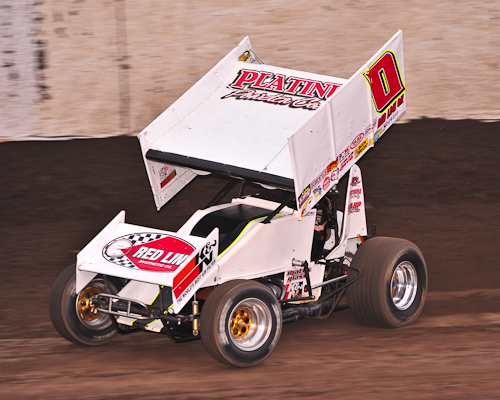 PETERSEN MEDIA
Jonathan Allard is sitting in an ideal position to take home his fourth career Jim Raper Memorial Dirt Cup, but he will have to wait until August 30th as rain delayed the final night.
"We have had a great Dirt Cup so far," said Allard. "We are sitting fourth in points, and will be in the scramble when we can get back up there, but it's a bummer that the rain came."
Allard's red-hot streak of top threes continued on the opening night of the Dirt Cup as he picked up his fifth straight top three as he ran second to Peter Murphy.
Getting through his heat, Allard slowly worked his way to the front of the field, and took advantage of a late caution to get up to the second spot, and challenge his good friend, Peter Murphy.
While Murphy held command of the race Allard did all he could to grab the top spot, but came up just short.
"We got going pretty good on Thursday, but Murph was a little better than us," Allard explained. "Second is pretty good, and was a huge points night for us."
Friday night again saw Allard come out of the trailer strong.
Scoring a second place finish in his heat, Allard transferred directly to the feature again, but started near the rear of the field as the lineup was inverted off of point totals, and drivers earned passing points through the feature to add to their totals.
It wasn't the greatest night for Allard who admittedly struggled a bit on Friday as he scored a 10th place finish.
"We weren't very good in the feature," he said. "Fortunately we were able to gain a few spots and escape with a pretty healthy point total heading into the finale."
Sitting fourth in points, JA is scheduled to be in the A Scramble on the finale night, which will now be ran on Thursday August 30th due to torrential downpours both Saturday and Sunday in Alger, WA.
ON TAP: Allard will now return home to California as he looks to extend his Cancen Oil King of the West Series points lead as they take to the Antioch Speedway on Saturday night.
STAY CONNECTED: For more information on Jonathan, including upcoming events, pictures, and news please check out www.allardmotorsports.com, or follow JA on twitter @Allard0.