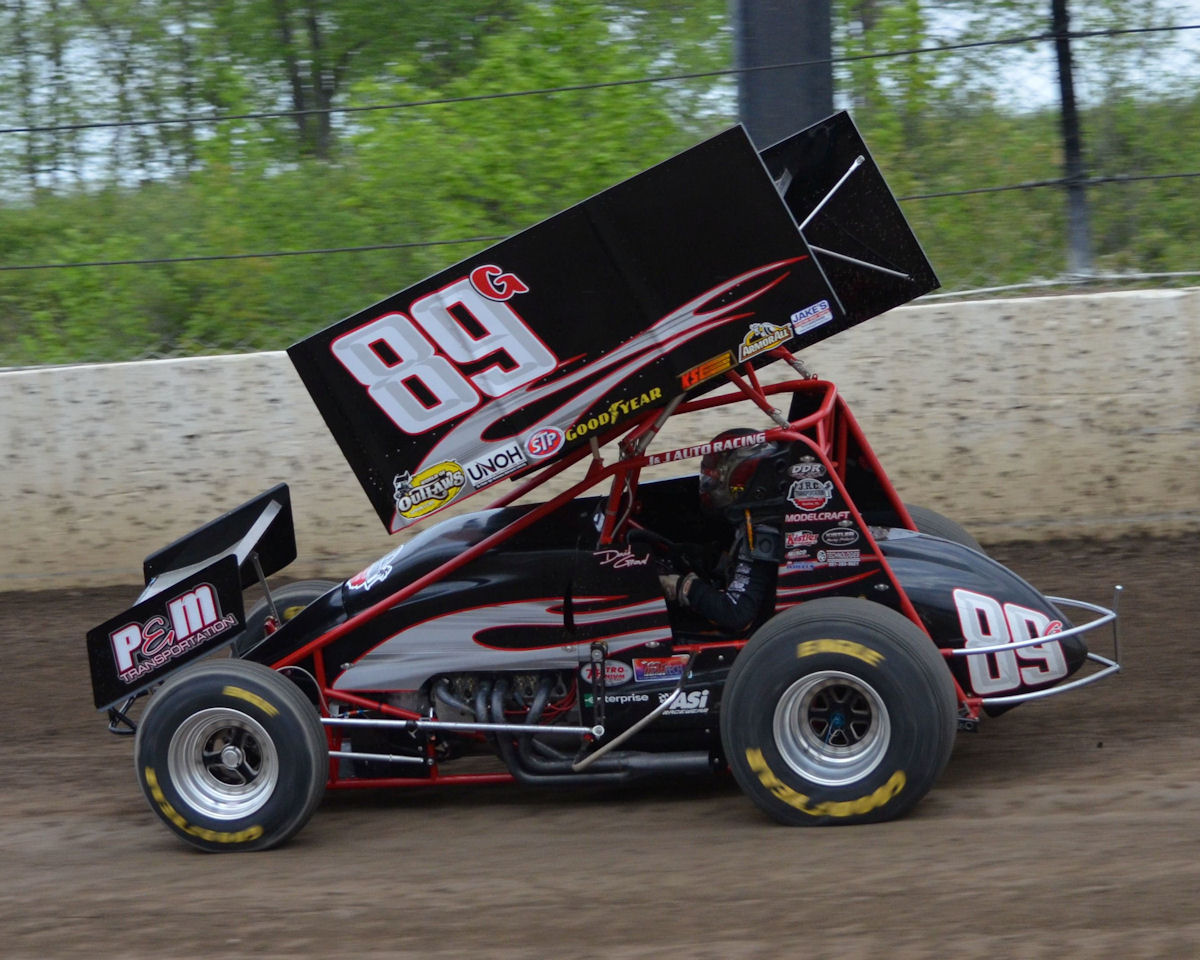 By DDR Motorsports PR
Watertown, Conn.—June 21, 2012 — When David Gravel celebrates his 20th birthday on Saturday at Waynesfield Raceway Park, the 2010 Ohio Speedweek Champion will be taking part in a tradition that is 10 years older than he is. In its 30th season, Ohio Speedweek, sanctioned by the UNOH All Star Circuit of Champions was a full decade old before Gravel was even born. As the Connecticut native embarks on the 2012 edition of Ohio Speedweek, he looks to not only survive the grueling schedule of nine races in nine nights, but also to show that youth can outrun experience during Speedweek.
"We have not been as good we would have liked with the All Stars in Ohio this year, so during Speedweek we will be looking for that consistency," said Gravel. "We want to be consistent during all nine Speedweek races. We definitely want to run well each night and accumulate as many points as we can and win a few races. That is what it takes to win the Speedweek title."
Ohio Speedweek, which will visit eight tracks, kicks off on Friday, June 22, at Attica Raceway Park. Gravel had competed twice at the high-banked one-third-mile bullring during Ohio Speedweek, with a best finish of 10th in 2010. He was second-fastest in time trials at Attica last year with a stout 47-car field in attendance during Speedweek. This season, the East Coast driver has competed twice at the venue with the UNOH All Star Circuit of Champions.
"Attica is a fun track, with a very tough field," Gravel noted. "I know we can run well there, but it is a tough track to put a complete night together at. It all starts with time trials, especially during Speedweek with the number and quality of cars that will be on-hand."
After the opener at Attica, Gravel will face a group of tracks he always looks forward to running at. At the top of the list is Hilltop Speedway where he ran second during Ohio Speedweek in 2010 and Limaland Motorsports Park, where he won his first-career UNOH All Star Circuit of Champions main event and his first race during Ohio Speedweek. The nine-race tour will also make stops at Cannonball Motor Speedway, Fremont Speedway, Sharon Speedway, Wayne County Speedway and Waynesfield Raceway Park.
"I always look forward to going to Hilltop Speedway," Gravel explained. "I know a lot of people do not like that track, but I have always ran well there. Limaland is always a favorite because it is where I got my first All Star win. I am also looking forward to Waynesfield, because we ran well there the last time we were there."
Ohio Speedweek will cumulate with a 50-lap $10,000 to-win event on Saturday, June 30 at Fremont Speedway, which will host two races over the course of the nine-day swing. Fremont is a track where Gravel has excelled this season finishing fifth and seventh. The native of Watertown, Conn., clinched the 2010 Ohio Speedweek title at Fremont.
"I'm excited to go back to Fremont Speedway, because we always run decent there," stated Gravel. "We won the Speedweek title there in 2010, so hopefully we can end it the same way this year. Racing at Fremont a few days before the finale will give us a good baseline for the 50-lapper. "
This year will mark the third time that Gravel has attempted to complete the full Ohio Speedweek. In 2010, he qualified for the main event in all nine races that comprised Ohio Speedweek, finishing in the Top-10 in eight of those contests, en route to winning the title. He seeks that same consistency this year, entering the week with 15 Top-10 finishes on the season, including six with the World of Outlaws. In the All Stars Circuit of Champions standings, Gravel is currently third as he chases his first overall series title.
"2010 was the only time we got to run all the Ohio Speedweek events," Gravel stated. "What was more amazing about that week was that we finished in the top-10 every night, but one that week and in that race we were 11th. We want to be consistent going into this Ohio Speedweek and of course make it to every race."
With Ohio Speedweek consisting of nine races in nine nights in the heat of the summer, Gravel knows that being focused is a major key to being successful. His team led by veteran crew chief Tyler Swank, along with crew member Kyle Ripper has the No. 89G trailer stocked and ready.
"You have to go into the races prepared," stated Gravel. "That is one of the reasons why we took last weekend off. You just have to be ready in case you crash, or have trouble. With all the traveling, it can get tough sometimes, but I have a great team and there is always someone there ready to help out and pick up the slack when needed. With the heat predicted this week getting sleep and staying hydrated is going to be key."
David Gravel and DDR Motorsports would like to thank: J&J Chassis, JRC Transportation, Kistler Engines, Musco Fuels and P&M Transportation for their continued support.
2012 Ohio Speedweek Schedule
Date Track Location
June 22 Attica Raceway Park Attica, Ohio
June 23 Waynesfield Raceway Park Waynesfield, Ohio
June 24 Cannonball Motor Speedway St. Clairsville, Ohio
June 25 Wayne County Speedway Orrville, Ohio
June 26 Sharon Speedway Hartford, Ohio
June 27 Fremont Speedway Fremont, Ohio
June 28 Hilltop Speedway Millersburg, Ohio
June 29 Limaland Motorsports Park Lima, Ohio
June 30 Fremont Speedway Fremont, Ohio
Keep up with all the action:
Follow David Gravel on Twitter at www.twitter.com/DavidGravel89g and receive live updates from the track each and every race night. Results are also posted to the David Gravel Racing site on Facebook at https://www.facebook.com/pages/David-Gravel-Racing/143538695709198.