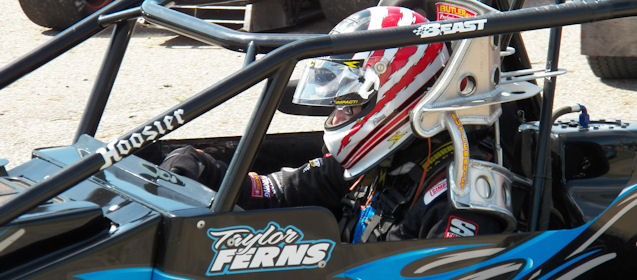 By Ferns Racing PR
Shelby Township, Mich.—June 21, 2012 — It's been a season of firsts for Taylor Ferns in 2012, as she opened the year by competing in the famed Chili Bowl Midget Nationals for the first time in her career, as well as making her debut in a stock car earlier this season, and then last week, she took part in Indiana Midget Week for the first time. This week will mark another pair of firsts for the defending USAC Mopar D1 Midget Series champion, as she will make her first start in the USAC Traxxas Silver Crown Series for Team 6R, as well as debuting at Iowa Speedway.
"I'm really looking forward to racing the Silver Crown car for the first time," said Ferns. "I've tested the car a couple of times, which I think will really help, since I kind of know how the car will react and already have a feel for it. Iowa is a really nice track and very fast as well, so it should be a fun place to race at."
The 16-year-old will pull double duty at the state-of-the-art seventh-eights-mile oval, as she will take to the track for the Casey's General Store USAC Challenge with both the USAC Traxxas Silver Crown Series and the USAC Mopar National Midget Series on Friday, June 22. The day will open with practice in the morning, followed by qualifying in the afternoon and main events in the evening. The Silver Crown headliner is set for 100 laps, while the midgets will take part in a 50-lap contest.
"Being in both the Silver Crown car and the midget will help a lot, since I've never raced at Iowa," noted Ferns. "Having twice as many laps and twice the seat time will be important. In the midget, everything happens a lot faster, compared to the Silver Crown car, so it shouldn't be that big of a transition going between the two cars."
Ferns will pilot a Toyota-powered Beast in the Silver Crown event for Team 6R, which is owned by Darryl Guiducci. The team is the winningest squad in USAC Silver Crown Series history, with Jack Hewitt, Jim Keeker, Dave Steele, Kody Swanson and Brian Tyler all having all recorded wins over the last 20-plus years. Formed in 1988, Team 6R has over 50 total victories in the top-three USAC divisions. Ferns has tested the Silver Crown car twice for Team 6R at Lucas Oil Raceway at Indianapolis.
"It's an honor to race for Team 6R," shared the winningest female driver in USAC history. "I am really fortunate to be part of such a prestigious team. I look up to Kody (Swanson) and all of the drivers on the team and look forward to working with them and learning from them."
Ferns has competed twice in her family-owned Mopar-powered Dea Eyewear Beast on the pavement this year with the USAC National Midget Series, with those two starts coming at Ace Speedway in North Carolina at the end of March. In 2011, the native of Shelby Township, Mich., made 12 starts in her midget on paved tracks, and had an average finish of 6.2. She also made five starts in an asphalt sprint car last year at Spartan Speedway in her home state of Michigan, picking up five Top-Five finishes.
"I've been racing on pavement since I first started driving, so when I go back to a paved track after racing on the dirt, it's like returning to my roots," she explained. "I feel very comfortable on the pavement and I think I am able to adapt to things quicker on pavement. Some of the things I learned in the stock car earlier this year should help as well this weekend."
Ferns competed in each of the five nights of Indiana Midget Week last week with the USAC Mopar National Midget Series. She opened the week by qualifying 14th in a stout field of 41 cars at Gas City I-69 Speedway on Wednesday, June 13, and followed that up by qualifying 14th again on Thursday, June 14, at Lincoln Park Speedway. She wrapped up the mini-series on Sunday, June 17, at Kokomo Speedway, by qualifying 12th.
"Last week I was racing against the best of the best in the country and I took a lot away from that," said Ferns. "I would have liked to have done better, but I got a lot of laps in and got to continue to work with my new crew chief Marc (DeBeaumont) and we learned a lot. I just have to keep my head up this week going into Iowa."
Taylor Ferns and Ferns Racing would like to thank their valued partners: Dea Eyewear, eBay Motors, FK Rod Ends, Frameworks Marketing Group, Lucas Oil, K&N Filters, Lansing Sanitary Supply (LSS), Simpson Race Products, Indy Race Parts, ButlerBuilt, Allstar Performance, Stanton Mopar, Lyn St. James Women in the Winner's Circle Foundation, Race4Girls and Racing2Cure.
###
Keep up to date
For the latest news, results and information on Taylor Ferns and Ferns Racing and to view a full 2012 schedule, visit www.TaylorFerns.com. Follow Taylor on Twitter at www.Twitter.com/TaylorFerns or @TaylorFerns and on Facebook at http://www.facebook.com/pages/Taylor-Ferns/116543998373.