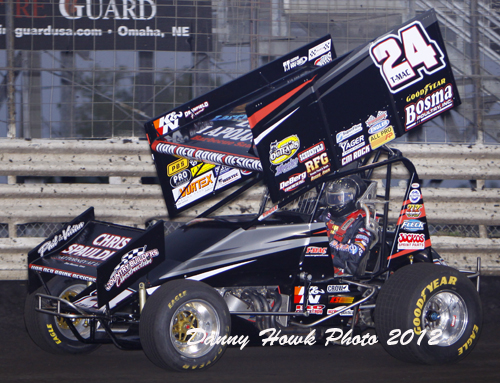 By Bill W
June 26, 2012 – Terry McCarl and the TMAC Motorsports #24 team picked up a pair of podium finishes in racing in the Upper Midwest last weekend. On Friday night, he finished second at the Rapid Speedway in Rock Rapids, Iowa, and after getting rained out at the Knoxville Raceway Saturday, finished third at the Huset's Speedway near Brandon South Dakota on Sunday.
The special in Rock Rapids is a favorite of area drivers. "The track was really nice when we got there," says TMAC. "It's a race we always like to attend, and I know Lynton (Jeffrey) does too, but he wasn't able to Friday. We like the open tire rule, and other open rules. It's fun. It's a great event at a good track."
After running from seventh to third in his heat race, TMAC started inside row two for the main event. "We ran well in the heat," he says. "We put a 15 (Hoosier tire) on for the feature, and I think (Gregg Bakker) went with a 25. I didn't think anyone could get around us on top, but he got around Kaley Gharst and me on the high side rubber."
TMAC went to work to chase down Bakker, but checkered second. "I got aggressive then," he says. "I think I used my tire up a bit in the middle stages. We got to traffic really well and took the lead with two laps to go in traffic. I thought we were probably going to win it, and the caution came out. At that point, we weren't going to pass him. He did a good job."
The team drove all the way back to Knoxville, only to get rained on Saturday. "The only reason the trip was worth it, was to talk with Bob Elder at the Hall of Fame," says TMAC. "Bob is a great guy, and I love him. He always has some great stories about the old days."
TMAC timed in second at Huset's on Sunday, and ran fifth in the heat. "We qualified well, and in the heats at Huset's, you are just trying to get through them," he says. "We put whatever tires we have laying around for those."
The invert for the feature saw a starting spot inside of row three. "The track was really nice," says TMAC. "Some crazy guy in a 17A car (son Austin), was in front of me. He got into a hole on the start and got sideways in front of me. It was a tough start, but I didn't feel like running over my own car. We dropped back to seventh or so."
From there, TMAC did what he could to recover in 25 laps. "We weren't that great," he says. "It was kind of a tricky racetrack. I don't really know what I should have done. I was a little tight. You never know on those things."
The result would be a third place finish. "I was able to get by Austin for third, on a restart with about five to go," says TMAC. "I was o.k. with it. It was a good night. They did a good job with the racetrack. Justin Henderson was able to get his first win in the Buffalo Wild Wings car. We were able to increase the point lead a little bit on (Mark) Dobmeier. It was a good night for everyone."
To check out opportunities to partner with TMAC Motorsports on a nightly basis, visit www.TerryMcCarl.com or call 515 957-0020!
Websites for the McCarl Gang!
Driverwebsites.com develops the websites for the McCarl boys. Check out www.TerryMcCarl.com, as well as www.AustinMcCarl.com and www.CarsonMcCarl.com!
In"Terry"gation
Got a question for TMAC? Send it to us at sprntcar@iowatelecom.net , and we may answer it in this section! Put "? for TMAC" in your subject line.
This Month in TMAC History!
This week in 2001, TMAC was victorious at the Knoxville Raceway, besting Don Droud Jr., Kerry Madsen, Skip Jackson and Ricky Logan. The win at Mid-Season Championship night was $3,500. He won the track championship in a close battle with Droud that season on the strength of five wins.
"Tuesdays with TMAC"!
"Tuesdays with TMAC" is an up close and personal look at colorful sprint car veteran Terry McCarl. To receive "Tuesdays with TMAC", send an e-mail to sprntcar@iowatelecom.net with "TMAC" in the subject line.
TMAC Motorsports would like to thank sponsors "Lord I Apologize BBQ Sauce", Deanfield Farms, Bosma Poultry, Eagle Chassis, DeBerg Concrete, AmeriCashAdvance.com, RFG, Phil and Vivian, Ryan Yager Trucking, 212 The Boiling Point Bar & Grill, Vortex Racing, Hoosier Tire, Chris Spaulding – Attorney at Law, Schoenfeld Headers, K&N Filters, Don Ott Engines, HRP, All Pro Cylinder Heads, Bob and Beulah Elder, Country Builders Construction, Engler Injection, Superflow Technologies, T&P Brothers, Larry Fleck Trucking, Winters, DriverWebsites.com, CM Rock, Jocko's Sprint Parts, Sander, Brown and Miller, Chase Graphics, Pro Shocks, Ben Cook, Bell Helmets, Burnett's Rock and Landscaping, Fatheadz Eyewear, Van Der Brink Designs, Morgan Strawberry Farms, Bulldog Pest Control, Aurora Rod Ends, Crow Safety, Justice Brothers, KSE Steering, Strange Performance, Saldana Racing Products, Scribner Plastics, Waterman Fuel Pumps, Weiland Racing, Butlerbuilt, PBS Bushings.