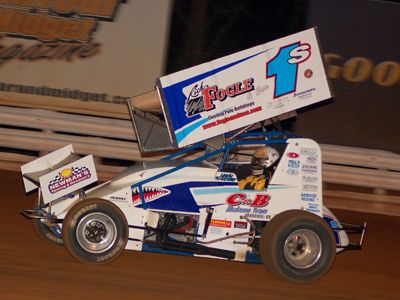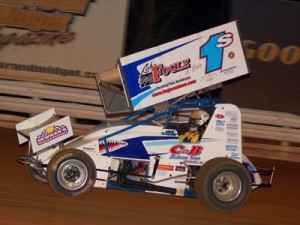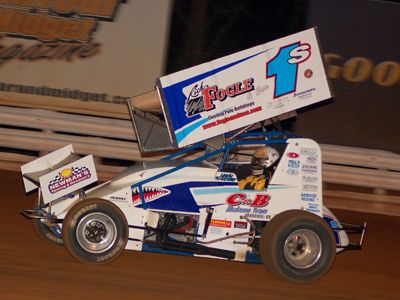 From Williams Grove Speedway
Mechanicsburg, PA — (July 5, 2012) — Logan Schuchart of Hanover won the second Williams Grove Speedway 410 sprint event of his career in his rookie season on Thursday night, taking the $5,000 PA Speedweek feature win after Danny Dietrich dropped out of a commanding lead.
In the SpeedSTR feature, Freddie Rahmer took the win, leading all 15 laps.
The 410 sprint feature event was marred by three red flags, with a pair on lap four and another with five laps to go in the 30 lap main.
Dietrich started on the pole and drove off from the field when the green flag fell before his pace was halted for the first red on lap four when the cars of Shane Stewart, Ryan Bohlke, Doug Esh and Mike Wagner tangled in the third turn.
The first attempt at a restart saw Schuchart slide leader Dietrich in the first corner with Dietrich overcoming the pass on the backchute but the red soon came out for a two car flip as executed by Brian Montieth and TJ Stutts in the third corner.
Dietrich cleanly got away when green appeared again and entered lapped traffic with a commanding lead on the 12th circuit followed by Schuchart, Paul McMahan, Daryn Pittman and Fred Rahmer.
A caution flag for a stopped Kyle Larson flew over the field at the halfway point, again regrouping the field but Dietrich had it all handled on the restart.
And then suddenly with just eight laps left, Dietrich simply stopped on the frontstretch, handing control to a distant Schuchart with Pittman lining up second for the restart followed by Rahmer.
Schuchart got away when action restarted only to be stopped for a final time with five to go for a rolled over Cody Darrah in the second corner after he jumped the cushion while racing with Stevie Smith for fifth.
Pittman remained just outside of striking distance over the final laps as Schuchart drove to his first ever victory in speedweek action.
"I was hoping this car holds together," Schuchart said of his thoughts when the race was again stalled with just five laps to go.
"I feel bad for Danny but it's about time some luck goes our way. We've been falling apart lately."
Pittman was second followed by Rahmer, Smith and Paul McMahan.
Sixth through 10th went to Steve Buckwalter, 21st starter Lance Dewease, Adam Wilt, Alan Krimes and Don Kreitz Jr.
Heats went to Krimes, Wilt, Darrah and Kreitz with Shane Stewart taking the B Main.
McMahan set fast time over the 38-car field with a lap of 16.979 seconds.
Rahmer led all 15 laps of the SpeedSTR main to take his first win in the division at Williams Grove over Brittany Wixon, Richie Hartman, Paul Lotier Jr., and Billy V.
Heats went to Rahmer and Wixon.
Williams Grove returns to action with the PA Speedweek Mitch Smith Memorial on Friday night at 7:30 pm, paying $10,000 to win.
July 5, 2012 Feature Finishes:
410 sprint cars, 30 laps: 1. Logan Schuchart, 2. Daryn Pittman, 3. Fred Rahmer, 4. Stevie Smith, 5. Paul McMahan, 6. Steve Buckwalter, 7. Lance Dewease, 8. Adam Wilt, 9. Alan Krimes, 10. Don Kreitz Jr., 11. Brent Marks, 12. Ryan Bohlke, 13. Rick Lafferty, 14. Cody Darrah, 15. Danny Dietrich, 16. Danny Lasoski, 17. Kyle Larson, 18. Nicole Bower, 19. Greg Hodnett, 20. TJ Stutts, 21. Brian Montieth, 22. Shane Stewart, 23. Mike Wagner, 24. Doug Esh
DNQ:  Cory Haas, Gerard McIntyre Jr., Darren Mollonoyux, Michael Ruttkamp, Sheldon Haudenschild, Hunter Mackison, Tyler Walker, Davey Sammons, Luke Bowey, Derek Sell, Troy Fraker, Ryan Smith, Chad Layton, Ryan Taylor
SpeedSTR, 15 laps: 1. Freddie Rahmer, 2. Brittany Wixon, 3. Richie Hartman, 4. Paul Lotier Jr., 5. Billy V, 6. Brandon Rahmer, 7. Scot Monroe, 8. Josiane Plante, 9. Mitch Lacombe, 10. Maxime Plante, 11. Von McGee, 12. Joe Sanfillipo, 13. Tori Donaldson, 14. Don Wolfe, 15. Al Arrisher