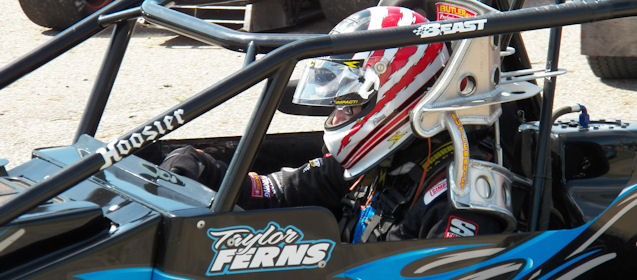 By Ferns Racing PR
Shelby Township, Mich.—July 6, 2012 — For race car drivers young and old alike, they would race every night of the week if given the choice. This weekend Taylor Ferns will have that chance, as she'll take to the track in her midget three times in three nights, on three different surfaces at two tracks, all with the USAC Mopar National Midget Series.
The weekend will open for the defending USAC Mopar D1 Midget Series champion in her Dea Eyewear Beast on Friday, July 6, at Plymouth Speedway in for the inaugural "Plymouth Palooza" at the half-mile paved oval in Northern Indiana. On Saturday, July 7, Ferns will compete in the No. 55 Spike on the newly-constructed one-fifth-mile dirt surface at Plymouth, which is housed inside the half-mile paved oval. The trio of races will conclude at the famed Angell Park Speedway in Sun Prairie, Wis., on Sunday, July 8.
"Racing three nights in-a-row is great," said Ferns. "We raced five straight nights during Indiana Midget Week, and it gives you a sense of what a racer's life is like. You are able to get to into a rhythm when you race that much. Hopefully we can come out with some good finishes this weekend."
Ferns raced earlier this season on the half-mile at Plymouth Speedway, when she made her debut in a full-bodied stock car. In that 100-lap contest, she ran as high as sixth, before finishing 10th. Last season, the native of Shelby Township, Mich., competed with the USAC Mopar D1 Midget Series at Plymouth, also finishing 10th in that 40-lap contest, which was co-sanctioned with the STARS National Midget Series. She opened that night by winning the second eight-lap heat race.
"When you have already raced at a track like I have at Plymouth this year, you go in with a game plan," shared the 16-year-old. "You know which line to run. You also know where people will try to pass. On the dirt track, everyone will be on the same level, since no one has raced there. It will probably be more of a guessing game on Saturday. It will be pretty neat getting to race on both tracks."
Ferns raced twice at Angell Park last season, earning a best finish of seventh on July 10, with the USAC Mopar D1 Midget Series. She finished third in the first heat race in that event to earn a spot in the 30-lap A-Feature. The winningest female in USAC history, returned to the historic one-third-mile a week later and qualified seventh, with a stout field of 28 cars in attendance. She finished seventh in the B-Main in that event, coming up just one spot short of transferring into the main event.
"Sun Prairie is such a fast track," said Ferns. "It's one of my favorite tracks. You have to go all out there to have an edge. It's racy most of the time if it doesn't go dry/slick. You definitely have to be on your game when you race Sun Prairie."
Ferns was in action twice last weekend in her family-owned machine with the USAC Mopar National Midget Series. She finished a career-best 12th with the series at Grundy County Speedway in Illinois on Saturday, June 30, after qualifying in that same position, with a solid 30-car field in attendance. The event was co-sanctioned with the STARS National Midget Series.
Last Friday night, she pulled double duty at Toledo Speedway in Ohio, with both the USAC Traxxas Silver Crown Series and the USAC Mopar National Midget Series at the half-mile paved oval. She finished 14th in the midget race and qualified seventh, in just her second-career Silver Crown start.
"The USAC National drivers are some of the best in the country," noted Ferns. "If you finish in the Top-10 and have good runs with them, then Top-Fives and Top-Threes will come. Running well with them gets my confidence up, and I think that will go a long way."
Taylor Ferns and Ferns Racing would like to thank their valued partners: Dea Eyewear, eBay Motors, FK Rod Ends, Frameworks Marketing Group, Lucas Oil, K&N Filters, Lansing Sanitary Supply (LSS), Simpson Race Products, Indy Race Parts, ButlerBuilt, Allstar Performance, Stanton Mopar, Lyn St. James Women in the Winner's Circle Foundation, Race4Girls and Racing2Cure.
###
Keep up to date
For the latest news, results and information on Taylor Ferns and Ferns Racing and to view a full 2012 schedule, visit www.TaylorFerns.com. Follow Taylor on Twitter at www.Twitter.com/TaylorFerns or @TaylorFerns and on Facebook at http://www.facebook.com/pages/Taylor-Ferns/116543998373.