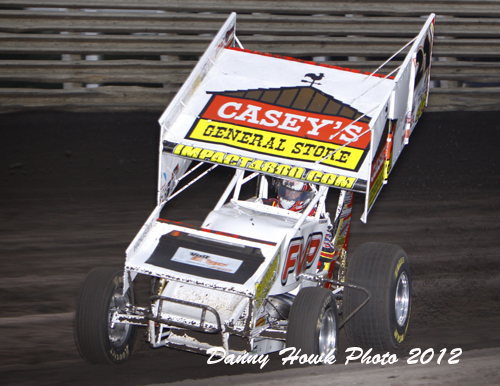 By Brian Brown
July 23, 2012 – Brian Brown and the Casey's General Stores/FVP #21 team racked up a trio of wins over the weekend. In impressive fashion, they doubled up at the Knoxville Raceway in both the 360 and 410 classes Saturday night. On Friday, they won at the Fairmont Speedway in Fairmont, Minnesota with the JSTS series. This week, tentative plans have them ready for four nights of 410 racing.
With the month of money upon us, Brian and the team decided to prep for it with double duty at Knoxville Saturday. They didn't time as well as they hoped in the 360 class. "We were there to figure out our 360 program for the 360 Nationals…especially the qualifying piece," says Brian. "Our eighth quick will turn into 15th quick fast at the 360 Nationals."
After winning his heat from the fourth starting spot, Brian would start the feature sixth. "We were able to get to third pretty quick," he says. "There was a yellow three laps in. Unfortunately, we got together with RJ Johnson there. That could have ended badly for both of us and I need to apologize. That got us out of shape and screwed my nose wing up."
The contact threw him off momentarily, but he would recover and win going away, despite the nose wing issue. "With Jesse Giannetto back by us, I knew it would be tough," says Brian. "We were able to get back to second and run Jon (Agan) down. We were able to get by him in some lapped traffic and go on and win. It was good to get a win. We need to keep plugging away on the qualifying."
Things went better with the 410's. Brian would time in fourth quick. "Racing with the Outlaws for a month really helped our program," says Brian. "I'm driving with more confidence than I have my whole life. Qualifying fourth is not always the best, but with Knoxville's format, it's a good place to be."
After a second place heat run, Brian started inside row four in the feature. "We got a good start and got to fourth quickly," he says. "There was a restart, and I was able to go through the middle of one and two and make it three-wide into turn two and come out in second. That's when I felt the rubber. At that point, it was like chasing the rabbit. That was Terry (McCarl). We were making quite a bit of ground up, and we were within a couple of car lengths when the red came out again."
Brian weighed his options behind McCarl. "As soon as we took off, he found the rubber and was driving smart," he says. "He was doing what he had to do. Realistically, I could have pushed it a little bit harder. I was content to ride until five or six to go. That's when I started pushing it a little harder."
The last lap saw an exciting pass that has become common at Knoxville over the years. "We came up on lapped traffic that last lap," says Brian. "I had a good run off of turn two. He went in behind the lapped cars and I was just going to hit the cushion as hard as I could in turn three. We were able to get by him there and it was cool to get the win."
Two feature wins in one night at Knoxville was a rare accomplishment. "There aren't many guys that have been able to do that," says Brian. "All my guys, and all our partners work so hard. Without any one of them, we couldn't have done the double duty. I'm the one who gets the credit, but without them, it wouldn't happen."
Things started way back on Wednesday at the Sioux Speedway in Sioux Center, Iowa. "We were excited to get up there," says Brian. "To have that many races within 100 miles of each other is pretty cool. It was tough to pass in the heat at Sioux Center, and that put us in twelfth to start the feature."
Brian charged forward, but would have to settle for third. "We were running third, when we had a caution there with about six to go," he says. "I felt like that was our opportunity to win the race. Kaley (Gharst) and Lou (Kennedy) did what they had to do, and we just got beat."
Thursday saw the team in Redwood Falls, Minnesota for another JSTS stop in which Brian finished second. "We weren't too great in the heat (4th to 3rd)," he says. "That put us starting seventh in the A. We were able to find the rubber first and get to second. Unfortunately, Kaley found it about the same time as we did. We got to him with a couple laps to go. He did what he needed to do to win the race."
Friday night, things went well in Fairmont. "Fairmont was good," says Brian. "It's a big half-mile. The State Bank of Fairmont put the race on, and they had a big picnic the day of the race. It was great that they supported it."
The track suited Brian and he would lead every lap of the feature. "The heat (won) was the best our car had been all week," he says. "We were able to start out front in the feature. It took rubber about ten or eleven laps in. At that point, the role was reversed from Redwood Falls. Kaley had to find a way to pass us, and we were the one leading. It was good to get back in Victory Lane. At this time of year, you just want to create momentum. That's definitely what we were trying to do."
Brian competed Sunday night at Jesse Hockett's XX Speedway in California, Missouri. He was driving the Haley Arnold #6 in honor of her late grandfather and former racer, Pat McKeehan.
As long as the team can get things in order, they plan on hitting three shows during MOWA Speedweek: Highland (IL) Speedway on Wednesday, Peoria (IL) Speedway on Thursday, and Jacksonville (IL) Speedway on Friday. The team is also looking at double duty again Saturday at Knoxville Raceway.
Web site info
For up to date information on Brian Brown Racing visit www.BrianBrownRacing.com
Casey's: www.caseys.com
FVP: www.fvpparts.com
Brian's Q&A
Jeremy Poland asks: What were you able to change from one car to the other between features at Knoxville on Saturday?
Brian answers: There wasn't a lot of time between features. We kind of had a gameplan with what we were going to do. We made a couple of minor adjustments, but the track was going to do what it was going to do. Chad (Morgan) and the crew are watching the track all the time. They made the adjustments we needed. The crew is a huge part of it. They are the ones doing the hard work, I'm just the one who gets to drive.
Got a question for Brian? Send it to us at sprntcar@iowatelecom.net, and we may answer it in this section! Put "? for Brian" in your subject line.
Brown's Bits
Brian's 410 win at Knoxville was his 21st. That tied him for tenth on the all-time win list with fellow "Show-Me" State driver Eddie Leavitt, who was a two-time Knoxville Nationals champion.
About Casey's General Stores
Casey's General Stores is a Fortune-500 company (NASDAQ CASY) operating nearly 1700 convenience stores in 11 states through the Midwest. Known for its "Homemade-To-Go" pizza, sandwiches, donuts and bakery items, Casey's strives to consistently deliver quality gas, fresh kitchen-prepared food, clean environments and friendly service at every retail location. Casey's is currently the 12th largest c-store chain and sixth largest pizza chain in the United States.
About FVP
We are very excited to introduce our new line of automotive chemicals, oils and fluids to our product offering. These new products will be available at many retailers across the country. We continue to offer a full line of high quality oil, air, cabin air and fuel filters, plus a complete line of high quality batteries for multiple applications including cars, trucks, SUV's, commercial and other specialty vehicles. All products are made to OE manufacturer fitment specifications. FVP products are engineered to provide our customers with quality products that are equal or superior in performance to the major national brands at a competitive price. To learn more about our FVP products or to find out where you can have FVP products installed in your vehicle, visit us at www.FVPparts.com! FVP…The Confident Solution
SPLASH
In addition to our line of seasonal safety products, we are very excited to introduce a full line of SPLASH Wiper Blades. Our SafeView Performance Blades fit 95% of the vehicles on the road with quick and easy installation for everyone. The AccuVision Beam Blade offers memory curve steel, which provides uniform pressure for a clear wipe, without the streaks. Look for these great new SPLASH products! Whether it's keeping your windshield clean or free of ice, protecting your RV, boat or pool from freezing in the winter, or your sidewalk safe to walk on, SPLASH Products are what you need! Check out our new SPLASH website at www.SPLASHWash.com! SPLASH…SEE SAFELY!
Marketing Partner of the Week – Ditzfeld Transfer
Brian says – "Ditzfeld Transfer is a family deal. Ronnie and his sons were our very first sponsor. They haul our motors, and if I would need anything hauled across the country, I would call them first."
Ditzfeld Transfer has been with Brian since the start of his racing career, and was his first sponsor. The Sedalia based family owned trucking business has been in operation for over 45 years, and has a commitment to maintaining the highest level of service. Currently, Ditzfeld Transfer utilizes more than 50 power units and 160 trailers. To learn more about Ditzfeld Transfer, visit www.DitzfeldTransfer.com!
Associate Marketing Partner of the Week – Racing Optics
Brian says – "Bart at Racing Optics is one of the smartest guys in sprint car racing. He came up with the laminated tear-off. Looking through ten is like looking through one, and they sure help on those nights where the track is heavy."
Headquartered in Las Vegas, Nevada, Racing Optics is the world's largest manufacturer of laminated tear-offs for Auto Racing Helmets, Motorcycle racing Helmets, helmet shield protectors and NASCAR windshield tear-offs. Racing Optics also makes Laminated Tear-offs for Police and Military applications along with Medical and Industrial applications. Racing Optics has you covered from professional racers to professional law enforcement. Take some time to view all of their products at www.RacingOptics.com, and you might be surprised to see what else they do!
Brian Brown Racing would like to thank Casey's General Stores, FVP, Searsboro Telephone Company, Impact Signs Awnings Wraps / impact4800.com, Champion Brands, SPLASH, Ditzfeld Transfer, Maxim Racing, Smiley's Racing Products, Weld Wheels, Housby Trucks, www.RateWin.com, Arctic Cat, K&N Filters, Hostiowa.net, FSR Race Products, TI64, Fuel-Safe Tanks, Awesome Racewear, Wolfe Eye Clinic, Bell Helmets, CP Pistons, Carrillo Rods, Engler Machine, Vortex Wings, Penray, All Pro Cylinder Heads, Butler Built Seats, AkzoNobel Sikkens, AllDayParts.com, Jack Links, Rockstar, Deli Express, Snap-On Tools, Rod End Supply, KSE Racing Products, Winters Performance Products, Santomauro Racing Products, Cometic Gaskets, Kaeding Performance, Donovan, Magtech, ISC Racers Tape, Kinsler, Racing Optics, Mothers Wax, Don's Truck Wash, Gardner Farms, Hoosier Tires, GoPro, XYZ Machining, Brown and Miller Racing Solutions, Peterson Fluid System, Red Devil Brakes, Schoenfeld Headers, and WSIB Insurance for all their support!