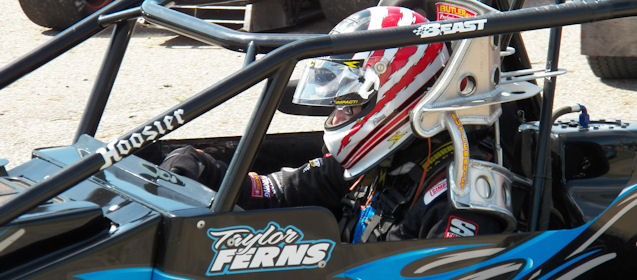 By Ferns Racing PR
Shelby Township, Mich.—July 25, 2012 — Two cars and two races mean twice as many laps. For a young driver like Taylor Ferns that equates to more seat time, which is priceless as she continues to hone her skills. The 16-year-old will pull double duty again this week, as she competes in both the USAC Traxxas Silver Crown Series race and the USAC Mopar National Midget Series event at Lucas Oil Raceway at Indianapolis.
Ferns will take to the track on Thursday, July 26, in the Rich Vogler Classic Presented by J.D. Byrider. The Silver Crown race is set for 100 laps, while the midgets will contest a 30-lap contest. The event is part of the annual SpeedFest at the historic 0.686-mile oval located just outside of Indianapolis in Clermont, Ind.
"We've had a couple of weeks off, so I am definitely ready to get back on the track," said Ferns. "Knowing I am going to be racing in both the midget and the Silver Crown car pushes me to workout even harder to make sure I am in shape, because 100 laps in a Silver Crown car is pretty tough on your body. I'm excited to race both cars on the same day again."
In her last Silver Crown start at Toledo Speedway in Ohio on June 29, Ferns qualified a career-best seventh at the half-mile aboard a Toyota-powered Beast for Team 6R. She made her Silver Crown debut earlier this season at the seventh-eighths-mile Iowa Speedway, where she finished 10th. The 16-year-old has tested a couple of times in a Silver Crown car at Lucas Oil Raceway at Indianapolis.
"Every time I get in the Silver Crown car I get more comfortable," she shared. "We were able to do some testing this week in the Silver Crown car, so that helped as well. It's certainly a different car to drive than a midget, but a lot of what I learn in the Silver Crown car helps in the midget and vice versa."
The Rich Vogler Classic will be a home race for Team 6R, owned by Darryl Guiducci and based in Indianapolis. The squad is the winningest in USAC Silver Crown history, amassing nearly 30 wins over the last 20 years. Kody Swanson, who is one of Taylor's teammates, is the current Silver Crown point leader, as he chases his first title.
"Knowing it's a home race for Team 6R and my crew chief Marc DeBeaumont adds even more excitement to the event," said Ferns. "Every time we go on the race track we try to do our best and hopefully we can get two good finishes. The competition will be tough in both races with the USAC national drivers. Marc has done pretty well over the years at that track, so that is a plus as well."
Ferns earned her best-career USAC Mopar National Midget Series finish on July 6, at the half-mile paved at Plymouth Speedway in Indiana, coming home 10th in her Dea Eyewear Beast. She opened the night as the third-fastest qualifier, which also marked a career-best with the series. She ran among the Top-Five for most of the 50-lap main event, before enduring fuel pressure problems in the late going. Ferns raced on the dirt two nights later at Angell Park Speedway in Sun Prairie, Wisc., which was her most recent start.
"We were very fast at Plymouth in the midget a few weeks ago," noted Ferns. "We are going to try to transfer everything that worked and that we learned there to the race on Thursday. For me, knowing that we were fast and ran up front against the USAC national drivers is very important and boosts my confidence."
Ferns has competed in three different types of race cars this season on both pavement and dirt, scoring Top-10 finishes in each of the vehicles. She ran 10th in her debut in a Silver Crown car as well as a full-bodied stock car. The native of Shelby Township, Mich., also has finished among the Top-10 in her Mopar-powered Beast midget on the pavement.
"Having raced in a few different cars this season on both the dirt and pavement has helped a lot," shared the young driver. "You learn certain things at one track or in one car and oftentimes you can translate that to another track and another car. Learning to be versatile is something that is very beneficial and helps me get better as a driver."
Taylor Ferns and Ferns Racing would like to thank their valued partners: Dea Eyewear, eBay Motors, FK Rod Ends, Frameworks Marketing Group, Lucas Oil, K&N Filters, Lansing Sanitary Supply (LSS), Simpson Race Products, Indy Race Parts, ButlerBuilt, Allstar Performance, Stanton Mopar, Lyn St. James Women in the Winner's Circle Foundation, Race4Girls and Racing2Cure.
###
Keep up to date
For the latest news, results and information on Taylor Ferns and Ferns Racing and to view a full 2012 schedule, visit www.TaylorFerns.com. Follow Taylor on Twitter at www.Twitter.com/TaylorFerns or @TaylorFerns and on Facebook at http://www.facebook.com/pages/Taylor-Ferns/116543998373.