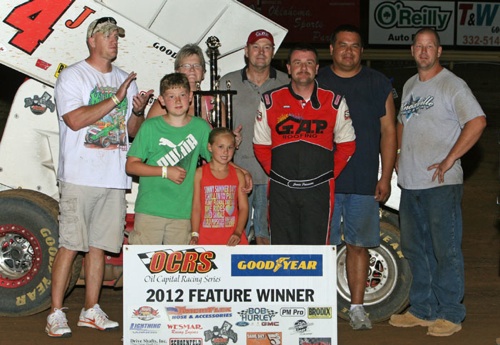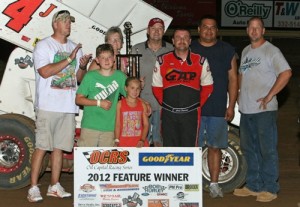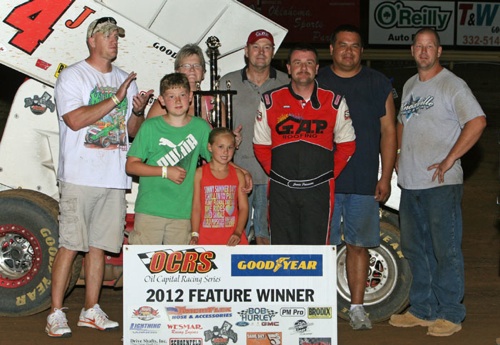 From John Lemon
Ada Oklahoma (July 28, 2012) – Jamie Passmore has won many main events in the Oil Capital Racing Series. He had yet to become a victory lane visitor in the first three running's of the "Harold Leep Jr. Memorial" race at Oklahoma Sports Park. Tonight, Passmore added this special event to his long list of achievements in the OCRS series by leading all 25 laps from his pole starting position. The victory for the GAP Roofing / Wesmar Racing Engines / Eagle chassis driver from Rose Oklahoma is his fifth in a row and tenth overall in 2012. It also enabled him to widen his lead in the point standings for the 2012 Goodyear Tire & Rubber / OCRS Championship.
Oil Medics Back Row Challenge Accepted
Danny Smith thinking: "Do I go back or do I stay on the pole?" / Mike Spivey Photo
   Sapulpa's Danny Smith was victorious in the five lap "Pole Dash" race which entitled the Same Day Auto Repair / BMS Engines / XXX chassis pilot to start on the pole in the A feature. When asked for the option to start at the rear of the field for an opportunity to double his prize take should he win, Smith wanted Passmore to go back with him if he accepted. As per current rules, Passmore, who was second in the dash, has the option to go tail back if the pole earner declines. When asked in front of a bevy of interested fans if he would go tail back with Smith, Passmore declined the option simply stating: "We are here for the wins". To which Smith replied: "All heck, someone has to man up and do it so I'll go to the back." It was Smith's way of poking a little fun of Passmore, as the two have been friends for years.
   With Smith in the back, Passmore on the pole and outside fellow front row starter Johnny "Hotrod" Kent in the Kent Construction / Eagle chassis number 55 ready to fire, the field was off and running in the 25-lap affair. As Passmore took the point going into turn one, Kent fended off charges by Fred Mattox and Gary Owens to hold down the runner-up spot. As the early laps unfolded, Owens, the defending Oklahoma State Champion, applied relentless pressure to Whit "Gasman" Gastineau for the third position. Smith would see his attempts to move up in the field a real handful as cars ahead stayed bunched together making it tough to get around them.
   Owens would work his Glen Owens Sans & Gravel / Fields Pecan Pies / Maxim around Gastineau for the third spot and look to make Kent his next victim. A few laps later at the half way marker, Smith sailed very high on the track, lost a lot of track position and he had Passmore looking at his rear bumper as he was very close to being lapped. With other lapped traffic in play, Owens was on the backside of the Gasman and the Gasman had Mattox all over him. The yellow would fly on lap 18 when David Lee Lambert rolled to a stop in turn one. This stoppage favored Smith the most. Not only by getting Passmore off his tail, but also by getting on the back bumpers of cars he still needed to pick off. The lap 18 restart would see Passmore in command, Kent, Owens, Gastineau, Mattox, Alex Sewell, Kyle Clark, Shayla Waddell and then Smith.
  Smith would quickly work his way past Waddell for the 8th spot once back under green and then he would have a difficult time getting around his teammate, Clark. His battle with Clark for multiple laps cost Smith precious time in having any chance of getting to the front. Smith would sweep around Sewell and two lapped cars in one swift move and in the short amount of time remaining, he would complete his effort on the Oil Medics 'Back Row Challenge' with a 6th place showing.
Jamie Passmore receives awards form the Leep family / Mike Howard Photo
   Passmore would cruise onward to the checkers untouched. Joined by the Leep family in victory lane, Passmore reflected on his achievement: "Ya know, I didn't know him personally (Harold Leep Jr) but I have heard all the good things about him and this one (win) is special. My guys (crew) did another good job and we just hope we can keep it going." Kent was pleased with his run: "He (Passmore) got through lapped traffic better than we did. That's just something we are going to have to work on. We haven't been in that situation a lot. We picked up a new (Eagle) chassis for the 2 weeks we were off and it seems to be working a ton better than what we had. We have been experimenting with some shocks and torsion bars and I think we are heading in the right direction" said Kent.
   Owens, as usual at OSP, was on his game: "I was trying to find the fastest line and we all three (Passmore, Kent and himself) just seemed to of had it. I kind of prefer this one (OSP track), I'm kind of comfortable with this track, we really like it. We got a caution when we needed it but we just couldn't do anything with it" said the third place finisher. Smith gave a few thoughts as to his experience and why he even took the Back Row Challenge: "When you start on the pole and win a race, that's what your supposed to do. When you really want to get a good measure as to where you stand racing, you go to the back and try it out. I just wanted to see where we were at. We have been trying some things with some special shock packages and stuff I just figured what better way to do it than go to the back as see how we compare."
Johnny "Hotrod" Kent  ran a strong second at OSP Mike Spivey Photo
   The M&W Aluminum Heat was won by Passmore.
   Shayla Waddell won the Bob Hurley Auto Family heat
   Smith took honors in the Drive Shafts Inc. Heat
   The OCRS winged warriors are off for three weeks till the series makes their second 2012 appearance at the Southern Oklahoma Speedway in Ardmore Oklahoma on Saturday, August 18th.
Oklahoma Sports Park
Race date: July 28, 2012 – Event 14
M&W Aluminum Heat:
1, Jamie Passmore (2), Fred Mattox (4) 3, Whit Gastineau (3) 4, Alex Sewell (1)
5, Tim Kent (6) 6, Jeff Garnett (5) 7, Frank Dittman (7)
Bob Hurley Auto Family Heat:
1, Shayla Waddell (1) 2, Johnny "Hotrod" Kent (2) 3, Casey Wills (3) 4, Michael Bookout (4) 5, Dillion Ake (6) 6, David Lee Lambert (5)
Drive Shafts Inc Heat:
1, Danny Smith (1) 2, Gary Owens (4) 3, Beau Gastineau (2) 4, Kyle Clark (5)
 5, Chuck Bellefeuille (2) 6, Rafe Essary. (DNS)
Pole Dash:
1, Danny Smith (1) 2, Jamie Passmore (3) 3, Johnny "Hotrod" Kent (2) 4, Fred Mattox (3) 5, Gary Owens (6) 6, Shayla Waddell (5)
OCRS A FEATURE
1, Jamie Passmore (1) 2, Johnny "Hotrod" Kent (2) 3, Gary Owens (4)_ 4, Whit Gastineau (6) 5, Fred Mattox (3) 6, Danny Smith (18) 7, Kyle Clark (9) 8, Alex Sewell (10) 9, Beau Gastineau (8) 10, Tim Kent (12) 11, Shayla Waddell (5)
12, Casey Wills (7) 13, Dillion Ake (13) 14, Michael Bookout. (11),15, David Lee Lambert (15) 16, Chuck Bellefeuille (14) 17, Rafe Essary (16) 18, Jeff Garnett (17) 19, Frank Dittman. (DNS).
AmeriFlex Hose and Accessories Hard Charger: Whit Gastineau