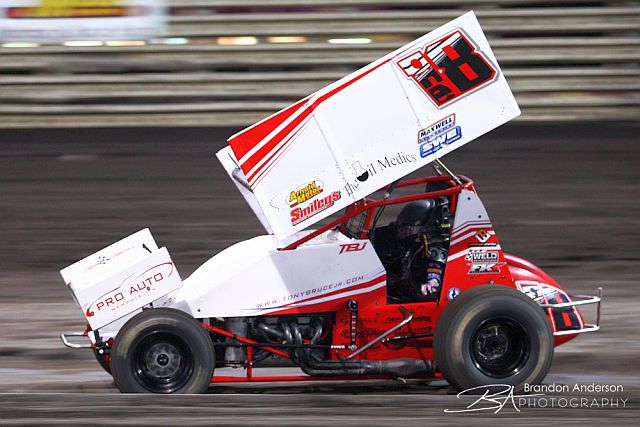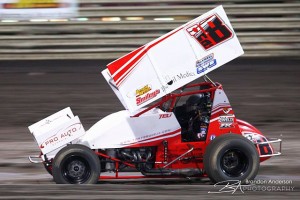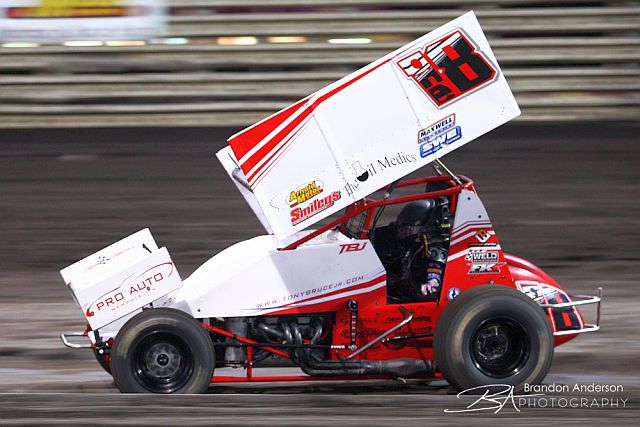 From Peterson Media
In the biggest weekend of 360 racing in the country, Tony Bruce, Jr narrowly missed out on making the championship feature as the Owasso, OK resident finished fifth in the Saturday night B main.
The weekend got off to a rocky start for Bruce, as he timed his Pro Auto/Oil Medics/Hinchman No. 18 machine in with the 17th fastest lap of the Friday qualifiers in a rare qualifying effort for the ASCS National Tour.
Lining up on the front row of his heat, TBJ tallied a second place finish, and found himself on the pole of the 20-lap feature event.
Getting a very strong jump on the field, Bruce jumped out to a sizeable lead, asa he raced around the top side of the Knoxville Raceway.
With Rager Phillips in tow, Bruce had his hands full on the sixth lap as the battle for the lead turned on.
On the seventh lap Phillips got the best of Bruce, and TBJ slowly began slipping back through the field.
When the race drew to a close, TBJ had slipped all the way back to the 15th spot.
"I just lost it about lap ten," said Bruce. "We didn't do ourselves any favors for Saturday."
With the finish, TBJ was able to start in the second row of the B main, needing to run in the top four to make the transfer.
When the B got underway, Bruce fell to the fifth spot on Saturday, and wasn't able to make up any ground, and ended his 360 Nationals just short of the B.
Bruce would like to thank all of his sponsors, Hinchman Racewear, Pro Auto, The Oil Medics, Smileys, SWE, Maxwell Industries, FK Rod Ends, Butlerbuilt, Factory Kahne Shocks, Randy's Racing Filters, DriversWebsites.com, Racinboys.com, Wilwood, Zemco Headers, Hoosier Tires, Gaerte Engines, Pro Powder Coating, Fuel Safe, Bell, Weld Wheels, and ISC Racer's Tape for their support through the 2012 season.
ON TAP: TBJ and the one8 motorsports team are now set for the Knoxville Nationals and we qualify on Wednesday night.
STAY CONNECTED: Stay updated with TBJ by visiting his website at
www.tonybrucejr.com, or by following him on twitter @tonybrucejr
SPONSOR SHOUT OUT: ButlerBuilt
Located in North Carolina, ButlerBuilt continues to put out the safest racecar seat on the market. Specializing in all types of racecar seats, ButlerBuilt simply puts drivers in the most comfortable situation to win races.
"I will never strap into any sprint car unless it has a ButlerBuilt seat," said TBJ. "Brian and Jeannie truly care about their product and what it protects. All the safety features that ButlerBuilt has to offer there is no reason to run anything else."