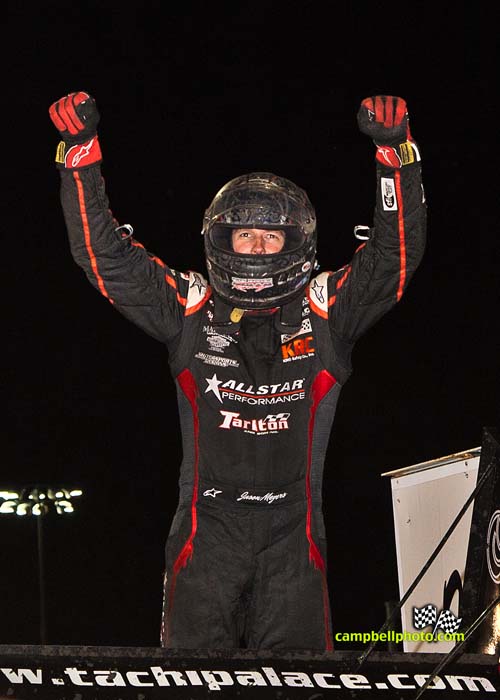 PETERSEN MEDIA

Taking the momentum from his Thursday night win into the Saturday night finale, Jason Meyers made a couple of late moves, and closed his 2012 Knoxville Nationals with a fifth place finish.
Lining up in the seventh spot for the 50-lap championship feature, Meyers fell back early as he rode around just inside the top-ten.
With the first half of the race going non-stop, Hotfoot had gotten back into the seventh spot as he battled the likes of Shane Stewart and Joey Saldana, just before the yellow waved for the mandatory pit-stop.
On the restart, Meyers used an aggressive move aboard the Tachi Palace and Casino/Corporate Lending America/Bandy and Associates machine to clear Stewart and Kraig Kinser as he took over the fourth spot and set his sights on Stevie Smith.
With the top four all single file, Meyers continued to hit his marks as he chased down Smith. Once he reached Smith, Jason and Kraig Kinser split him, but Kinser got under Meyers and he slipped back to the fifth spot.
After the lone caution of the second half of the race, Meyers attempted to get passed Kinser, but wasn't able to and ultimately went on to finish fifth in the feature event.
"I can't say enough about all these guys with this Tarlton and Son race team," Meyers explained. "They gave me a great opportunity to come back and win this thing, and to win a prelim and run fifth on the final night is pretty cool."
Jason would like to thank Corporate Lending America, Tachi Palace and Casino, Sharp Insurance, Bandy and Associates, Pro Signs, BG Lubricants, K&N Products and Astro Titanium for their continued support.
VIDEO: Check out Jason and his Tarlton Racing team as they compete during the final night of the Knoxville Nationals right here https://vimeo.com/47498388!
STAY CONNECTED: Stay connected with Tommy by visiting www.tommytarlton.com or follow @Tarlton_Racing on Twitter.