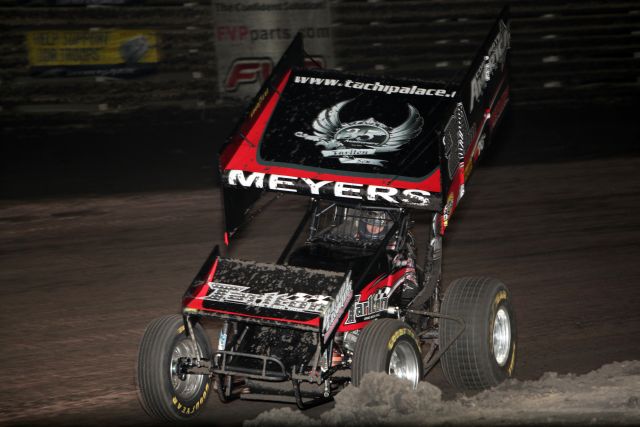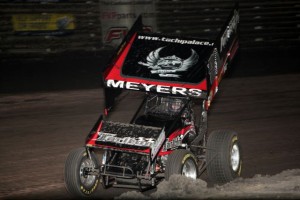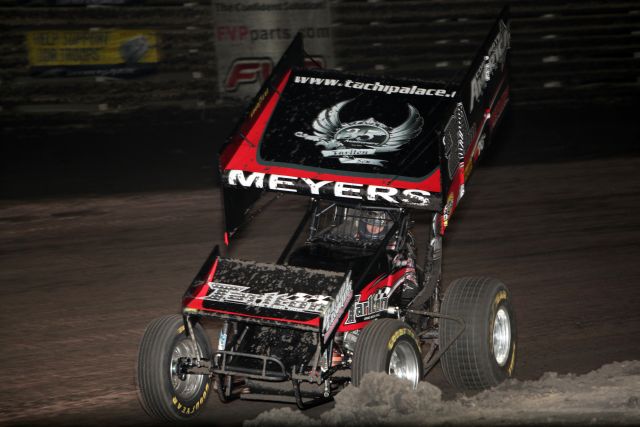 From Steven Blakesley
Watsonville, CA — (August 14, 2012) —  Two-time World of Outlaws champion Jason Meyers, fresh off a fifth place finish in the Knoxville Nationals, will return to California to compete in Friday's Johnny Key Classic Qualifier for the Ocean Sprints presented by Taco Bravo.  Meyers will look to join teammate Tommy Tarlton, San Jose's Nick Green, and Andy Forsberg as drivers locked into the Key.
Friday's races are the final prelude before the $10,000 to win Johnny Key Classic, presented by DDNi, on Saturday August 25.  Tarlton has had his way with the Ocean Sprints thus far in 2012, winning all three Johnny Key qualifiers and scoring five wins total.  With five races remaining in the season, Tarlton is just two wins behind Brent Kaeding for the record win count in a single season.
The winner, or highest finishing car not yet qualified, in Friday's 30 lap contest will lock into the Key.  The top-two in points not yet locked in after Friday will also get berths into the event.
Shane Golobic of Fremont is still lacking a feature win for his 2012 campaign but leads the series points in Steve Osborne's #9j entry.  Golobic has led the points for much of the season ahead of Stockton's Brad Furr in the #2 Price Restaurant Equipment entry.  Furr is also in search of his first win.
At the last event on July 27, Furr finished third while Golobic finished fourth.  Former Ocean Sprints regular Jason Statler traveled from Grass Valley to look for a Key berth but fell short in the fifth position at the finish.
The balance of the top-ten in the series points includes Gilroy's Kurt Nelson, San Martin's Craig Smith, San Jose's Ryan Rusconi, San Jose's Wayne Katen, Corralitos' Jerry Bonnema, Salinas' Carter Train, and Salinas' Ronnie Day.  Day has accumulated three wins this season in the Keith Day Trucking #22 but is out of action after back surgery a month ago.
Friday's races for the Ocean Sprints will also include racing for the Wingless Sprints, Sport Mods, Four Bangers, and American Stocks.  Adult tickets are just $17 with seniors 65+ $15 and kids ages 6-12 are $13.  The family pass for two adults and two children is value priced at just $55.  Qualifying will get underway at 6 p.m. with fan gates opening at 4:30 p.m.
For more information on the Ocean Sprint Cars presented by Taco Bravo log onto http://www.oceansprints.com and for more on the Ocean Speedway visit http://www.oceanspeedway.com