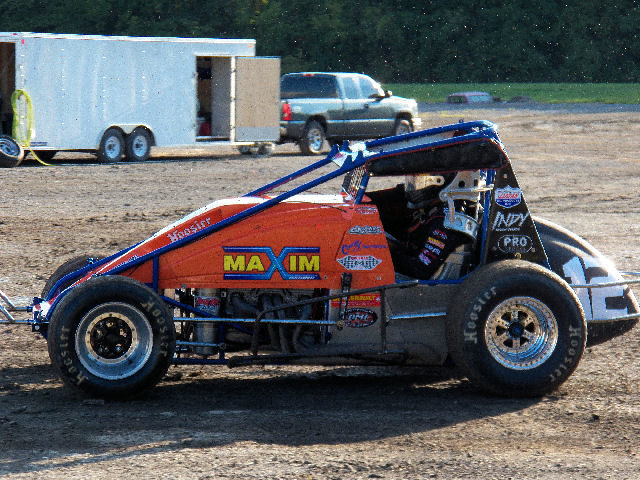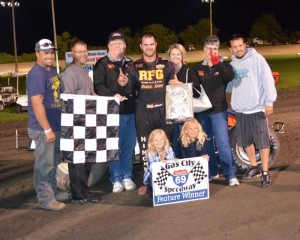 From Bob Buffenbarger
Gas City, IN — (August 17, 2012) — Robert Ballou brought a new car to Gas City/I-69 Speedway Friday night and departed with a victory in a thrilling and unbelievably fast feature on a cool autumn like evening.
The 25 lap feature lined up on the beautifully prepared 1/4 mile that was still seeing mudclods flying high well into the main event. Travis Welpott and James Bradshaw made up the front row and Welpott led after one lap.
By lap five Robert Ballou had moved from his 3rd starting spot to 2nd with AJ Hopkins, the 10E of Billy Puterbaugh, James Bradshaw, Scotty Weir and Tyler Courtney trailing. By the tenth circuit cars were beginning to make some moves on the extremely fast track. But lap 10 saw the yellow fly for Hunter Donelson. The green re-appeared but only for two laps when Jon Siscoe and Matt Westfall tangled in turn four.
On the restart the 42G of AJ Hopkins passed Ballou for 2nd but Ballou would get by to re-take the position a lap later. The track was fast everywhere and cars were making breathtaking passes at will. The red flew on 14 for a tipover by Justin Grant. He was done for the night. With 14 laps in Welpott was still in the lead but cars were coming fast with Ballou and Puterbaugh dicing for the lead.
On the 21st lap Ballou finally made the pass for the lead and took Hopkins with him past Welpott. The final three laps were crazy with Ballou and Hopkins swapping the lead and racing side by side with Ballou eventually taking the thrilling win. Following Ballou was Hopkins Billy Puterbaugh, Scotty Weir, Coleman Gulick, Tavis Welpott, Tyler Courtney, Clemons, James Bradshaw, wesmac, Logan Jarrett, Matt Goodnight, Brian Gerster, Chris Gurley, Jon Sciscoe'
Heats for the 26 cars on hand were won by Billy Puterbaugh, Robert Ballou and AJ Hopkins. Wes Mcintyre won the B main.
SPRINTS
Heat #1 Winner – Billy Puterbaugh, Jr
Heat #2 Winner – Robert Ballou
Heat #3 Winner – AJ Hopkins
B-Main Winner – Wes McIntyre
Feature
1. Robert Ballou
2. AJ Hopkins
3. Billy Puterbaugh, Jr
4. Travis Welpott
5. Coleman Gulick
6. Scotty Weir
7. Tyler Courtney
8. Joshua Clemons
9. James Bradshaw
10. Wes McIntyre
11. Logan Jarrett
12. Matt Goodnight
13. Brian Gerster
14. Chris Gurley
15. Jon Sciscoe
16. Tyler Hewitt
17. Conner Donelson
18. Kyle Dautrich
19. Justin Grant
20. Matt Westfall
Photo Gallery