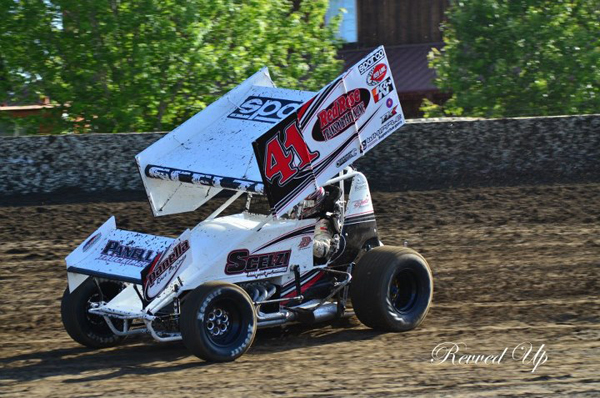 Steven Blakesley
WATSONVILLE, CALIFORNIA (August 18, 2012) – 16 year-old rookie Dominic Scelzi from Fresno broke through for his first career win on Friday night at Ocean Speedway Watsonville, with a thrilling last lap move to slide past Stockton's Brad Furr for the victory.
The win came during the fourth Johnny Key Classic qualifying race that drew an all-star field to the quarter-mile dirt oval. Scelzi locked himself into next Saturday's $10,000 to win 52nd Johnny Key Classic, presented by DDNi, joining Tommy Tarlton, Nick Green, Andy Forsberg, Shane Golobic, and Brad Furr as qualified cars for the race.
"You know what, in qualifying tonight I roll up and I see Jason Meyers next to me and I thought 'I'm living the dream right now,'" Scelzi said. "I'm speechless right now!"
Visalia's Steven Tiner led the 21 car field to green for the 30 lap feature. The first eight laps went caution-free. Golobic, the points leader from Fremont, made a sweeping pass outside of two-time World of Outlaws champion Jason Meyers of Clovis to take sixth on lap seven while Tiner attacked lapped traffic early on.
A bobble by Tiner coming out of turn two evolved into a massive crash as Tiner hit the fence nose first and came down hard on the wall. Tiner was able to walk away uninjured but the TSG Recycling #37x was done for the evening.
Stockton's Furr inherited the lead on the fast and hooked up track while Brent Kaeding defended second place with a damaged front wing. Kaeding successfully held off Scelzi and Green for numerous laps before Green jumped the cushion, nosed into the turn two wall, and flipped to end his evening early.
That lap 14 red flag opened the door for Scelzi to move past Kaeding and set his sights on Furr. The caution came out again on lap 20 for Jason Toft of Petaluma backing into the turn three wall, setting up a 10 lap shootout to the finish.
Golobic led 16th place starting rookie Carson Macedo through the pack up into third and fourth respectively off the restart. Scelzi charged hard after Furr but had to ride out a big wheel stand while jumping the cushion in turn two. Scelzi did a wheelie down the backstretch but gathered his #41 ride up to chase Furr again.
Furr quickly encountered lapped traffic which set up the turning point of the race. With two laps to go, Furr banged wheels with San Jose's Michael Twitchell. Suddenly the top-three cars of Furr, Scelzi, and Golobic found themselves nose-to-tail as the white flag flew.
Coming into turn one, Scelzi dove into turn one and pulled off a huge slide job to the take the lead and bring Golobic with him. The aggressive move by Scelzi paid off as he took the win ahead of Golobic, Furr, DDNi Hard Charger Carson Macedo, and Kaeding.
The win not only was Scelzi's first in his young career, but served as a comeback victory after suffering a concussion in a flip earlier this year at Ocean.
"This track has scared me since the day I got here and we've had nothing but bad luck," Scelzi said. "I said to myself 'I'm going to win here and conquer this place.' My Grandpa is in the hospital and he's in our prayers…this is for him!"
Both Golobic and Furr had their minds on next week's Johnny Key. The top-two in the points are both winless in 2012.
"They were going at it and I wish we could have been a little better and run with them," Golobic said. "I'm looking forward to the Key next week. I had a little throttle issue; it was sticking a little bit which made it tough for me. At Gold Cup last year Jason Meyers schooled me on a start and it felt good to get a little redemption there and pass him on the top."
"Well obviously I'm a little disappointed that we didn't win but the kid did a good job," Furr said. "It was a good move and I think I could have won it if I had had one more chance. Hopefully we can get it done at the Johnny Key where the money is on the line."
Heat race wins went to Watsonville's Justin Sanders, Golobic, and Auburn's Cole Wood. The DDNi Hard Charger was Lemoore's Carson Macedo and the Ray Scheidt's Electric fast-time award went to Jason Meyers with a 11.512 second lap around the track.
The Ocean Sprints presented by Taco Bravo return next Saturday night for the 52nd Johnny Key Classic paying $10,000 to the winner!
For more information on the Ocean Sprint Cars presented by Taco Bravo log onto http://www.oceansprints.com and for more on the Ocean Speedway visit http://www.oceanspeedway.com
Ocean Speedway would like to thank Taco Bravo, Digital Delivery Networks, Get Som Sports, Ray Scheidt's Electric, Hoosier Tires West, and Kaeding Performance for their support of the 2012 Ocean Sprints presented by Taco Bravo.
August 17, 2012 Ocean Sprints presented by Taco Bravo – Watsonville, California
RAY SCHEIDT'S ELECTRIC QUALIFYING: 21 Jason Meyers 11.512
HEAT RACE ONE: OB1 Justin Sanders
HEAT RACE TWO: 9j Shane Golobic
HEAT RACE THREE: 17w Cole Wood
30 LAP FEATURE: 1) 41 Dominic Scelzi 2) 9j Shane Golobic 3) 2 Brad Furr 4) 21x Carson Macedo 5) 69 Brent Kaeding 6) 21 Jason Meyers 7) OB1 Justin Sanders 8) 98 Ryan Rusconi 9) 72w Kurt Nelson 10) 58 Jerry Bonnema 11) 6m Jon Maiwald 12) 17w Cole Wood 13) 8 Jeremy Chisum 14) 2x Carter Train 15) 37 Michael Twitchell 16) 68 Marvin Mitchell 17) 27 Jason Toft 18) 14 Nick Green 19) 37x Steven Tiner 20) 99 Wayne Katen DNS 25z Jason Chisum
LAP LEADERS: 37x Steven Tiner 1-8, 2 Brad Furr 9-29, 41 Dominic Scelzi 30