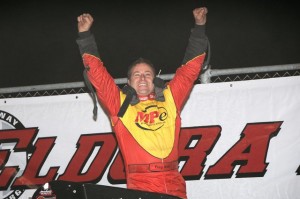 From Dick Jordan
Indianapolis, IN — (August 28, 2012) — Tracy Hines of New Castle, Ind. is the only driver in the last 17 years to claim two trophies in the annual "Ted Horn 100" at the DuQuoin (Ill.) State Fairgrounds. He'll shoot for his third victory in the annual USAC Traxxas Silver Crown event Sunday night at the "Magic Mile."
Hines scored back-to-back victories at DuQuoin in 2005 and 2006. Since 1995 a total of 15 different winners have emerged from the 16 races held (the 2009 event was rained out). Winners during that stretch also include Johnny Parsons, Chuck Gurney, Russ Gamester, Jimmy Sills, Tony Elliott, Kasey Kahne, Paul White, J.J. Yeley, Rich Tobias Jr., Tyler Walker, Shane Cottle, Brian Tyler, Kody Swanson and Kyle Larson.
DuQuoin race winners with three or more victories include A.J. Foyt (6), Gary Bettenhausen (5), Mario Andretti, Tom Bigelow and Chuck Gurney (3 each).
Hines, who ranks ninth in the current Traxxas standings, is tied for the lead among all active USAC drivers with 81 career National wins, eight of which have come in the Silver Crown series. He has four National wins this season but his best Silver Crown finish in 2012 has been a fifth at Toledo, Ohio. Dave Darland, who will also compete at DuQuoin, also has 81 career National wins.
Only A.J. Foyt (154), Rich Vogler (134), Mel Kenyon (111) and Gary Bettenhausen (82) have more USAC National wins than Hines and Darland.
Three races remain on the 2012 Traxxas Silver Crown calendar, so the 198 points available are sufficient enough to give Hines a chance to compete for the series title. He's currently 85 behind leader Kody Swanson entering Sunday's race.
Hines, who has 14 career DuQuoin starts, was third in last year's 100-miler. He also posted "top-10" finishes in 2000 (5th), 2002 (6th), 2003 (5th) and 2004 (3rd) in addition to his 2005 and 2006 victories.
2012 USAC TRAXXAS SILVER CROWN STANDINGS
1-Kody Swanson-302; 2-Bobby East-298; 3-Jerry Coons Jr.-289; 4-Levi Jones-270; 5-Tanner Swanson-259; 6-Bud Kaeding-259; 7-Bobby Santos-253; 8-A.J. Fike-221; 9-Tracy Hines-217; 10-Brian Tyler-192.