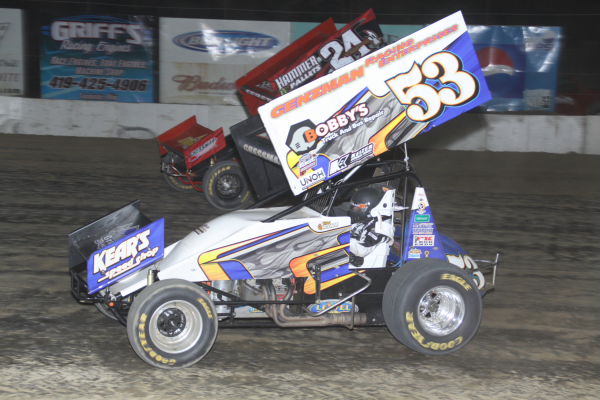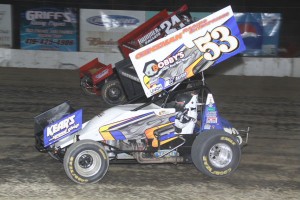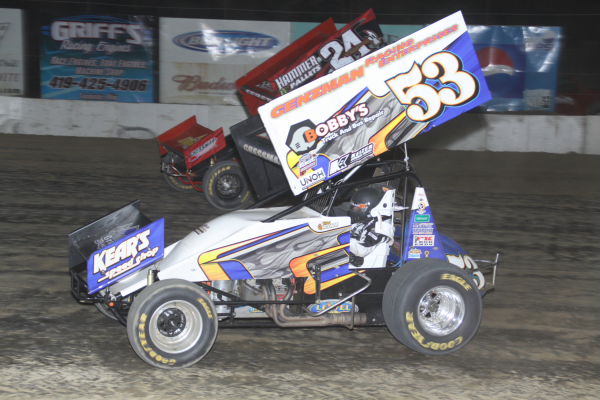 From Brian Liskai
Attica, OH — (September 1, 2012) — It was a wild and wacky finish to the 2012 season at Attica Raceway Park Saturday. And when the rain started falling it was Fremont, Ohio's Phil Gressman who was standing in victory lane for his fifth career University of Northwestern Ohio All Star Circuit of Champions Sprint Car win.
The night started with a two hour rain delay. As officials pushed the show rapidly along, it appeared the 40-lap feature on Baumann Auto Group Night would be exciting. It turned into an event-filled race with five red flags and four cautions. And just when it looked like Dean Jacobs would earn the victory after leading the first 36 laps, he either ran out of fuel or suffered some other mechanical woe, handing the lead to Gressman. Gressman had to fend off Danny Holtgraver the final four circuits to score his 7th career Attica victory.
For Gressman, who destroyed a car a few weeks ago battling up front at Attica, it was his first win of the season. The UNOH All Star win is his first since 2004, with all five of his career series victories coming at different tracks.
"We will take them any way we can get them. I thought I had a pretty good car…I was just kind of bidding my time. I thought later in the race we would be better. I felt like before that tangle between Sebetto (Brian), Chaney (Rob) and Dale (Blaney) that I was closing in on them and I felt pretty good. Forty laps is a long time…we hung in there and here we are," said Gressman beside his Ludwig Propane, Kear's Speed Shop, Level Performance backed #53.
"I feel like I can still race with these guys…it's just putting it all together. Marilyn Genzman has stuck behind us through thick and thin…without her this would be impossible and we greatly appreciate what she does. It's a lot of hard work Monday through Friday…I don't know why we had to wait until the last race of the year to get this win," added Gressman.
A steady rain fell after the sprint feature, forcing the cancellation of the Summit Racing Equipment UMP Late Model and Bob's Machine Shop Dirt Truck features.
Coming off his second UNOH All Star win of the season the previous night, Pittsburgh, Pennsylvania's Danny Holtgraver would score a runner-up finish. Holtgraver earned his first ever series win at Attica in June.
"Everything has been going good. We struggled in our heat race but there wasn't much passing going on. We didn't make it through and had to run the B and made it. We really got lucky…we were pretty good but I couldn't really run around the top like I probably needed to. A lot of good cars in front of us got wrecked but we'll take it. I tried for it at the end but I knew I wouldn't clear him so I didn't try to take him all the way to the fence and take out a home town guy. I have to thank everyone, my dad, Brian (Kemenah), Pup, Chris…just everyone that helps us out," said Holtgraver beside his Kargo Quality Cars/Alternative Power Sources/DKW Transport backed machine.
For the second straight night, Bellevue, Ohio's Cap Henry made a charge from mid-pack to the front. The former UNOH All Star rookie of the year charged from his 14th starting position to a third place finish.
"We had a really good car. With that last red on the restart when Phil threw that big slider on me something broke in the bakes and I had no brakes. And then, with two to go something broke in the rear end and it was dragging the left rear frame rail. So I'll take third," said Henry beside his Lucas Oil/FK Rod Ends/Fragola Performance Systems/GME Nields Steering backed #54.
Because of the threatening weather, qualifying was cut to just one lap, and the dash was cancelled and replaced with a pill draw for the top six starting positions. Rob Chaney and Jacobs would bring the field to the green with Jacobs grabbing the lead over Chaney, Bryan Sebetto, Dale Blaney, Paul McMahan, Greg Wilson and Gressman. Sheldon Haudenschild would spin after the opening lap for the first caution.
On the restart Jacobs would pull away from a tremendous battle for second between Chaney and Sebetto with Blaney, McMahan, Wilson and Gressman in tow. Just as Jacobs was about to encounter heavy lapped traffic – racing three wide in front of him, Duane Zablocki would tumble in turn four.
UNOH All Star officials would open the red flag for crews to add fuel and check tire pressures.
Now, with a clear track in front of him, Jacobs would pull away slightly from that fantastic battle for second between Sebetto and Chaney with Blaney within striking distance while McMahan, Gressman, Wilson and Cole Duncan locked in a good fight for fifth.
Sebetto would take the runner-up spot on lap eight and was soon closing on Jacobs who again was getting close to heavy lapped traffic. Haudenschild would spin again on lap 14, again handing Jacobs a clear track.
On the restart Jacobs would have his hands full with Sebetto and Chaney. But after completing the 15th circuit, Sebetto would slip off the high side of turn two, and rocket back onto the track into Chaney with Blaney being collected and ending up on his side.
Now the restart order was Jacobs, Gressman, Duncan, McMahan, Wilson, Holtgraver and Henry. Again Jacobs would rocket away from the field on the restart with Duncan pressuring Gressman for second. And once again, just as Jacobs was going to have to figure out a way through heavy lapped traffic on lap 22, the red would fly when Andrew Palker tumbled off turn one.
The restart order was Jacobs, Duncan, Gressman, McMahan, Wilson, Henry, Holtgraver, Stevie Smith (up from his 19th starting spot), David Gravel and Danny Smith. This time Jacobs wouldn't be able to run away when the green flew as Duncan stuck to his rear bumper. With 10 laps to go, Jacobs was about to hit lapped traffic again. But, on lap 32, Chris Andrews and Blaney made contact right in front of the leaders, with Jacobs narrowly getting by. Duncan wasn't as lucky as he plowed into Andrews, flipping his mount.
That would put Gressman into second with Henry third followed by Holtgraver and Smith. When the green came back out it appeared Jacobs had the race in control, as he pulled away from the exciting battle for second between Gressman and Henry. Henry would take the runner-up spot on lap 35, but as they raced to complete the 36th circuit, the caution flew for a stalled Randy Hannagan.
On the restart, Jacobs would coast to a stop on the back stretch, handing the lead to Gressman with Holtgraver, Henry, Smith, McMahan and Haudenschild in tow. Gressman and Holtgraver would battle side-by-side over the remaining four laps with Gressman taking the checkered by half a car length over Holtgraver. Henry, Smith and McMahan would round out the top five.
The event closed the season for Attica Raceway Park. It was the 97th appearance of the UNOH All Stars at the track since 1988.
All Star Circuit of Champions (38 Cars)
[#]-Starting Position
Qualifying – Kistler Engines
1. 24H-Bryan Sebetto, 12.187; 2. D4-Danny Holtgraver, 12.271; 3. 29-Rob Chaney, 12.395; 4. 93-Sheldon Haudenschild, 12.445; 5. 40-Caleb Helms, 12.478; 6. 2-Dale Blaney, 12.553; 7. 45-Paul McMahan, 12.570; 8. 53-Phil Gressman, 12.609; 9. 97-Dean Jacobs, 12.622; 10. 22-Cole Duncan, 12.629; 11. W20-Greg Wilson, 12.632; 12. 89G-David Gravel, 12.647; 13. 57X-Andrew Palker, 12.661; 14. 4-Danny Smith, 12.663; 15. 54-Cap Henry, 12.664; 16. 3L-Mike Linder, 12.672; 17. O9-Craig Mintz, 12.679; 18. O-Christopher Bell, 12.688; 19. 16-Chris Andrews, 12.690; 20. 19-Stevie Smith, 12.696; 21. 83-Tim Shaffer, 12.699; 22. 9Z-Duane Zablocki, 12.702; 23. 2M-Dallas Hewitt, 12.738; 24. 9X-Brandon Martin, 12.760; 25. 1X-Randy Hannagan, 12.796; 26. 11N-Ed Neumeister, 12.827; 27. 55-Brad Bowman, 12.857; 28. 5T-Travis Philo, 12.871; 29. 5R-Byron Reed, 12.896; 30. 15H-Mitch Harble, 13.112; 31. 11F-D.J. Foos, 13.207; 32. 60C-Kory Crabtree, 13.290; 33. 4K-Kody Kinser, 13.373; 34. 22B-Ryan Broughton, 13.381; 35. 4AU-Jack Lee, 13.495; 36. 70-Pete Grove, 14.139; 37. 9W-Lance Webb, 14.226; 38. 35-Stuart Brubaker, 99.999
Heat 1 – Kears Speed Shop (10 Laps – Top 5 finishers transfer to the A-feature)
1. O9-Craig Mintz[2] ; 2. 83-Tim Shaffer[1] ; 3. 57X-Andrew Palker[3] ; 4. 97-Dean Jacobs[4] ; 5. 24H-Bryan Sebetto[6] ; 6. 1X-Randy Hannagan[7] ; 7. 40-Caleb Helms[5] ; 8. 4K-Kody Kinser[9] ; 9. 5R-Byron Reed[8] ; 10. 9W-Lance Webb[10]
Heat 2 – All Pro Aluminum Heads (10 Laps – Top 5 finishers transfer to the A-feature)
1. O-Christopher Bell[2] ; 2. 9Z-Duane Zablocki[1] ; 3. 22-Cole Duncan[4] ; 4. 2-Dale Blaney[5] ; 5. 4-Danny Smith[3] ; 6. D4-Danny Holtgraver[6] ; 7. 22B-Ryan Broughton[9] ; 8. 11N-Ed Neumeister[7] ; 9. 15H-Mitch Harble[8]
Heat 3 – Dragon Race Fuel (10 Laps – Top 5 finishers transfer to the A-feature)
1. 16-Chris Andrews[2] ; 2. 2M-Dallas Hewitt[1] ; 3. W20-Greg Wilson[4] ; 4. 45-Paul McMahan[5] ; 5. 29-Rob Chaney[6] ; 6. 54-Cap Henry[3] ; 7. 55-Brad Bowman[7] ; 8. 11F-D.J. Foos[8] ; 9. 4AU-Jack Lee[9]
Heat 4 – Kinsler Fuel Injection (10 Laps – Top 5 finishers transfer to the A-feature)
1. 19-Stevie Smith[2] ; 2. 9X-Brandon Martin[1] ; 3. 3L-Mike Linder[3] ; 4. 53-Phil Gressman[5] ; 5. 89G-David Gravel[4] ; 6. 5T-Travis Philo[7] ; 7. 93-Sheldon Haudenschild[6] ; 8. 60C-Kory Crabtree[8] ; 9. 70-Pete Grove[9]
B-Main – MSD Ignition (12 Laps – Top 4 finishers transfer to the A-feature)
1. 1X-Randy Hannagan[5] ; 2. 93-Sheldon Haudenschild[2] ; 3. D4-Danny Holtgraver[1] ; 4. 54-Cap Henry[4] ; 5. 55-Brad Bowman[7] ; 6. 11F-D.J. Foos[11] ; 7. 5R-Byron Reed[9] ; 8. 4K-Kody Kinser[13] ; 9. 4AU-Jack Lee[15] ; 10. 70-Pete Grove[16] ; 11. 5T-Travis Philo[8] ; 12. 15H-Mitch Harble[10] ; 13. 11N-Ed Neumeister[6] ; 14. 22B-Ryan Broughton[14] ; 15. 40-Caleb Helms[3] ; 16. 9W-Lance Webb[17]
A-Main – University of Northwestern Ohio (40 Laps)
1. 53-Phil Gressman[5]; 2. D4-Danny Holtgraver[11]; 3. 54-Cap Henry[14]; 4. 19-Stevie Smith[19]; 5. 45-Paul McMahan[6]; 6. 93-Sheldon Haudenschild[12]; 7. W20-Greg Wilson[8]; 8. 89G-David Gravel[9]; 9. 83-Tim Shaffer[20]; 10. 9X-Brandon Martin[23]; 11. 4-Danny Smith[13]; 12. O9-Craig Mintz[16]; 13. 3L-Mike Linder[15]; 14. 2-Dale Blaney[3]; 15. 97-Dean Jacobs[2]; 16. 1X-Randy Hannagan[24]; 17. 22-Cole Duncan[7]; 18. 16-Chris Andrews[18]; 19. 2M-Dallas Hewitt[22]; 20. 57X-Andrew Palker[10]; 21. 24H-Bryan Sebetto[4]; 22. 29-Rob Chaney[1]; 23. O-Christopher Bell[17]; 24. 9Z-Duane Zablocki[21]
Hard Charger: 19-Stevie Smith[+15]
Summit Racing Equipment Late Models (19 Cars)
[#]-Starting Position
Heat 1 – Nitro Black Performance by Engine Pro (8 Laps – Top 10 finishers transfer to the A-feature)
1. 36-Matt Irey[2] ; 2. 99-Steve Sabo[3] ; 3. 50-Scott Phillips[5] ; 4. O2-Jeff McCoy[4] ; 5. 15B-Mike Bores[8] ; 6. 99M-John Mayes Sr.[6] ; 7. 29K-Garrett Krummett[9] ; 8. 2-Justin Chance[10] ; 9. 12M-Wayne Miller[7] ; 10. 5H-Josh Haynes[1]
Heat 2 – Summit Racing Equipment (8 Laps – Top 10 finishers transfer to the A-feature)
1. 18-Keith Berner[2] ; 2. 15-Jon Henry[8] ; 3. OO7-Rick Bond[1] ; 4. 69-John Mayes Jr.[4] ; 5. 5M-Ryan Markham[3] ; 6. 21-Larry Kingseed[7] ; 7. 48-John Bores[6] ; 8. O3-Jim Gingery[9] ; 9. 1F-Justin Collet[5]
Bob Machine Shop Dirt Trucks (15 Trucks)
[#]-Starting Position
Heat 1 – Nitro Black Performance by Engine Pro (8 Laps – Top 10 finishers transfer to the A-feature)
1. 33-Brian Arnold[4] ; 2. O-Andy Keegan[1] ; 3. 5JR-Jimmy McGrath Jr.[6] ; 4. 95-Keith Sorg[2] ; 5. 94-John Ivy[8] ; 6. O1-Art Ball[5] ; 7. 39-Dwight Waltermier[7] ; 8. X-Dana Frey[3]
Heat 2 – Summit Racing Equipment (8 Laps – Top 10 finishers transfer to the A-feature)
1. D1-Dustin Keegan[6] ; 2. 3R-Chuck Roelle[7] ; 3. 4X-Brian Sorg[1] ; 4. P51-Willie Keegan[4] ; 5. 33C-Kyle Cline[2] ; 6. 45-Brain Melnek Jr.[5] ; 7. 22J-Josh Kiser[3]