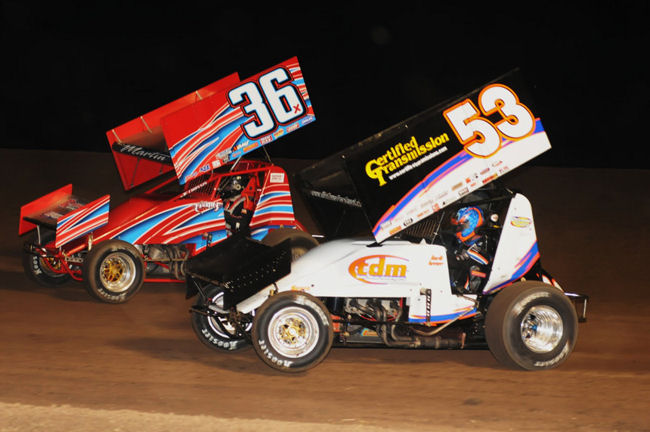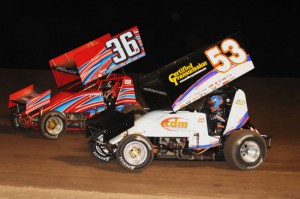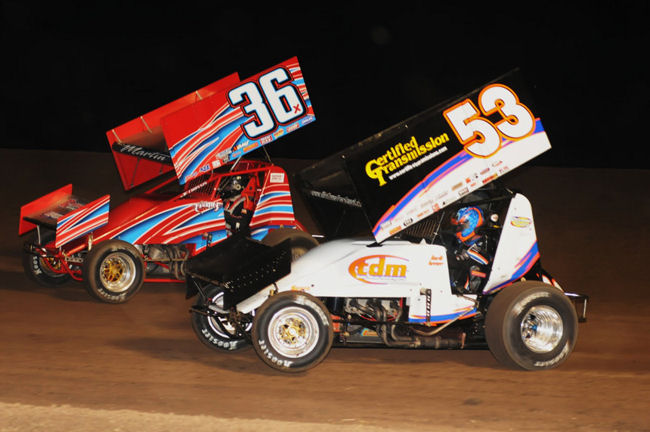 From Bryan Hulbert
Greenwood, NE — (September 21, 2012) — Jack Dover's visit to I-80 Speedway in Greenwood, Nebraska was spectacular for all the wrong reasons when the Speedway Motors ASCS Midwest Region paired with the Lucas Oil ASCS presented by MAVTV on May 24, 2012.
Returning to the ultra fast half-mile this past Friday night for the Fall Brawl, Dover was again spectacular but for all the right reasons as the "Gas Man" powered to victory lane on night one of this weekend's two day affair with the Speedway Motors ASCS Midwest Region.
Drawing the outside of row one, the start was not what Dover had planned as the Certified Transmission No. 53 fell back to fourth. Rebounding by the second go around, Dover took the point and proceeded to run away in the night's 25 lap non-stop feature event. Making the win even sweeter was the fact that it came on his Father's (Marc Dover) Birthday.
Using an off weekend with the ASCS National Tour, Jason Johnson came from seventh to second with Brian Brown placing third. Justin Henderson and Wayne Johnson made up the top five with Jonathan Cornell, Clint Garner, Jordan Boston, Danny Lasoski, and Randy Martin completing the top ten.
Jason Johnson was awarded a $300 bonus based on the draw for which ever driver finished second. Danny Lasoski picked up $750 as the night's hard charger; coming from 17th to 9th.
With each night of the Fall Brawl paying and equal purse with the winner taking home $2,500 there were no lock in cars for Saturday's Speedway Motors ASCS Midwest Region Season Finale A-Feature.
Speedway Motors ASCS Midwest Region
I-80 Speedway – Greenwood, Nebraska
September 21, 2012
Car Count: 30
Heat 1 (8 Laps): 1. 7X-Dustin Selvage; 2. 82-Jason Danley; 3. 82H-Justin Henderson; 4. 09-Matt Juhl; 5. 40-Clint Garner; 6. 71-R.J. Johnson; 7. 11X-Gregg Bakker; 8. 12-Tyler Drueke; 9. 35-Trevor Grossenbacher; 10. 23-Terry Holliman
Heat 2 (8 Laps): 1. 53-Jack Dover; 2. 28-Jonathan Cornell; 3. 56-Davey Heskin; 4. 2-Don Droud Jr; 5. 21-Brian Brown; 6. 1M-Danny Lasoski; 7. 3-Billy Alley; 8. 17B-Ryan Bickett; 9. 44-Doug Lovegrove; 10. 5M-Miranda Arnold
Heat 3 (8 Laps): 1. 41-Jason Johnson; 2. 77X-Wayne Johnson; 3. 14-Randy Martin; 4. 36-Jason Martin; 5. 4-Jordan Boston; 6. 24BH-Dusty Zomer; 7. 6X-Kaley Gharst; 8. 18R-Ryan Roberts; 9. 45-Jeff Lowery; 10. 17-Gage Dorr
B Feature (12 Laps): 1. 1M-Danny Lasoski; 2. 24BH-Dusty Zomer; 3. 11X-Gregg Bakker; 4. 3-Billy Alley; 5. 17B-Ryan Bickett; 6. 18R-Ryan Roberts; 7. 12-Tyler Drueke; 8. 45-Jeff Lowery; 9. 17-Gage Dorr; 10. 44-Doug Lovegrove; 11. 5M-Miranda Arnold; DNF 6X-Kaley Gharst; DNF 23-Terry Holliman; DNS 35-Trevor Grossenbacher
A Feature (25 Laps): 1. 53-Jack Dover; 2. 41-Jason Johnson; 3. 21-Brian Brown; 4. 82H-Justin Henderson; 5. 77X-Wayne Johnson; 6. 28-Jonathan Cornell; 7. 40-Clint Garner; 8. 4-Jordan Boston; 9. 1M-Danny Lasoski; 10. 14-Randy Martin; 11. 56-Davey Heskin; 12. 24BH-Dusty Zomer; 13. 82-Jason Danley; 14. 36-Jason Martin; 15. 2-Don Droud Jr; 16. 7X-Dustin Selvage; 17. 11X-Gregg Bakker; 18. 71-R.J. Johnson; 19. 09-Matt Juhl; 20. 3-Billy Alley