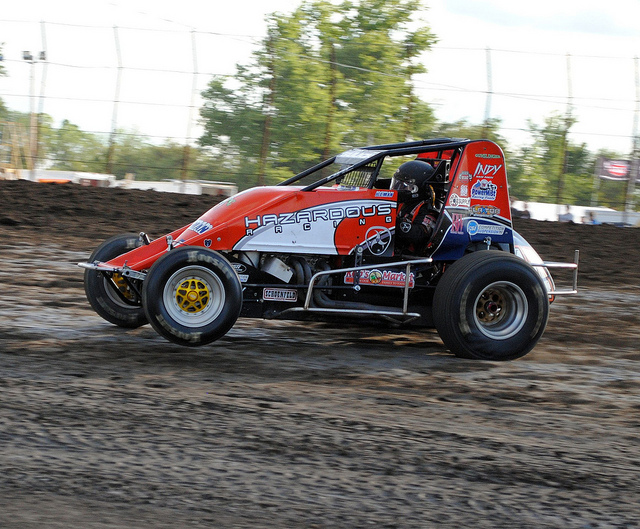 From Bob Buffenbarger
Gas City, IN — (September 28, 2012) — Gas City I-69 Speedway brought down the curtain in fine style Friday night with Coleman Gulick winning the "Jack Himelick Fall Final" 25 lap feature.
32 wingless warriors signed in for battle on the well prepared track on a cool but pleasant evening. After season point awards were handed out on the front stretch the sprint car feature pushed off after Ross Rankine had won the USAC Ignite feature.
Dave Darland in the driving the Phillips #71p car started on the pole with Coleman Gulick along side. Darland led the initial circuit with Gulick getting under Darland to take the lead on lap two which he held to the finish. The red flag flew on lap four after Travis Welpott appeared to blow up and had a engine fire. He was not injured.
The battle for positions behind Gulick were heating up early with 8th starting Bryan Clauson and CJ Leary slicing and dicing with Chris Gurley, Shane Cottle and James Bradshaw. As the laps wound down, Clauson eventually got around a very strong Leary for 3rd. Meanwhile Gulick was on a rail with Darland maintaining 2nd throughout the feature with both drivers negotiating lapped traffic.
At the checkers it was Gulick, Darland, Clauson, Leary, Shane Cottle and Jon Stanbrough from 19th.
Heats races were won by Chris Gurley, Gulick, CJ Leary and Clauson. Kyle Robbins picked up the B main victory.
SPRINTS
Heat #1 Winner – Chris Gurley
Heat #2 Winner – Coleman Gulick
Heat #3 Winner – CJ Leary
Heat #4 Winner – Bryan Clauson
B-Main Winner – Kyle Robbins
Feature:
1. Coleman Gulick
2. Dave Darland
3. Bryan Clauson
4. CJ Leary
5. Shane Cottle
6. Jon Stanbrough
7. Chris Gurley
8. James Bradshaw
9. Tracy Hines
10. Matt Westfall
11. Conner Donelson
12. Jon Sciscoe
13. Tyler Hewitt
14. Ted Hines
15. Kyle Robbins
16. Tyler Courtney
17. Wesley Gordon
18. Parker Price-Miller
19. Travis Welpott
20. Billy Puterbaugh, Jr.