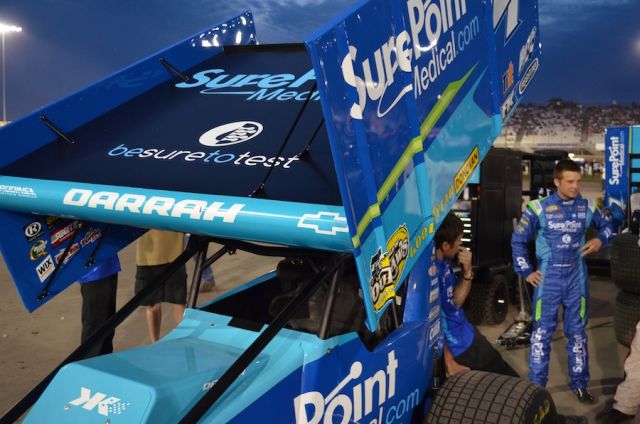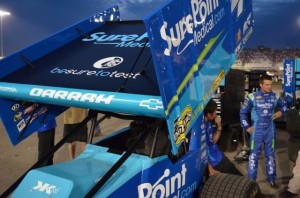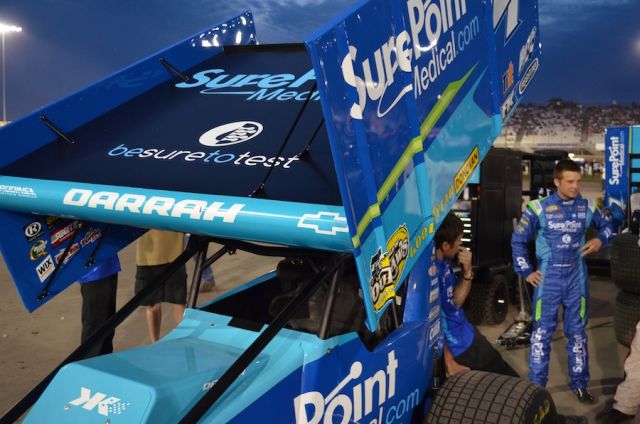 From Peterson Media
During the make up running of the Iron Man 55, Cody Darrah was simply electrifying.
With preliminary races being completed back in August, the final thing to settle was the 55-lap feature event. Rolling off in the third spot, Darrah quickly moved into the second spot aboard his SurePoint/Ti22/Sage Fruit machine.
Chasing down Kerry Madsen, Darrah kept his machine up around the top of the track, as he ripped off lightning quick laps, keeping the leader in his sites.
With 15 down, bad luck stroke the Red Lion, PA driver as a flat left rear tire forced him to the work area to make repairs.
Restarting at the back of the pack, CD4 was hard on the gas as the race went back green, as he wasted no time getting back into the mix of things as he had worked his way up to 11th when a red flew on lap 18.
By the 30th lap, Darrah had worked his way back up inside the top-10, when Kody Kinser brought out the caution.
On the 39th lap, Darrah moved up into the sixth spot, where he began mixing it up with the leaders, when Kerry Madsen flipped on the 47th lap, putting Darrah in the fourth spot.
With Schatz jumping the start, Darrah moved up to the second spot on the restart, but he slipped back to the fourth spot over the final six laps, ending an impressive rally where he fought back to a fourth place finish.
During the regularly scheduled Sprint Nationals, Darrah kicked the night off by timing in with quick time.
A fourth place finish in his heat, put the SurePoint No.4 in the dash, where he would score a seventh place finish.
Early in the feature event, Darrah was involved in a tangle while running fourth that ultimately ended his night.
"Our SurePoint car was awesome all day," Darrah said. "We had a great shot at the win during the first feature, and actually came from the back to score a fourth after the flat while we were in second. We had a strong car during the night feature, but unfortunately got caught up in a tangle and ended our night."
ON TAP- Darrah and the SurePoint team will now take a couple weeks off before taking part in the World of Outlaws season finale, The World Finals, at the Dirt Track at Lowe's in Charlotte, NC on November 1, 2, and 3rd.
STAY CONNECTED- Check in to www.codydarrah.com or visit his facebook page, http://www.facebook.com/pages/Cody-Darrah/164513250262145?ref=ts for the latest news on Cody.