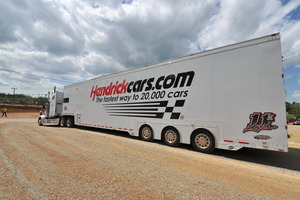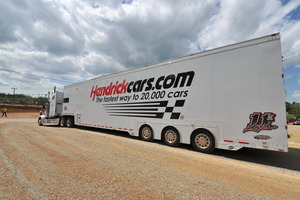 From Kraig Kinser Racing PR
Bloomington, IN — (October 26, 2012) — Kraig Kinser will begin World Finals week in Charlotte a few days early with a trio of appearances next week, including a pair at the retail locations of Hendrickcars.com, the main sponsor of his No. 11K.
On Monday, Oct. 29, the third-generation driver and his team will have their race car and transporter on display all day at the Hendrickcars.com store in Hickory, N.C., located at 1171 Lenoir Rhyne Blvd. Kinser will on-hand to sign autographs, greet fans, and be available to the media from 12–1 p.m. Eastern.
Kinser's race car and transporter will again be on display all day on Tuesday, Oct. 30, at the Hendrickcars.com retail store in Charlotte, located at 9029 South Blvd. The 2005 winner of the Knoxville Nationals will be signing autographs, greeting fans, and available to the media from 11 a.m.–12 p.m. Eastern.
The second annual Bash at the Brickhouse Tavern Presented by Hendrickcars.com on Wednesday, Oct. 31, will see Kinser's car on display outside of the popular pub and eatery from 4–9 p.m. Eastern. The native of Bloomington, Ind., will also be a guest on a special edition of MotorRacingNetwork.com's Winged Nation, during the Bash at the Brickhouse, which will air from 7–9 p.m. Eastern. The Brickyard Tavern is located at 209 Delburg Street in Davidson, N.C.
At each of these three appearances, fans can register to win Tony Stewart's autographed Hendrickcars.com firesuit that he wore during the World of Outlaws event at the Dirt Track at Charlotte Motor Speedway in May. The winner will be drawn live on Winged Nation on Wednesday night during the Bash at the Brickhouse Presented by Hendrickcars.com.
The Sixth Annual PEAK Motor Oil World Finals Presented by NAPA Auto Parts is set for Nov. 1–3 at The Dirt Track at Charlotte, where Kinser finished fourth in May. The finale of the World Finals will air live on SPEED on Saturday, Nov. 3 at 8 p.m. Eastern.