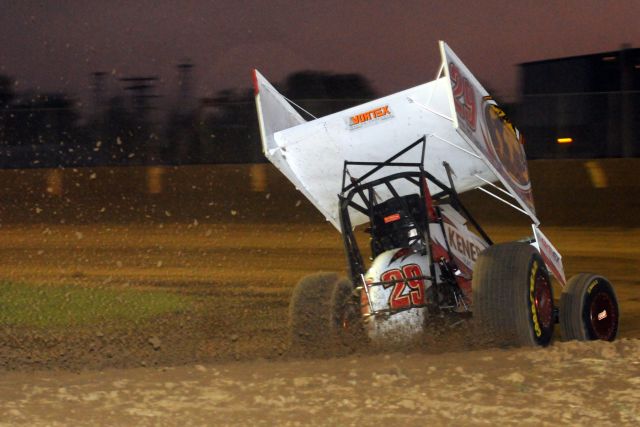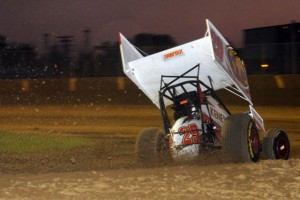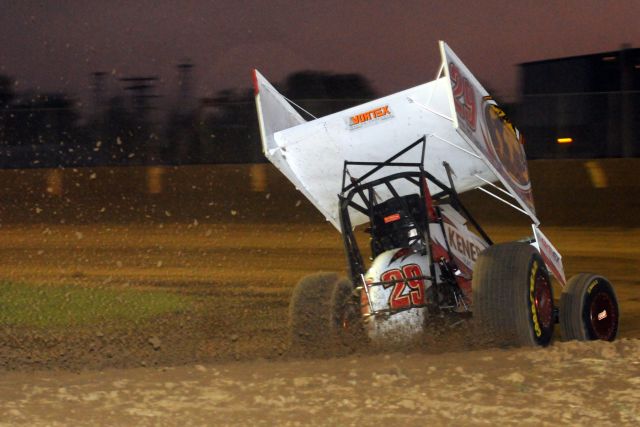 From Bill W
January 31, 2012 – It will be one week exactly when the Keneric Racing #29 racing team hits the track for their 2013 campaign.  Driver Kerry Madsen will start his competition with the All Star Circuit of Champions at the Screven Motor Speedway in Screven, Georgia next Thursday, February 7.  The team plans on competing with the World of Outlaws and its vigorous 90+ race schedule.
Competing with the All Stars will give the St. Mary's, New South Wales native a few nights of action before the WoO kicks off.  "We'll be starting at the All Star races in Georgia and Ocala," says Kerry.  "We'll also compete with them at Volusia.  That will give us five nights under our belts before we start with the Outlaws.  It's kind of like a pre-season for us."
Consistency will be a key for the Keneric Racing team.  "Everything is the same," says Kerry.  "Rob (Hart) is back and so is Shane (Bowers).  The core group is the same.  We have the same engines and the same cars.  The paint scheme is the same to start the season.  We've had a big offseason building and making sure we have the inventory for the upcoming season.  There are 90 races to prepare for."
The team is made possible by its Australia-based owners.  "Peter Gavranich and Bob Gavranich provide our management," says Kerry.  "The backing they provide gives us the arsenal we need.  Everything is on schedule.  It's up to us to take the ball and run with it.  We think we can do better than last year.  We think we can get more wins and we're hopeful to have a lot better point run too."
After Florida, a dozen races are planned for the WoO on the West Coast.  The swing will prove pivotal in the points chase.  "That whole West Coast swing is going to be a good chunk of time," says Kerry.  "You want to be in a good point spot coming out of that.  It sets you up for a good year."
Kerry is excited about having the same team assembled for 2013.  "Having no major changes is fantastic for me," he says.  "I've never had a year with everything in place that you had the year prior.  We work together well as a group.  We're improving at our weaknesses, and we're hoping for big things."
With the necessary preparations, racing opportunities in Australia have been few this season.  "There have been times when I've wished I was down there, but this is a sacrifice that had to be made," says Kerry while looking at seven inches of snow on the ground in Knoxville, Iowa.  "We're far ahead on a lot of things, which, if we were down there for two months, would have never got done.  This was a good investment in the long run."   
Follow Kerry Madsen on his Website and on MySpace, Facebook and Twitter!
Follow Kerry Madsen at his website located at www.KenericRacing.com!  Also keep up with him on Facebook and Twitter (which also can be accessed at the website) at the following links…
Facebook link = http://www.facebook.com/#!/pages/Official-Fan-Page-for-Kerry-Madsen/101145169933686
Twitter link  = http://twitter.com/#!/kmr29
The Team
Kerry Madsen (KMR / Keneric Racing), Bob & Peter Gavranich (Keneric Racing), Earthex, Morrison Motors, KPC Chassis.