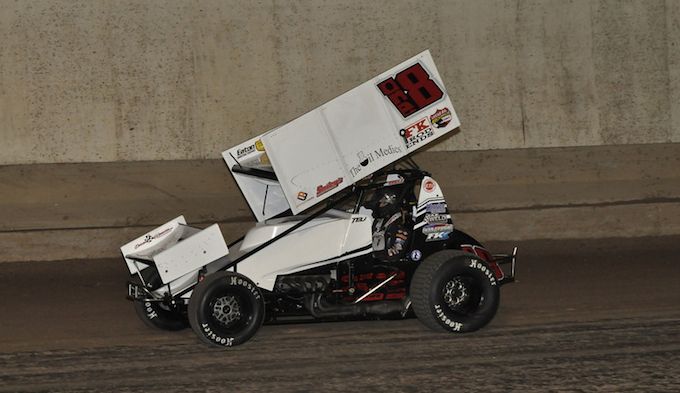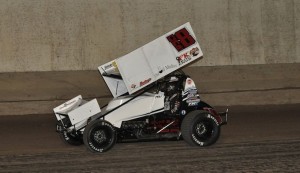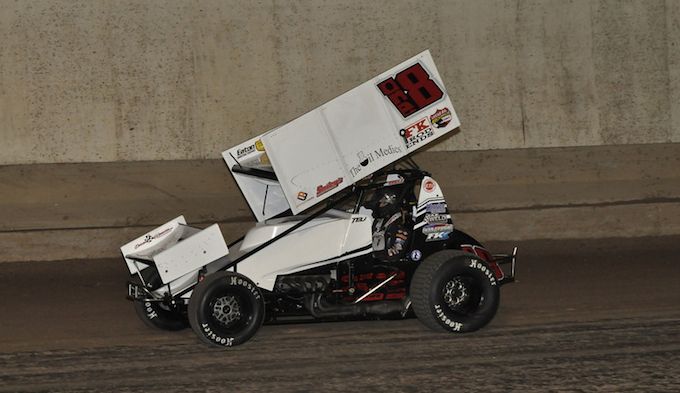 From Bryan Hulbert
Boyd, TX —  (April 26, 2013) — With his TBJ Promotions backed Rock 'N Roll 50 delayed a week due to rain, a trip to Boyd, Texas with the Smiley's Racing Products Lone Star Region proved to be the perfect therapy as Tony Bruce, Jr. captured his first ASCS victory of the 2013 season.
Besting a showing of 25 drivers, Bruce led the distance in the night's 25 lap feature event.
Putting nearly half the field a lap behind, the Lubbock Wrecker Service No. 18 was trailed across the stripe by Johnny Herrera with Channin Tankersley completing the night's podium, coming from fifteenth.
Defending regional champion Matt Covington crossed fourth with Tim Crawley rounding out the top five in a Baughman Motorsports backed No. 17. Claud Estes, Kolt Walker, Patrick Stasa, John Carney II, and Justin Melton completed the top ten.
The Smiley's Racing Products Lone Star Region continues the weekend at the Abilene Speedway on Saturday, April 27 with races slated to begin at 8:00 P.M.
Smiley's Racing Products Lone Star Region
Boyd Raceway – Boyd, Texas
Friday, April 26, 2013
Car Count: 25
Heat 1 (8 Laps): 1. 95-Matt Covington; 2. 25-Blake Hahn; 3. 23-Seth Bergman; 4. 224-John Carney II; 5. 11-Justin Melton; 6. 45X-Johnny Herrera; 7. 17-Tim Crawley; 8. 21-Kyle Sager; 9. 2K-John Kelly
Heat 2 (8 Laps): 1. 14B-Robert Byrom; 2. 74E-Claud Estes III; 3. 18-Tony Bruce Jr; 4. 6-Ryan Beechler; 5. 17W-Harli White; 6. 71-Channin Tankersley; 7. 2L-Logan Payne; 8. 17T-Bruce Griffith Jr
Heat 3 (8 Laps): 1. 12M-Kolt Walker; 2. 45-Martin Edwards; 3. 79-Ryan Hall; 4. 4X-Shawn Petersen; 5. 4J-John James; 6. 19-Patrick Stasa; 7. 12W-Dale Wester; 8. 17X-Josh Baughman
B Feature (12 Laps – Top 6 Transfer): 1. 71-Channin Tankersley; 2. 4J-John James; 3. 45-Martin Edwards; 4. 19-Patrick Stasa; 5. 17X-Josh Baughman; 6. 12W-Dale Wester
A Feature (25 Laps): 1. 18-Tony Bruce Jr; 2. 45X-Johnny Herrera; 3. 71-Channin Tankersley; 4. 95-Matt Covington; 5. 17-Tim Crawley; 6. 74E-Claud Estes III; 7. 12M-Kolt Walker; 8. 19-Patrick Stasa; 9. 224-John Carney II; 10. 11-Justin Melton; 11. 25-Blake Hahn; DNF 12W-Dale Wester; DNF 4X-Shawn Petersen; DNF 23-Seth Bergman; DNF 79-Ryan Hall; DNF 17X-Josh Baughman; DNF 6-Ryan Beechler; DNF 14B-Robert Byrom; DNF 45-Martin Edwards; DNF 4J-John James
Lap Leader(s): Tony Bruce, Jr. (1-25)