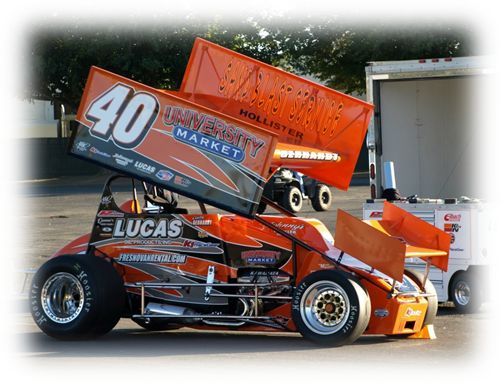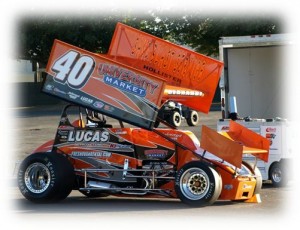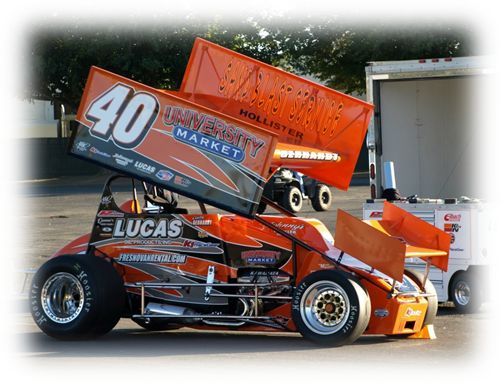 From Must See Racing
Nineteen-year-old Cody Gerhardt will be among the nearly thirty participants who will be competing in the Xtreme Speed Challenge Sunday afternoon May 19 at Winchester Speedway. The event will be the third race of the season for the Must See Racing Xtreme Sprint Series (MSRXSS) and will kick off a busy week for the series.
The Madera, CA racer will be making the trek east simply to race. There is virtually no pavement sprint car racing in the state of California in 2013. Gerhardt has spent the early part of 2013 competing in the Pabst Blue Ribbon Winged World Series at his home town Madera Speedway. The series is a supermodified vs. sprint car series that competes exclusively at Madera Speedway. "They are trying to get the series where the sprints and supers can run competitively together" explains Gehardt."There are still some changes to go. They recently restricted the supers some to balance everything out. It's really the only option we have right now. Other than Madera, we have to go to Idaho or Utah to race pavement sprint car stuff".
After talking with Davey Hamilton, Gerhardt decided he would like to run a few races with the MSRXSS. "We always wanted to come back to Indy to run some sprint car stuff. I've run the quarter midgets here before. I talked with Davey Hamilton and he told me how professional and great Must See Racing is. We decided to come east and run the Winchester and Anderson races this week".
Gerhardt has never saw Winchester Speedway before and he will be a rookie in every sense Sunday in the Xtreme Speed Challenge. "I've heard a lot about it and I'm looking forward to racing there. I've heard good stories and bad stories about the place, but mostly good. I've been told I'll come back a man after running Winchester" Gerhardt laughs.
Getting to race is the primary reason for the trip out east. Gerhardt has set a goal of just finishing the race and getting a top ten as he realizes the competition in MSRXSS is fierce. "It will be a learning experience more than anything".
The former multi-time Ford Focus midget champion burst onto the pavement sprint car scene in 2011. He claimed two feature wins while running with the USAC Western series and claimed Rookie of the Year honors.
Gerhardt will be competing for the potent west coast based Western Speed racing team. He will bring the Beast chassis, Shaver Racing Engines car to compete in the MSRXSS events this week. "I'm only going to compete in the Must See events this trip. Unfortunately, I won't even be doing the Little 500 this year. This will probably be my only trip back east to race this year with my car. If I could find another car I might possibly come back later. But we'll see. My focus is Winchester and Anderson right now and we'll see how that goes" concludes Gerhardt.