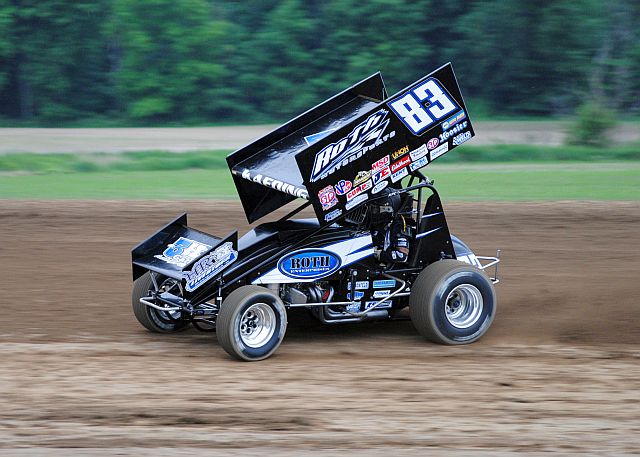 PETERSEN MEDIA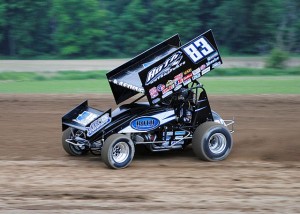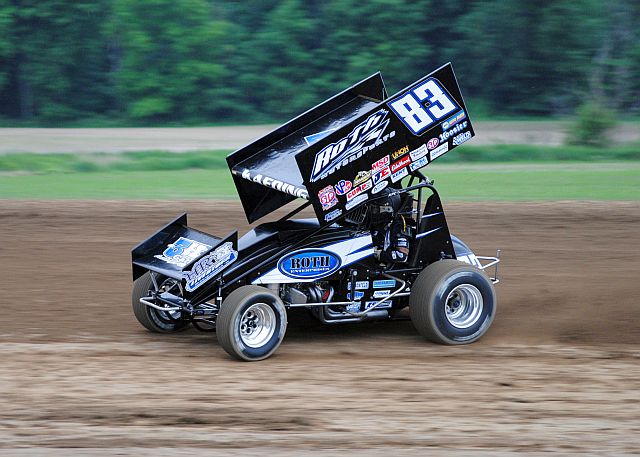 – An up and down night at the I-96 Speedway in Lake Odessa, MI saw Tim Kaeding fight from the back of the pack to score a 12th place finish on Saturday night.
With weather in the area cancelling Friday's event at the Attica Raceway Park, the World of Outlaw series was in 'hurry up' mode on Saturday night to get the event in.
On a fast track, Tim Kaeding was able to time his Roth Enterprises/HR Livestock Transportation/3H Cattle machine in sixth quickest.
Lining up in the second row of his heat, TK did not get off to the start he was looking for, and slipped back to the fourth spot.
Chasing after Chad Kemmenah, TK would finish in the fourth spot, and start the feature in the 11th spot.
When the race got underway, the San Jose, CA driver had a great start, and he worked his way up inside the top-10.
Sitting in the eighth spot, a double file restart did not work to TK's advantage, as he got squeezed, and fell back to the 20th spot, when he was able to gather his machine and get back underway.
Working the I-96 speedway in TK fashion, Kaeding was able to rebound and score a 12th place finish at the stripe.
"We were okay, it just felt like we were a little off each time we hit the track," he said. "Troy and the boys did a great job on trying to make it better each time we came in, but it just felt like we missed it a little."
Tim and his Roth Motorsports team would like to thank Roth Enterprises, HR Livestock Transportation, 3H Cattle,  Mobil1, FK Rod Ends, Weld Wheels, Brown and Miller Racing Solutions, Kent Performance, Kaeding Performance, and Astro Titanium for their support in 2013.
2013 ROTH MOTORSPORTS BY THE NUMBERS: Starts-23, Wins-4, Top 5's-11, Top 10's-15.
ON TAP: TK and his Roth Motorsports team will be in action Wednesday night at the Kokomo Speedway in Kokomo, IN before heading to the 34 Raceway in Burlington, IA  on Friday and the Lakeside Speedway in Kansas City, KS on Saturday.
STAY CONNECTED: Stay connected with Roth Motorsports by checking out their new website, www.rothmotorsports83.com. You can also follow Tim on Twitter by following @tkaedingracing.