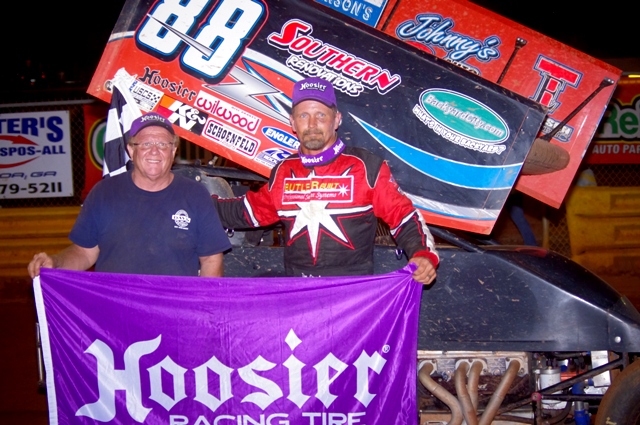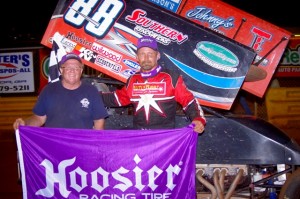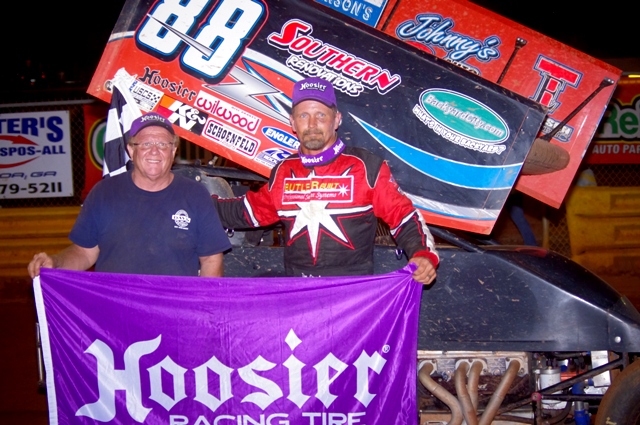 From Pete Walton
Lavonia, GA –  (June 14, 2013) – Defending USCS National Champion Tim Crawley from Benton, Arkansas raced to his second United Sprint Car Series presented by K&N Filters feature win of the season and in the process halted Derek Hagar's win streak at three on Friday night at Lavonia Speedway. Crawley raced Mike Ward's #88 from the K&N Filters Pole starting position into the www.rockauto.com United Sprint Car Series victory lane in the 1st annual Thunder at the Lake event. Hagar who clung to a two point lead for the National Championship coming into the event, finished in the runner-up spot in this one. The April 12th Carolina Speedway USCS feature winner, Eric Riggins from Charlotte, North Carolina finished in the K&N Filters Podium third place.
Ten-time USCS National Champion, Terry Gray from Bartlett, Tennessee followed Riggins across the line in fourth place and Matt Kurtz from Jacksonville, Florida rounded out the top five drivers. Lance Moss from Cherryville, North Carolina finished ahead of the next group in sixth place. Ageless veteran Ray Bugg from Iuka, Mississippi followed in seventh place. Joe Larkin from Suwannee, Georgia finished in eighth place followed by Terry Witherspoon from Jacksonville, Florida who drove his #43 home in the ninth finishing position. Rookie, Jay Dunham from Augusta, Georgia rounded out the top ten.
Derek Hagar kicked of the evening's competition with a win in the Hoosier Tire Speed Dash. Hagar also won the Engler Machine and Tool First Heat. Tim Crawley won the Butlerbuilt Second Heat. Tim Crawley was awarded the K&N Filters Pole Award. Lance Moss advanced the most positions to earn the Wilwood Disc Brakes Hardcharger Award.
For rules, schedules and other info on the USCS Outlaw Thunder Tour winged sprint car series 2013 and 17th annual National tour please visit www.uscsracing.com or call 865-6097.
USCS Outlaw Thunder Main Event – Lavonia Speedway – Friday, June 14, 2013
Hoosier Speed Dash 6-laps: Derek Hagar, Tim Crawley, Eric Riggins, Jr., Terry Gray, Lance Moss, and Joe Larkin – DNS.
Engler Machine and Tool First Heat: Derek Hagar, Terry Gray, Eric Riggins, Jr., Matt Kurtz, Lance Moss and Jay Dunham.
Butlerbuilt Second Heat: Tim Crawley, Terry Witherspoon, Ray Bugg, Tanner Witherspoon, Nick DeFeo and Joe Larkin.
USCS Filtercharged by K&N Filters main event 30-laps:
Pos. Car # Driver/Hometown:
1. 88 Tim Crawley, Benton, AR
2. 9Jr Derek Hagar, Marion, AR
3. 47 Eric Riggins, Jr., Charlotte, NC
4. 10 Terry Gray, Bartlett, TN
5. 92 Matt Kurtz, Jacksonville, FL
6. 23 Lance Moss, Cherryville, NC
7. 25 Ray Bugg, Iuka, MS
8. 33 Joe Larkin, Suwannee, GA
9. 43 Terry Witherspoon, Jacksonville, FL
10. 51 Jay Dunham, Augusta, GA
11. 99 Tanner Witherspoon, Jacksonville, FL
12. 96d Nick DeFeo, Woodstock, GA
USCS Outlaw Thunder Tour Race Awards:
Hoosier USCS Sprint Speed Dash: 9Jr. Derek Hagar
Engler Machine and Tool First Heat: 9Jr. Derek Hagar
Butlerbuilt Second Heat Award: 88 Tim Crawley
K&N Filters Pole Award: 88 Tim Crawley
K&N Filters Podium (3rd place) Award: 47 Eric Riggins
Wilwood Disc Brakes Hardcharger Award: 23 Lance Moss
Keizer Aluminum Wheels Top Five Award: 92 Matt Kurtz
DMI/Bulldog rear Ends top Ten Award: 51 Jay Dunham