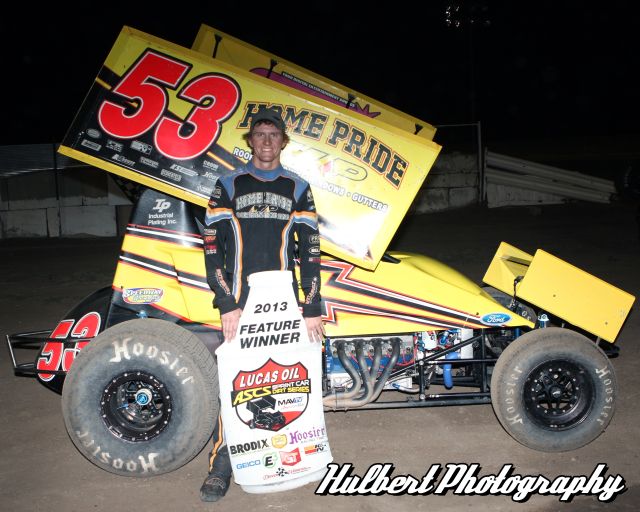 Inside Line Promotions
CAMERON, Mo. (June 18, 2013) – Jack Dover's plan for a tripleheader last weekend was cut down to one race, but what a race it was.
"It was one of the best tracks I've raced on in a long time," he said. "It was really, really good. There was a top, a bottom. Actually, there was a pretty good middle. It was really wide."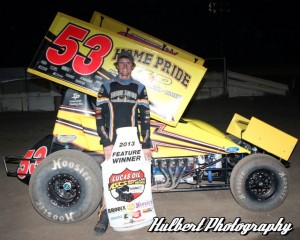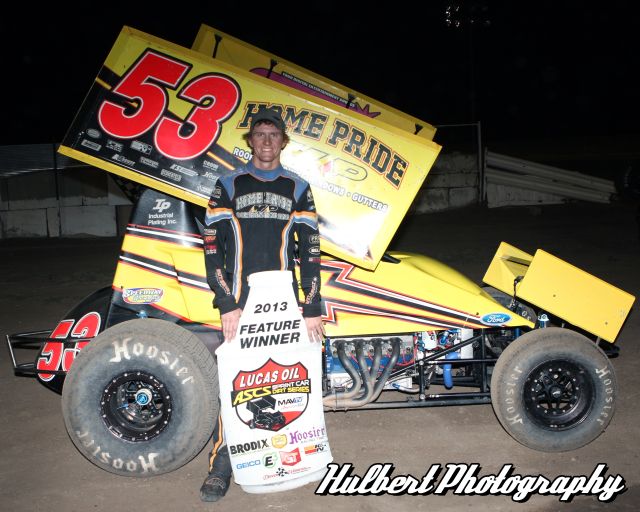 Dover's lone event of the weekend was the Budweiser Shootout on Friday with the ASCS Warrior Region at U.S. 36 Raceway, where he maneuvered from third to second in his heat race to qualify for the feature redraw. Unfortunately, he picked the highest number – eight – to start the main event on the outside of the fourth row.
Dover quickly reached the top five and spent half of the race chasing Russ Hall for a position.
"I spent a lot of time trying to get around him," Dover said. "It was like he had mirrors in his car and everywhere I went, he moved there."
In the closing laps Dover passed Hall and then rocketed toward the lead, capitalizing on a power move through turns three and four on the final lap to garner the runner-up position and finish a car length behind the leader.
"We were right there with first, probably a car length from getting the win," he said. "It was that close. It makes me wonder if I wouldn't have gotten held up that whole race if I would have won the thing."
Dover and his team drove approximately two hours to Warrensburg, Mo., en route to Saturday's event at L A Raceway in LaMonte. They washed the car and did maintenance before the race was rained out Saturday afternoon. With a 300-mile drive and another threatening forecast for Sunday at 81 Speedway in Park City, Kan., Dover decided to head home.
"It was a good business call," he said. "I came home and spent Father's Day with my dad. We pretty much shot guns all day and hung out outside."
The only event scheduled this weekend is a doubleheader on Saturday at Butler County Speedway in Rising City, Neb., with the Nebraska 360 Sprints. The May 18 feature, which Dover was running third before it was postponed because of weather, will be finished before a complete program on Saturday.
QUICK RESULTS –
June 14 – U.S. 36 Raceway near Cameron, Mo. – Heat race: 2 (3); Feature: 2 (8).
SEASON STATS –
13 races, 4 wins, 7 top fives, 7 top 10s, 10 top 15s, 11 top 20s
UP NEXT –
Saturday at Butler County Speedway in Rising City, Neb., with the Nebraska 360 Sprints
VIDEO –
Here is in-car video of Jack winning the 5th annual Steve King Memorial at The Great American Dirt Track in Jetmore, Kan., on May 25: http://youtu.be/jmbnDjFA3YQ
Here is in-car video of Jack claiming his heat race with the Nebraska 360 Sprints at Butler County Speedway in Rising City, Neb., on May 18: http://youtu.be/3yWrbbW2Qxk
MEDIA LINKS –
Website: www.JackDoverRacing.com
Twitter: https://twitter.com/JackDoverRacing
Facebook: https://www.facebook.com/jackdoverracing?fref=ts
SPONSOR SPOTLIGHT – Home Pride Companies, Inc.
Home Pride Companies, Inc., is a leader in vinyl siding, window replacement, roofing and guttering. Based in Omaha, Neb., Home Pride Companies, Inc., also specializes in storm damage repair and has served Nebraska and Iowa for more than 25 years. For more information, visit www.HomePrideCompanies.com.
"Luke Cochran has become a family friend the last few years and he's been instrumental in keeping our program going," Dover said. "He also has a great company, which we've seen firsthand when Home Pride Companies, Inc., roofed my parent's house."
Dover would also like to thank Certified Transmission, Eagle Motorsports, Roush Yates Racing Engines, Thorpe's Body Shop, Trail Performance Coatings, Inc., The Oil Medics, ButlerBuilt Professional Seat Systems, Keizer Wheels, Schoenfeld Headers, Shaver Racing Engines, Langfeldt Overhead Doors, K&N Filters, FK Rod Ends, DMI, Speedway Motors and Vortex Wings for their continued support.
PARTNERSHIP OPPORTUNITIES –
Jack Dover Racing is close to being able to compete across the country by returning to the Lucas Oil ASCS National Tour, where Dover has finished in the top 10 both seasons he has raced full time with the premier 360 sprint car series. He is also ready to compete with the World of Outlaws STP Sprint Car Series en route to his dream of racing in NASCAR. The only variable missing is a reliable truck and trailer. For more information on partnership opportunities, e-mail teamdover@gmail.com.
JACK'S SHOUTOUT –
Jack wants to give special notice to Eagle Motorsports.
"I've been in their cars since Day 1 and they've been the best and safest that I've raced," he said. "I couldn't ask for a better piece of equipment to be winning races in."