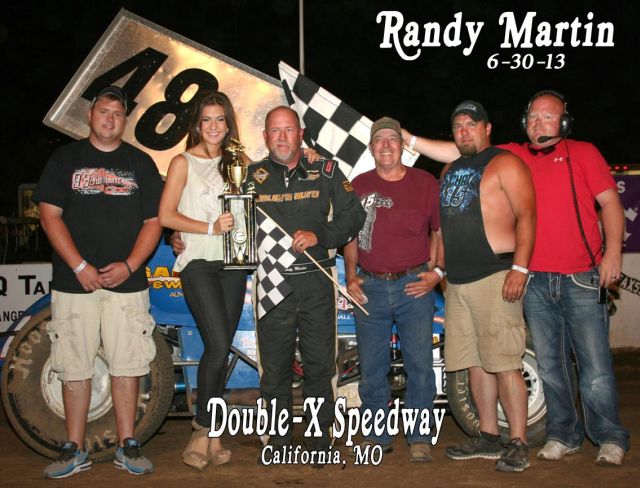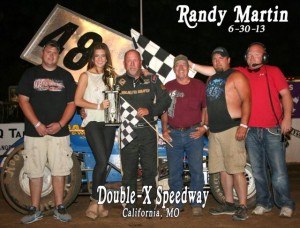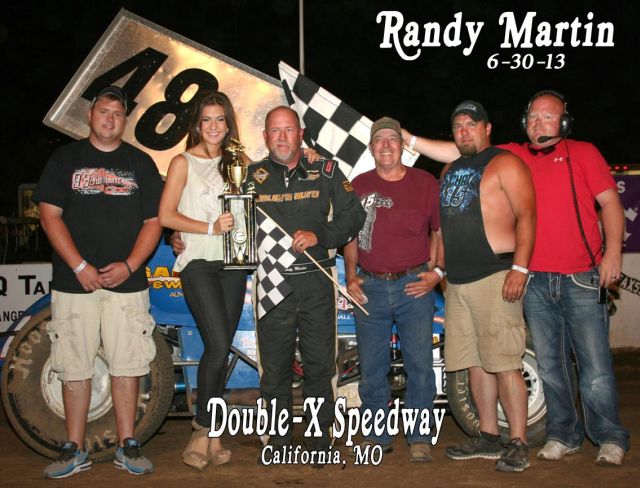 From Double-X Speedway
California, MO — (June 30, 2013) — Sunday night racing at Double X Speedway in California has provided excitement for racing fans for over 20 years and last Sunday night proved why.
In the winged Sprint Cars, the experienced combination of driver Randy Martin and veteran driver/car owner David Brown joined forces to claim the feature victory.  Martin started the feature event on the front row outside next to pole sitter Tyler Blank. At the drop of the green Blank charged into the lead and looked very comfortable and consistent leading the opening fifteen laps. The lead he had opened disappeared as a yellow flag was displayed for the disabled machine of Taylor Walton. The ensuing restart brought fans to their feet at it placed Martin right on the rear bumper of Blank. As the field charged into turn one on the restart, Blank entered the turn on the high line as Martin dove to the bottom and executed a classic slide job to take the lead as the duo went through turn two. Martin was able to maintain the lead as Blank charged up to the rear of the #48 machine but was unable to complete the pass as they raced under the checkered flag. Following Martin and Blank across the stripe were Jonathan Cornell, Jason Johnson, and Chad Ely in the top five. Bryan Grimes, Cody Baker, Tyler Elliott, Taylor Walton and AJ Wirts rounded out the top ten. Blank and Martin each claimed heat race victories respectively.
Double X Speedway will be coming alive this Friday night for a special open wheel event with the ASCS Warrior Region making another appearance at the track. Joining the ASCS Sprint Cars will be the Mid America Lightning Sprints and the 600cc Micro Sprints running without their customary wings. The following Sunday night the Winged Sprints will be running for increased purse monies, along with the Street Stocks, Hobby Stocks and winged 600cc Micro Sprints. Race fans are also reminded to mark down Sunday July 14th as the first "Race for Riley"; Riley Hudson memorial race will be run featuring the return of the ULMA along with the three weekly core classes. Stay up to date with Double X Speedway on Facebook or at www.xxspeedway.com. You may also call (573) 796-4694 for more information.
Winged Sprint Cars-
Feature Event (25 laps):  1.48-Randy Martin, California; 2. 75-Tyler Blank, California, 3. 28-Jonathan Cornell, Sedalia; 4. 77-Jason Johnson, Rocky Mount; 5. 22AU- Chad Ely, New South Wales Australia; 6. 6-Bryan Grimes, Slater; 7. 38-Cody Baker, Lone Jack; 8. 49- Tyler Elliott, California; 9. 93-Taylor Walton, Warrensburg; 10. XX- AJ Wirts, California; 11. 24-Lanny Carpenter, Clarksburg; 12. 0-John Thoenen, Jefferson City; 13. 65- TJ Muths, Sedalia (DNS).
Heat Race 1 (8 laps):   1.Blank, 2. Cornell, 3. Baker, 4. Johnson, 5. Grimes, 6. Walton, 7.Thoenen (DNS).
Heat Race 2 (8 laps):  1.Martin, 2. Ely, 3. Carpenter, 4. Muths, 5. Elliott, 6. Wirts (DNS)