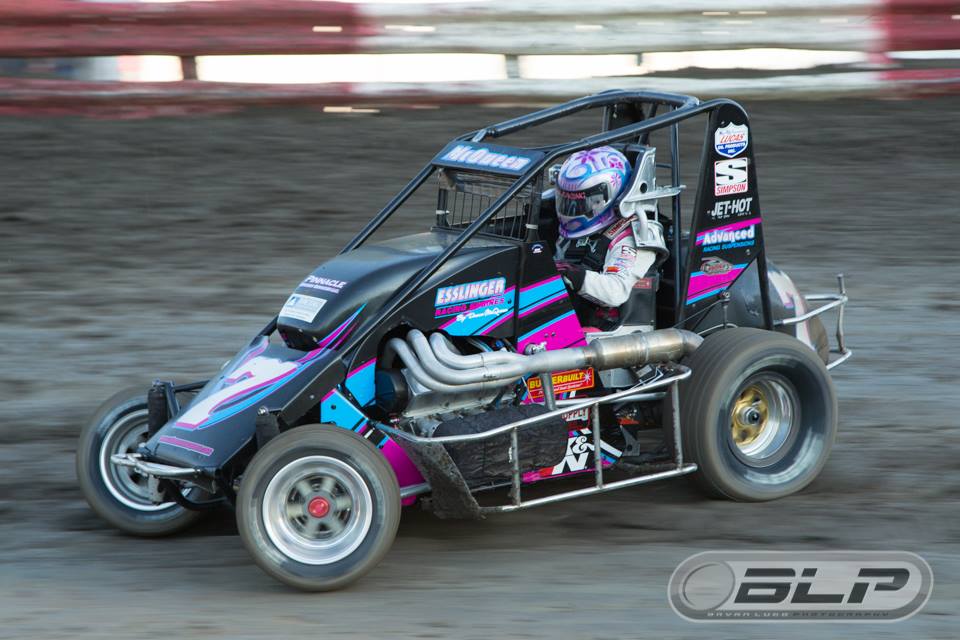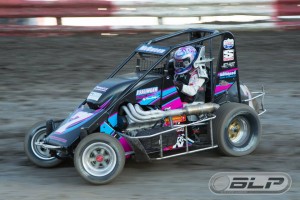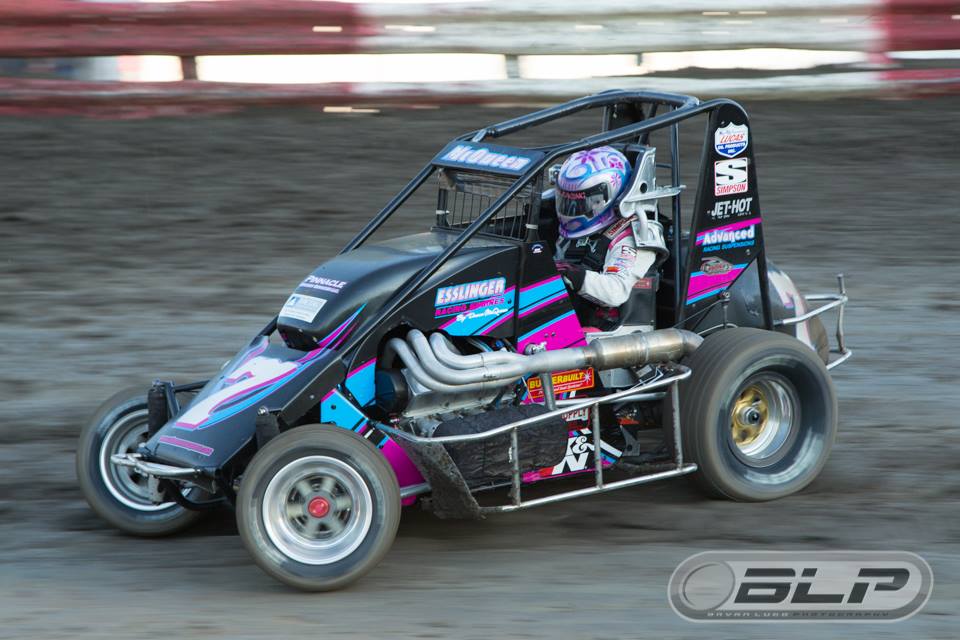 From Robert Haugh
Hoping to claim her second-consecutive Top five finish, Bakersfield's Shannon McQueen feels as thought she was robbed of a chance to contend for a win at the 1/5-mile Plaza Park Raceway in Visalia on Saturday, June 29 at the USAC-Western States event.
"Lightning" McQueen started the evening by clocking in ninth in the 16-car field, just fractions off of fast time, then claimed the win in Heat 3 in the McQueen Racing #7 Lucas Oil/Simpson Race Products Spike/Esslinger by Duane McQueen.
"Qualifying did not show the speed the car had, as we elected to set up and run above the holes," said McQueen. At that point in the night, it was a little too far around up there and the track surface was a bit marbly and dirty.  The laps looked really good but did not show the speed on the clock.
Lining up eighth for the 30-lap main event at the tight bullring, McQueen was hoping to contend by running strong on the high side, something few competitors were managing to do on the unique track surface. McQueen's evening unfortunately came to an abrupt end when another competitor's throttle stuck wide open for the third time in the night, sending McQueen into a series of hard flips on Lap 1.
"It was an unfortunate situation that was very avoidable.  In my opinion (which is what I would have done), if we had not found the problem we would have elected to go to the tail of the field.  Unfortunately someone else does not have that same consideration for his fellow races and I ended up with a very torn up racecar," stated a frustrated McQueen.
"Visalia was the first night with our new Crew Chief Rob Russell and I felt that it went very well.  The car was fast all night long … It was marbly up around the top in qualifying and we were the only one to run that line.  We utilized the same line in the heat to win it so we were happy with that … I felt we had a good hot rod in the feature.  Would have liked to get to run the full feature to see if we could have given Ronnie and the guys up front a run for the win," adds McQueen, stating the team will regroup and fix a very torn up race car and prepare for the next race at Ocean Speedway in Watsonville on July 12.
McQueen returns to action Friday, July 12 at the USAC-Western States event at the 1/4-mile Ocean Speedway in Watsonville, where she earned a second-place finish last year. Joining McQueen will be Oklahoma young gun Trey Marcham, who will be making his first-ever start at the quarter-mile bullring in the McQueen racing #37 Spike/Esslinger by Duane McQueen.
Though not committed to a full USAC-Western States schedule, McQueen sits fourth in the overall standings, with two fast time awards and five top-10 finishes, also sitting fourth in the Dirt series point standings.
McQueen became the first woman to win a BCRA Midget championship in 2011 when she claimed the BCRA Dirt Midget crown, then claimed the 2012 USAC-Western States Midget championship, amassing four Heat race wins, nine Top 5 runs, three fast time awards and 13 Top 10s in 2012. McQueen also holds five track records at the 99 Dirt Track in Stockton, Calistoga Speedway, Petaluma Speedway, Silver Dollar Speedway and Orange Show Speedway.  McQueen also recently accepted the prestigious Kara Hendrick Spirit award, one of the top awards for women in Motorsports.
McQueen Racing has dedicated the entire 2013 season to Kenny Speck, a McQueen Racing team member who lost his life earlier this year.
McQueen is also the first female owner to boast a win with a female driver when Oklahoma's Michelle Decker won a USAC Western States Midget Feature in April 2012 at McQueen's home track of Bakersfield Speedway at the helm of one of McQueen's potent Spike/Esslinger entries.
McQueen Racing would like to thank all of our wonderful sponsors: Lucas Oil Products, Simpson Race Products, Eibach Springs, DMI, Rod End Supply, K&N Filters, Advanced Racing Suspensions, MPD, Ruth Engineering, Jet-Hot Performance Coatings, Butler Built Seating Systems, Schoenfeld Headers, American Fabrication, West Evans Motorsports, Western Open Wheel Racing News and Esslinger Racing Engines by Duane McQueen.
Visit www.shannonmcqueen.com for more information on McQueen Racing.