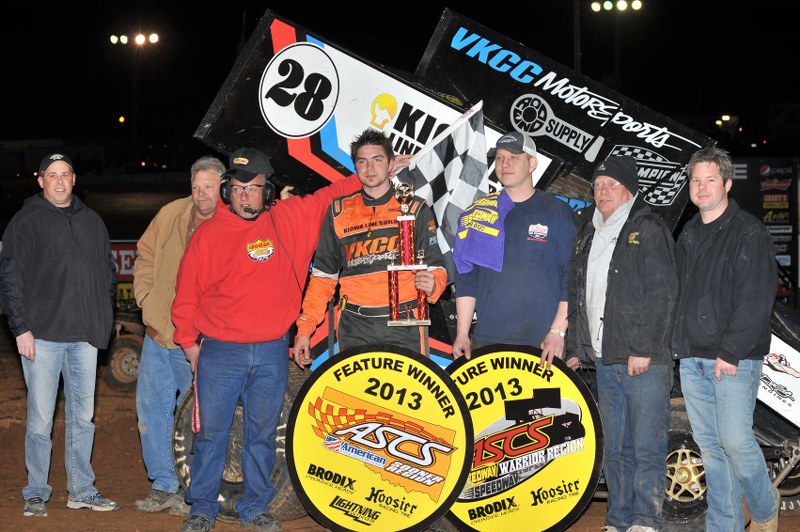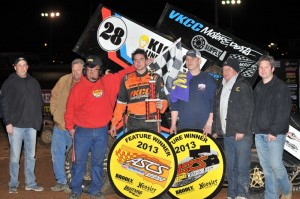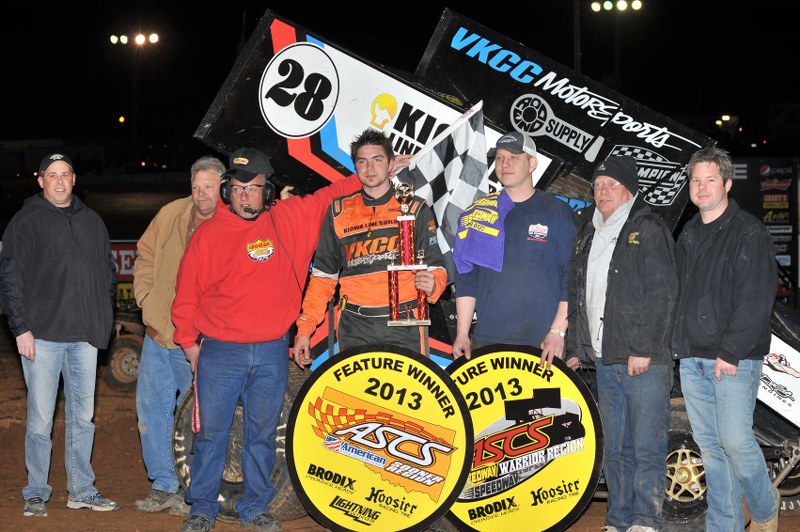 From Bryan Hulbert
California, MO — (July 5, 2013) — The Double X Speedway welcomed the Speedway Motors Warrior Region Friday night with Jonathan Cornell staying undefeated at the quarter-mile in 2013 by leading the distance in the night's A-Feature.
Evan Martin and Tyler Blank took the final podium steps with ninth starting Kyle Bellm fourth followed by Randy Martin from eighth to complete the top five.
The remainder of the top ten included Mitchell Moore, Adam Jones, Bryan Grimes, Josh Fisher, and Jay Russell. The night's Hard Charger was Cody Baker who came from eighteenth to eleventh.
The Speedway Motors Warrior Region continues this weekend at the Randolph County Raceway on Saturday, July 6.
Speedway Motors Warrior Region
Double X Speedway – California, Mo.
Friday, July 5, 2013
Car Count: 28
Heat 1 (8 Laps): 1. 14-Randy Martin; 2. 31-Bryan Grimes; 3. 22-Dustin Barks; 4. 48-Lanny Carpenter; 5. 5-Matt Close; 6. 38-Cody Baker; 7. 7K-Kelly Newcomb
Heat 2 (8 Laps): 1. 77-Mitchell Moore; 2. 72-Curtis Boyer; 3. 22AU-Chad Ely; 4. 51-Mike Peters; 5. 47-J Kinder; DNF 00-P.J. Grimes; DNF 15-Joey Moughan
Heat 3 (8 Laps): 1. 1A-Adam Jones; 2. 4-Evan Martin; 3. 75-Tyler Blank; 4. 86X-Josh Fisher; 5. 1P-Curtis Evans; 6. 0-Mike Trent; DNF XX-A.J. Wirts
Heat 4 (8 Laps): 1. 28-Jonathan Cornell; 2. 86-Kyle Bellm; 3. 65-Trevor (T.J.) Muths; 4. 76-Jay Russell; 5. 92J-J.R. Topper; 6. 9-Casey Baker; DNF 49-Tyler Elliott
B Feature 1 (12 Laps): 1. 47-J Kinder; 2. 38-Cody Baker; 3. 0-Mike Trent; 4. 49-Tyler Elliott; 5. 9-Casey Baker; 6. 92J-J.R. Topper; 7. 7K-Kelly Newcomb; DNF 5-Matt Close; DNF 15-Joey Moughan; DNF XX-A.J. Wirts; DNF 1P-Curtis Evans; DNS 00-P.J. Grimes
A Feature (30 Laps): 1. 28-Jonathan Cornell; 2. 4-Evan Martin; 3. 75-Tyler Blank; 4. 86-Kyle Bellm; 5. 14-Randy Martin; 6. 77-Mitchell Moore; 7. 1A-Adam Jones; 8. 31-Bryan Grimes; 9. 86X-Josh Fisher; 10. 76-Jay Russell; 11. 38-Cody Baker; 12. 48-Lanny Carpenter; 13. 22-Dustin Barks; 14. 72-Curtis Boyer; 15. 51-Mike Peters; 16. 65-Trevor (T.J.) Muths; 17. 0-Mike Trent; DNF 47-J Kinder; DNF 22AU-Chad Ely; DNF 49-Tyler Elliott
Lap Leader(s): Jonathan Cornell (1-30)