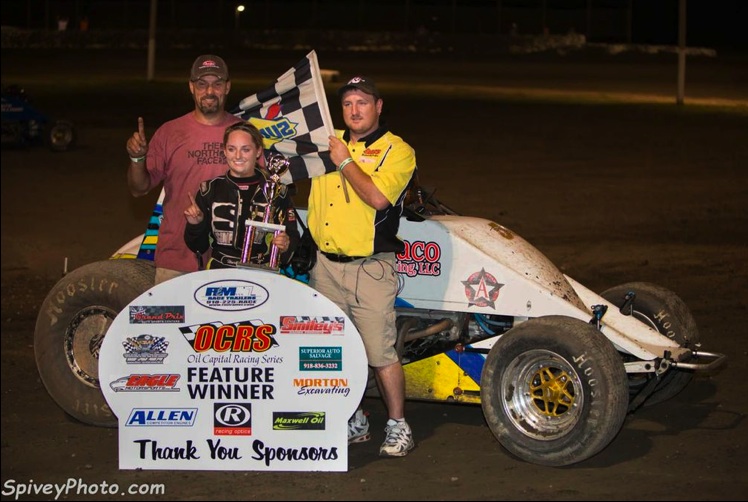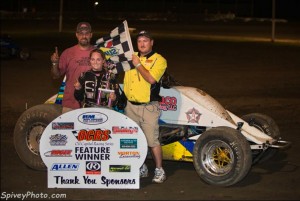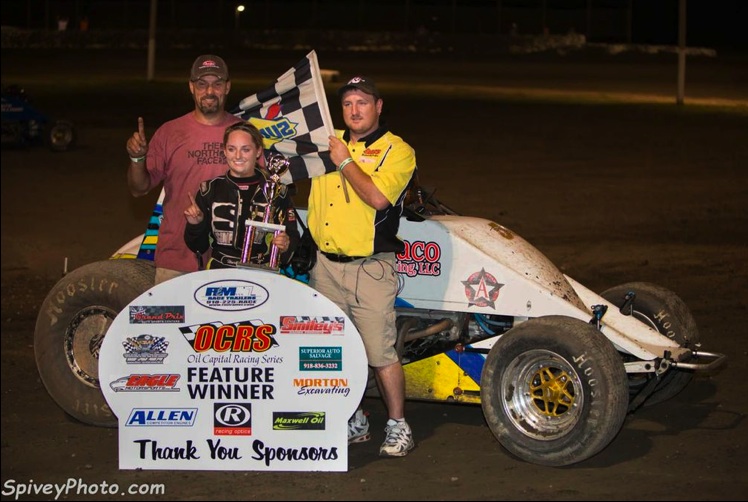 From John Lemon
Caney KS — (July 6, 2013) —  Harli White scored her fifth main event win of the 2013 Oil Capital Racing Series season at the Osage Casino – Caney Valley Speedway in front of a stellar sellout crowd tonight. White's fifth trip to victory lane also put the official wrapping on the 2013 OCRS "Non-Wing" championship, a first time offering by the Tulsa Oklahoma based sprint car series. Miss White scored from the outside sixth row starting berth for the third time this season which also netted her the AmeriFlex Hose and Accessories 'Hard Charger' award.
"We just had an unbelievable fast car," said White. "We had a fast car in the heat race, had a fast car in the feature and it seemed as the race went on, the car just got better. Coming into the season, I didn't realize we would be having a win, and then two and now we are at five, its just mind blowing. Winning the non-wing championship is big accomplishment to me because winning a this is a really big thing to have on my resume. I have to thank my dad and mom for supporting me and all my sponsors that help us. This win number five is for Donnie Ray Crawford. Donnie Ray taught me a lot about non-wing racing so this is for him".
Local favorite Andrew Deal would get the jump into turn one at the start to lead the pack on the 25-lap run. Deal, who wasn't originally scheduled to make this event, was piloting an ART chassis that was recently purchased by businessman Wade Cagle. On the third circuit, pole starter Michael Tyre got a piece of an infield tire and spun to a stop in turn two in front of a pack of sprinters. David Dutton would make contact with Tyre but did so without stopping. The contact however would put a serious bend in Dutton's drag link, which he would have to contend with the rest of the race.
Back under green, Deal continued to lead with Kyle Clark pressuring Deal in the Getcngnow.com / Same Day Auto Repair / DSO / ART sprinter. As the field approached the halfway point, third place runner Alex Decamp would clip the same tire in turn two that earlier victimized Tyre necessitating another yellow. As with Tyre before him, DeCamp would start tailback. The lap 12 restart would see Deal up front with Clark, Kade Morton Harli White, Casey Wills and Danny Smith, Layne Himebaugh and David Dutton next in line.
Morton would fire under Clark in turn two on the restart and would pull ahead of Clark going down the backstretch. Clark would fight back in turns three and four to capture the position back. As Deal worked the top cushion heading into turn one, Clark went for a slide job to snatch the lead from Deal. Clark cleared Deal as he slipped up the racing surface, but the car would then break loose at the top of the track. Deal, with nowhere to go, climbed over the wheels of Clark and went for a nose-tail, nose-tail ride that brought out a red flag.
Trying to avoid the flying Deal, Danny Smith, Casey Wills and Layne Himebaugh would all get collected and the entire grouping stopped in turn two. Only Deal would not be able to restart the race. Morton would be a benefactor of the incident as he was the recipient of the lead for the lap 13 restart. A bigger recipient from the carnage was White who now sat in the runner-up spot. Dutton would sit third followed by Johnny Kent (who started 15th), Tim Kent (who started 11th), Dan Schnackenberg and Michael Bookout.  Alex Sewell would head for the work area to repair a broken shock mount. He would rejoin the field at the rear on the restart.
Alex DeCamp would make major progress in his Morton Excavating / STK Engines / Eagle the moment the field went back to green. Having restarted ninth, DeCamp began to pick off cars quickly and on lap 15, DeCamp would overtake J. Kent for the fifth spot. Coming to complete the 15th lap, White got a solid run out of turn four and shot by Morton to take the lead a the start/finish line. It would be a lead she never would relinquish. T. Kent would make some moves of his own working up to third place in the Risley's Trash Service / Risley Engines / Maxim. Dutton would lose a little ground near the completion of the feature, largely due to the aforementioned bent drag link.
With two to go, second place running Morton would have problems, as he would make contact with an infield tire in turns three and four. With no steering control, Morton would roll to a stop in the infield as White motored the Jerry Tucker Roustabout / Terraco Soil Farming / Crash Enterprises / All Star Café / Boyd Engines / Maxim to victory. T. Kent would cross the line second, DeCamp was third after a great recovery form his earlier skirmish, Smith was fourth, also with a great recovery of his own and not to be out done on recoveries, Sewell grabbed the fifth spot and in doing so, his come back netted his team second place in the non-wing points for 2013, just four points ahead of DeCamp.
Tim Kent reflected on his performance by saying: "We just ran one other time and it was last week and we got a high point average and had to start in the back a ways. Its just tough to get around because everyone's fast anymore so a guy needs to get a break once in awhile and we were fortunate to get some tonight. Our car was tight and we were pushing a little bit but we were to loose to run the top. Kevin and Dena (Risley) hit the deal (set up) pretty good and it made for a good run at the end."
From Alex DeCamp: "I was catching the leaders (early in the race) and wound up looping it and had to go tail back and came back to third somehow. After the red we restarted ninth and I didn't know where all the cars went. We actually got a good restart, I think I picked off three or four cars in that first lap and just kept reeling them in. I got my brakes too hot and started to loose them towards the end."
Andrew Deal was tagged as the Dyno Services of Oklahoma 'Hard Luck' recipient.
Thanks to ALL of the sponsors who participated in the non-wing portion of the 2013 racing season. Race fans and race teams alike benefited greatly due to these great supporters. Everyone of you are very much appreciated. Very special thanks goes out to these great companies……….
Eagle Motorsports
Grand Prix Auto Center
Allen Competition Engines
Maxwell Oil
Morton Excavating
Racing Optics
R&M Race Trailers
Shock Doc
Smiley's Racing Products
Superior Auto Salvage
The next event for the OCRS travelers will be next Saturday night as the grand palace of the Salina Highbanks Speedway will host OCRS for the second time this season where Harli White won on May 18th. The Salina event and the remaining races on the 2013 schedule will be conducted as 'winged' sprint car shows.
For more information on the OCRS sprint car series including updates, stories, photos, complete 2013-point standings and future schedules, log onto: www.ocrsracing.com
You can also checkout our Facebook page at: https://www.facebook.com/oil.series
OCRS Race Results / Osage Casino – Caney Valley Speedway
Date of Race:   Saturday, July 06, 2013
Car Count: 16
(Pos-Car-Driver-Start)
AmeriFlex Hose and Accessories Heat
1, 94L-Layne Himebaugh[2]. 2, 31-Casey Wills[1]. 3, 23-David Dutton[4]. 4,
84-Alex DeCamp[8]. 5, 8M-Kade Morton[3]. 6, 11-Michael Tyre[6]. 7, 007-
Michael Bookout[5]. 8, 55-Johnny Kent[7].
Bob Hurley Auto Family Heat
1, 8-Alex Sewell[2]. 2, 17W-Harli White[4]. 3, 9$-Kyle Clark[1]. 4, 25-Andrew
Deal[3]. 5, 5$-Danny Smith[5]. 6, 24-Tim Kent[7]. 7, 94-Dan Schnackenberg[6].
8, 13-Len Larkin[8].
OCRS A Feature
1, 17W-Harli White[12]. 2, 24-Tim Kent[11]. 3, 84-Alex DeCamp[6]. 4, 5$-
Danny Smith[10]. 5, 8-Alex Sewell[9]. 6, 23-David Dutton[5]. 7, 11-Michael
Tyre[1]. 8, 31-Casey Wills[4]. 9, 55-Johnny Kent[15]. 10, 94L-Layne
Himebaugh[7]. 11, 13-Len Larkin[16]. 12, 8M-Kade Morton[8]. 13, 007-
Michael Bookout[13]. 14, 94-Dan Schnackenberg[14]. 15, 25-Andrew
Deal[2]. 16, 9$-Kyle Clark[3].
AmeriFlex Hose and Accessories Hard Charger: Harli White
Dyno Services of Oklahoma 'Hard Luck' recipient: Andrew Deal