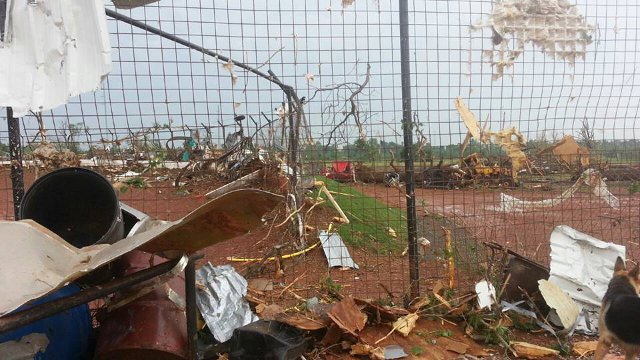 From Cody Morris
Oklahoma City, OK — (July 10, 2013) —  I44 Riverside Speedway skipper Mark Banister leads his crew in the effort to continue an OKC weekend tradition that spans back to the 1930's.
Dirt track racing has endured since the roots of automobiles were planted in this Great Nation, and as hundreds of millions celebrated her' 239th birthday, it provided a beautiful day for the I44 Riverside family to rest and spend time with loved ones on that most sacred day.
We have many announcements since our last release, and several more potentially huge announcements looming on the horizon. With only 26 days remaining until the rebirth of I44 Riverside Speedway, the quest to accomplish the impossible is now in its' most critical phase.
Chapter 1 – #Restore44 at The Pole
The I44 Riverside Speedway fundraiser is less than a week away. This coming Thursday, July 11th, Oklahoma City's Pole Position Raceway will host an outrageously fun and exciting event that will feature a lot of racing on the ¼ mile indoor kart track as well as a silent auction with many fantastic items that are still arriving from the widespread corridors of the racing community. From autographed gear from rising stars Christopher Bell and Kyle Larson, to several items from World of Outlaw racers and even a few from NASCAR's three time champ Tony Stewart – this promises to be a landmark event for the entire community.
This coming Thursday from 5-9pm, the movement continues at Oklahoma City's Pole Position Raceway located at 2905 NW 36th St.
Follow Riverside Speedway or Greg Slaton on Facebook to get a live look at silent auction items and make a bid, as well as a final event notice to be released Tuesday!
Pole Position Raceway has long been the second home to all racers of I44 Riverside Speedway. When the rains keep Riverside from racing, a flock usually heads there. It's incredible fun for everyone of any level of skill, for racers of Riverside and Port City, or the thousands of patriotic families of the OKC metro and points beyond. Visit
www.polepositionraceway.com
to get an incredible account of this rapidly growing activity!
Chapter 2 – Beads and Buds
Since the May 20th tornado leveled I44 Riverside Speedway, many great patrons have come to the speedway to help in the monumental tasks of clearing debris and rebuilding. With debris officially cleared from the infield and racing surface, work began on final repairs to the speedway catch fence.
Some of the finest patrons of both the local and racing communities arrived once again on Saturday, June 29th and Sunday, June 30th to help get this very important phase behind us. On behalf of Mark and Gloria, the I44 Riverside Speedway extends our warmest thanks in acknowledging the following for volunteering their time and effort to the charge to continue auto racing in the Oklahoma City area:
Saturday 6-29
Darrell Cleveland
Bobby Alberternst
Steven Shebester
Scott Burk
Allen Crawford
Erich Peterson
Jeffrey Knowles
David Ball
Teri Burk
Rhesa Burk
David Foley
Richard Pece
Jessica and Shawna
Mike Kearns
Sunday 6-30
Darrell Cleveland
Robert Allmen
David Ball
Ricky Pearson
It may not be seen or heard by all, but the efforts of each of you reverberate throughout the racing community. To those actively supporting a first ever mission to rebuild a completely destroyed speedway in under 75 days – it means everything. To those who, despite track closings left and right, take our plight to rebuild the only auto racing venue in Oklahoma City for granted – in 26 days when we win this fight – let it be seen and noted that these folks came out and lent a hand. It means the world to us guys, you will always have a special place in the hearts of I44 Riverside Speedway.
Chapter 3 – #Restore44 Down Under
We are absolutely thrilled to announce that #Restore44 has officially gone international. Oval Express is the top racing publication in Australia, and the new July issue features an I44 Riverside Speedway piece penned by Coldstream, Victoria's Oval Express contributor Michelle Jordison.
With supplemental credit to Orcutt, California extraordinaire Stephanie Odom, the July edition (Issue #152) of Oval Express featuring Michelle Jordison's "Oklahoma Strong" article is on sale you can get your copy or subscription by visiting
www.ovalexpress.com
.
Special thanks to Oval Express for presenting our plight to the great fans Down Under! We encourage all Sooner State patrons to subscribe to Australia's top racing publication – after all, they just acknowledged you in a very major way.
We also encourage and direct Sooner State race fans to Flat Out Magazine. Flat Out journalist Stephanie Odom has been one of the biggest supporters to  #Restore44. Stephanie will be competing in the Scott Tinley Sprint Triathlon at Lake Lopez Park just a few miles from San Luis Obispo, California on October 5th on behalf of I44 Riverside Speedway. You can even sponsor her run! Check out her Facebook page for details.
This sensational young lady will also be on hand for the grand reopening of I44 Riverside at the 14th Annual Mini Sprint Nationals on August 2nd. We couldn't be more proud to have such an extremely multi-talented supporter. What her efforts mean to the I44 Riverside family are difficult to put into words. The Golden State better try hard to keep this young lady out West, as the Sooner State will always champion what Stephanie has meant to the effort to save the last auto racing venue in Oklahoma's State Capitol.
Special thanks to Stephanie Odom and Michelle Jordison and the publications that present their efforts to worldwide racing community.
Chapter 4 – The Nationals
Just 26 days until I44 Riverside Speedway reopens with the 14th Annual Mini Sprint Nationals on Friday and Saturday, Agust 2nd and 3rd. Event details to headline Volume 4 of #Restore44 in just a few days. Classes, purse details, and rules will be announced alongside. Pre-registration will open shortly thereafter.
Chapter 5 – The Numbers
We are entering the most critical phase to restore the speedway. Probably the most important week. These are once in a lifetime opportunities to directly help rebuild and save a speedway.
Transparency is guaranteed. With just over $4,200 contributed to the restoration of OKC's only auto racing venue, we spent $3,300 on hog panels to get the catch fence back up. Fence is nearly complete, next up? Lights and track equipment!
Check this out! Biggest financial loss obviously was the grandstand. Bleachers are a lot more expensive than most think. Riverside's grandstand was estimated at over $125,000.
Obviously, it's almost impossible to replace. No problem – we are laying out plans for a concrete grandstand The rush is on with so many other repairs, lights and track equipment – whether these are in place for National largely depends on whether the thousands in the racing community choose to support us. Even if we don't have a few rows of the concrete stands in place, we will terrace along the front straightaway for lawn chairs with special accomodation for handicapped seating.
More on this to come!
For $70 (cost of each wall panel) you can sponsor a wall panel and have your plate featured at the track and be featured in all remaining releases for the remainder of the 2013 season.
For $550 you can feature your commitment to save auto racing in the Oklahoma City area or feature your business on one of our huge billboards on the catch fence. All sponsors will be featured in each official release for the remainder of the 2013 season, including the grand reopening Mini Sprint Nationals, the final seven Saturday night weekly events, and the 3rd Annual Stock 600 & Midget Nationals!
Wall Panel Sponsors as of 7/3
1 – 2J Wehkamp Racing (Wehkamp Racing – Cimarron, Kansas)
2 – 2J Wehkamp Racing (Wehkamp Racing – Cimarron, Kansas)
3 – 3J Wehkamp Racing (Wehkamp Racing – Cimarron, Kansas)
4 – 3J Wehkamp Racing (Wehkamp Racing, Cimarron, Kansas)
5 – Jennings Powder Coating (Brandon Jennings – Oklahoma City)
6 – Jack Hall #37 (Jack Hall)
7 – 2B Brandon Boggs (Boggs Racing – Lawton, Oklahoma)
8 – Bobby Brewer #1 (Bobby Brewer – Cabot, Arkansas)
9 – Nathan Rainey #99 (Matthew Rainey – Choctaw, Oklahoma)
10 – Lyndon Harvey 99H (Harvey Racing – Decatur, Texas)
11 – Boggs Racing 2B (Randy Boggs – Lawton, Oklahoma)
12 – Stars Elite Cheer (Kerrie Boggs – Lawton, Oklahoma)
13 – Fliptastics Gymnastics (Courtney Boggs – Lawton, Oklahoma)
14 – P40 Aaron Dromgoole (Dromgoole Racing – Euless, Texas)
15 – Derrick McBride #98 (Derrick McBride – Newcastle, Oklahoma)
16 – Lyndon Harvey 99H (Harvey Racing – Decatur, Texas)
17 – Jake's Dad  Carbs (Duane Keel – Mustang, Oklahoma)
19 – Ryan Anderson #00R (Ryan Anderson – Anadarko, Oklahoma)
20 – Finish Line Designs (Cody & LeeAnn Meade – Dewey, OK)
21 – Fast Lane Motorsports News (Galen Kurth – OKC, OK)
22 – Zero Motorsports (Johnny Murdock – St. Louis, Missouri)
23 – Christian Kinnison 82c TBD
24 – Christian Kinnison 82c
Current total: $1,680
Panels remaining: 90
Billboard sponsors as of 7/3
1 – Barnum's Plumbing, Inc. (Oklahoma City) 550
2 – Dacus Heating & Air (Fletcher, Oklahoma) *Associate
3 – MelMark Pipe & Supply *Associate
4 – Southern Illinois Raceway (Marion, Illinois)
5 – Oklahoma No Fender Network / Finish Line Designs *Associate
6 – Southwestern Medical Center Lawton, Oklahoma (24 hour kidney stone service / Dr. Mike Kuglitsch)
Current total: $3,308
Billboards remaining: 32