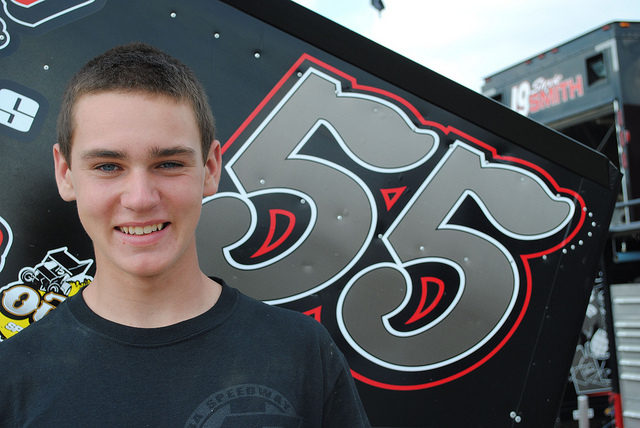 Inside Line Promotions
– ELMA, Wash. (July 14, 2013) – There is a taste in Trey Starks' mouth that he is eager to get rid of.
Starks is coming off one of his most challenging weekends of the season with the Lucas Oil ASCS National Tour at Grays Harbor Raceway.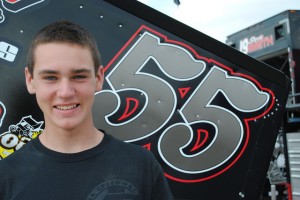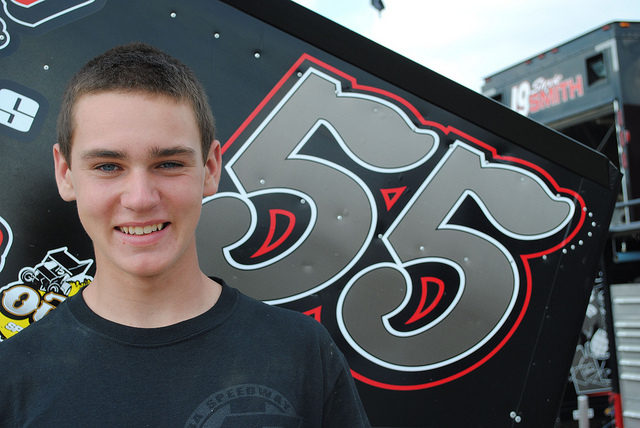 "It seemed like the whole weekend, from the draw, our luck has been horrible," he said. "I don't know what to do to fix that. I guess we just keep going and keep rallying. Somewhere you have to think your luck has to get better."
With the Lucas Oil Productions television cameras taping the action for a delayed broadcast, Starks drew one of the highest numbers in the pill draw to line him up last in his heat race each night. He has only started in the first two rows of a heat race during only one of his last seven races.
However, Starks advanced from seventh to fifth to earn the 16th-most points throughout the heat races. That locked him into the 25-lap feature, which he started on the outside of the eighth row.
"We did decent in our heat and made it in the main," he said. "The track was pretty racy so we could pass some cars and get up toward the front. We just needed a little more time, maybe a 30-lap main."
Starks rallied to place 10th in the main event, which was his 16th top-10 finish this season.
Saturday didn't end as well. On a narrow track that favored the bottom, Starks moved from seventh to sixth place in his heat race and was relegated to the B Main. After the track was reworked prior to the consolation race, Starks quickly drove from fourth to the lead. He was nipped at the checkered flag by Brad Loyet, but Starks earned a transfer to start 18th in the feature.
"The track kinda got a little racier," he said. "It looked like the track was going to come around. It was still slimy going in (turns) three and four. Loyet got us coming off turn four."
In the main event, Starks was involved in an early incident that left him spun around in turn two on the second lap. He restarted last – 22nd – and worked his way into the top 15 when the tie rod broke going into turn one in the closing laps.
"It could have torn up a lot of other stuff," he said. "We could have had a junked car, so I'm pretty happy it happened in the spot it did.
"I would say without a doubt last night was our worst run of the year. It never went our way. We didn't capitalize on our opportunities. I would say it was definitely our worst night of the year. It's good to put that one behind us and I'm looking forward to Cottage Grove. It's a track we know well and we run good at, so I'm excited to see how we do this weekend."
Starks will compete at Cottage Grove Speedway in Cottage Grove, Ore. – where he earned two fourth-place finishes the first weekend in July – on Friday and Saturday with the Lucas Oil ASCS National Tour. Those races are also scheduled to be taped for a delayed television broadcast.
QUICK RESULTS –
July 12 – Grays Harbor Raceway in Elma, Wash. – Heat race: 5 (7); Feature: 10 (16).
July 13 – Grays Harbor Raceway in Elma, Wash. – Heat race: 6 (7); B Main: 2 (4); Feature: 16 (18).
SEASON STATS –
22 races, 2 wins, 11 top fives, 16 top 10s, 19 top 15s, 21 top 20s
UP NEXT –
Friday and Saturday at Cottage Grove Speedway in Cottage Grove, Ore., with the Lucas Oil ASCS National Tour
MEDIA LINKS –
Website: http://www.TreyStarksRacing.com
Twitter: https://twitter.com/treystarks55
Facebook: https://www.facebook.com/TreyStarksRacing?fref=ts
VIDEO –
Here's a link to Trey's win at Skagit Speedway on May 25 with highlights beginning approximately 4:45 into the video: http://youtu.be/JlaX5Lvj4VI
Check out some in-car footage of Trey provided by Downforce Designs: http://youtu.be/dv2_v22rcO4
Here is a link to check out highlights from Trey's victory at Skagit Speedway on May 4: http://www.youtube.com/watch?v=axHzc9tXVaQ&feature=youtu.be
APPAREL –
Starks has men's and women's long-sleeve shirts, t-shirts and hoodies available at any race he attends and at http://www.TreyStarksRacing.com.
SPONSOR SPOTLIGHT – Starks Timber Processing
Starks Timber Processing is a logging business owned by Trey's father, John, who is a third-generation logger. It has been based out of Washington for the last 15 years.
"Starks Timber Processing is what provides me the opportunity to race," Trey said. "It has played a huge role in my life, both on the track and away from it."
Starks would like to thank his sponsors, including Blue Dot Fabrications, BR Motorsports, King Racing Products, SpeedMart and Masco Petroleum for their continued support.