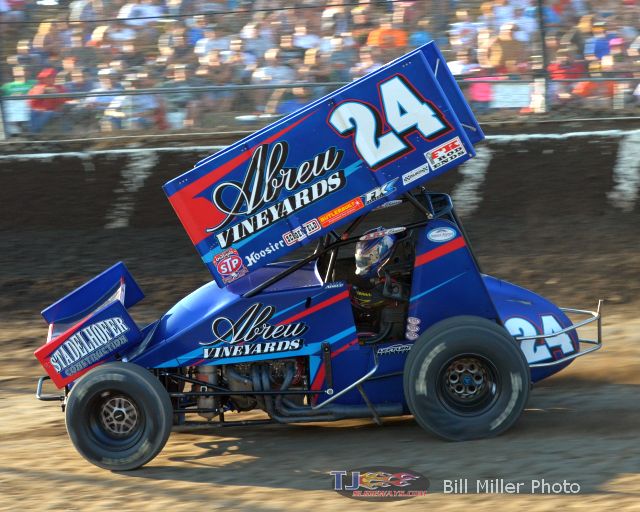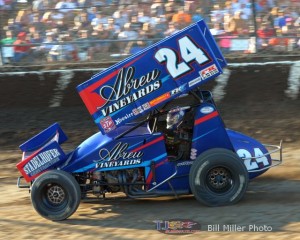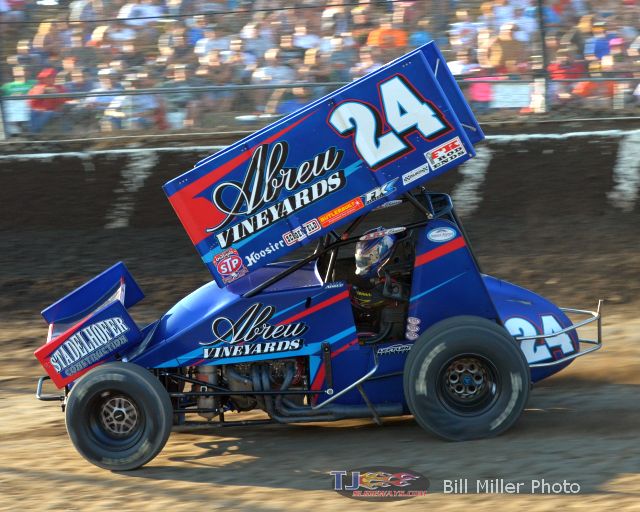 From Peterson Media
Spending his weekend in Ohio competing with the World of Outlaws, Rico Abreu had some bad luck that resulted in disappointing finishes.
"It was a tough weekend, and we had some bad luck, but it's part of it," he said. "I'm checking a lot of these tracks out for the first time, so it is a learning experience for sure."
Kicking action off on Thursday night in Lima, OH for the Brad Doty Classic, Abreu timed in 19th fastest, before finishing fourth in heat race action, putting him in the feature event.
Starting in 10th row for the feature, on what was a very slick track, Abreu adapted nicely as he worked his way towards the top-10.
Getting up to the 12th spot, Abreu the found trouble, as a car lost the handle in front of him, which resulted in Abreu making contact with it, thus ending his night.
Heading to the Eldora Speedway for the King's Royal, Abreu would be making his first winged sprint car start at the famed ½ banked facility.
Friday night saw the Rutherford, CA driver narrowly miss the heat race inversion as he timed in 17th fastest against 43 drivers checked into the facility for the Knight Before the King's Royal.
Starting fifth in his heat, Abreu would score a fifth place finish, putting him in the feature event, where he started out of the 17th position.
The Friday night feature event, saw Abreu feel out the intimidating speedway, as he slowly slipped back to a 21st finish at the stripe.
Saturday night, Abreu and his Abreu Vineyards Racing team were back at Eldora for the 30th Annual King's Royal.
With 42 cars on hand, Abreu timed in 14th quickest, putting him on the front row of his heat, as a heat win would put him in the first three rows of the 40-lap feature.
Slipping to second when the heat got underway, Abreu hooked up in an entertaining duel with Joey Saldana for the second spot, as the duo exchanged slide-jobs for a few laps, with Saldana finally getting the best of him, but Abreu would hang on to third and transfer to his first King's Royal feature.
Starting in the 14th spot, Abreu continued to show speed, as he raced his way towards the top-10, as he stayed committed to the high, scary side.
Late in the race, that line came back to bite him, as he got up into the fence, and ended his night.
"I had a blast on Saturday night," he said. "I felt much more comfortable, and felt really good. With the cushion being right up on the wall, I made a mistake and got into the wall a little bit and broke some parts, and our night was over."
Rico and his team would like to thank Abreu Vineyards, ButlerBuilt, FK Rod Ends, Schoenfeld, Keith Kunz Motorsports, Brown and Miller Racing Solutions, and Willwood for their support.
2013 BY THE NUMBERS: Starts-55, Wins-3, Top 5's-23, Top 10's-32
ON TAP: Abreu will be busy this week as he competes in a couple of 360 shows on Wednesday and Thursday before returning to the Knoxville Raceway on Saturday, and the Huset's Speedway on Sunday night.
STAY CONNECTED: Stay updated with Rico by visiting his website at www.ricoabreuracing.com, 'liking' him on facebook at www.facebook.com/ricoabreuracing or following him on twitter @Rico_Abreu.
VIDEO: Be sure to check out http://www.youtube.com/ricoabreuracing for video of Rico, as content is constantly being uploaded!