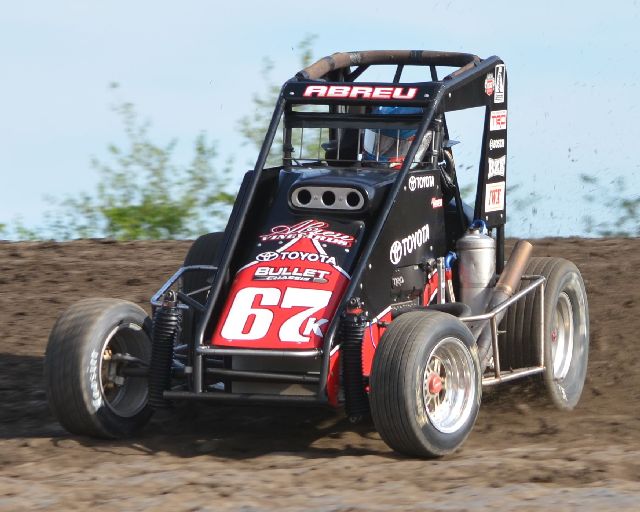 From Dick Jordan / Bryan Gapinski
Belleville, KS — (August 1, 2013) — Rico Abreu won the 25-lap feature on Thursday
Night, kicking off the 36th annual Belleville Midget Nationals on the Belleville High Banks. The California driver led all the entire distance in the USAC Honda National Dirt midget series event, establishing himself as the favorite for Saturday's 40-lap Championship Feature.
Third place running Caleb Armstrong hit the Turn 3 wall, on the second lap, executing a series of wild barrel roll flips atop the guardrail. The New Castle, IN was transported to Republic County Hospital for observation.
           On the restart Abreu led his teammate Christopher Bell, followed closely by Tracy Hines and Dave Darland. Bell running in second place, entered the pit area to change a flat tire during a Lap 9 caution, rejoining the field at the tail.
          At the midway Bell had passed eight cars entering the top ten, while Abreu saw his lead cut to one-car length over Darland, with ten laps remaining.  The trio of Abreu, Darland and Hines pulled away from the field. Abreu increased his lead during the final five laps, while running in lapped traffic.
         Abreu driving the Keith Kunz/Curb-Agajanian owned No. 67K finished ahead of Hines, Darland, defending winner Jerry Coons Jr., and Bryan Clauson completing the top five. Bell making his first ever start at the track topped the 25-car field in qualifying and finished in sixth place.
"This place is great, I really wanted to score a victory here, the crew has the car so clos
HONDA USAC NATIONAL DIRT MIDGET RACE RESULTS: August 1, 2013 – Belleville, Kansas – Belleville High Banks – "Belleville Midget Nationals"
QUALIFICATIONS: 1. Christopher Bell, 71, Kunz/Curb-Agajanian-17.581; 2. Tracy Hines, 24, Parker-17.684; 3. Bobby East, 4, Klatt-17.689; 4. Zach Daum, 5D, Daum-17.724; 5. Rico Abreu, 67k, Kunz/Curb-Agajanian-17.734; 6. Caleb Armstrong, 7c, C & A-17.767; 7. Jerry Coons Jr., 63, Dooling-17.776; 8. Dave Darland, 17, RW/Curb-Agajanian-17.815; 9. Bryan Clauson, 39, Tucker/BCI/Curb-Agajanian-17.
840; 10. Darren Hagen, 3, RFMS-17.925; 11. Tanner Thorson, 67, Kunz/Curb-Agajanian-17.956;12. Dalton Armstrong, 7a, C & A-17.973; 13. Andrew Felker, 11A, Felker-18.010; 14. Shane Golobic, 11, Wilke-Pak-18.070; 15. C.J. Johnson, 45, Martin-18.106; 16. Brad Kuhn, 10, Cook-18.119; 19. Cody Brewer, 96, Brewer-18.236; 18. Garrett Hood 11H, Two Hoods-18.373; 19. Ronnie Gardner, 62, Bock-18.601; 20. Jeff Stasa, 91, Stasa-18.638; 21. Shane Hollingsworth, 85, Hollingsworth-18.920; 22. Johnny Murdock, 2P, Murdock-20.408; 23. A.J. FIke, 3F, RFMS-NT; 24. Randy Boyer, 69, Boyer-NT; 25. Troy Simpson, 0,
Murdock-NT.FIRST HEAT : (8 laps) 1. Coons, 2. Hagen, 3. Bell, 4. Daum, 5. Felker, 6. Gardner, 7. Murdock, 8. Kuhn, 9. Simpson. NT
SECOND HEAT : (8 laps) 1. Darland, 2. Hines, 3. Abreu, 4. Thorson, 5. Golobic, 6. Stasa, 7. Fike, 8. Brewer.
THIRD HEAT : (8 laps) 1. East, 2. C.Armstrong, 3. Johnson, 4. Clauson, 5. D.Armstrong, 6. Hood, 7. Hollingsworth, 8. Boyer.
FEATURE: (25 laps) 1. Rico Abreu, 2. Tracy Hines, 3. Dave Darland, 4. Jerry Coons Jr., 5. Bryan Clauson, 6. Christopher Bell, 7. Tanner Thorson, 8. C.J. Johnson, 9. Andrew Felker, 10. Cody Brewer, 11. Shane Golobic, 12. Shane Hollingsworth, 13. Dalton Armstrong, 14. Jeff Stasa, 15. Ronnie Gardner, 16. Zach Daum, 17. Randy Boyer, 18. Bobby East, 19. Darren Hagen, 20. Garrett Hood, 21. Troy Simpson, 22. Caleb Armstrong, 23. Johnny Murdock. NT
———————————
**C.Armstrong flipped on lap 2 of the feature.
FEATURE LAP LEADERS: Laps 1-25 Abreu.
NEW HONDA NATIONAL DIRT MIDGET POINTS: 1-Bell-566, 2-Clauson-516, 3-Coons-493, 4-Hines-476, 5-Felker-449, 6-Hagen-446, 7-Daum-393, 8-Abreu-382, 9-Kuhn-374, 10-C.Armstrong-319.
NEXT HONDA NATIONAL DIRT MIDGET RACE: August 3 – Belleville (KS) High Banks – "Belleville Midget Nationals"