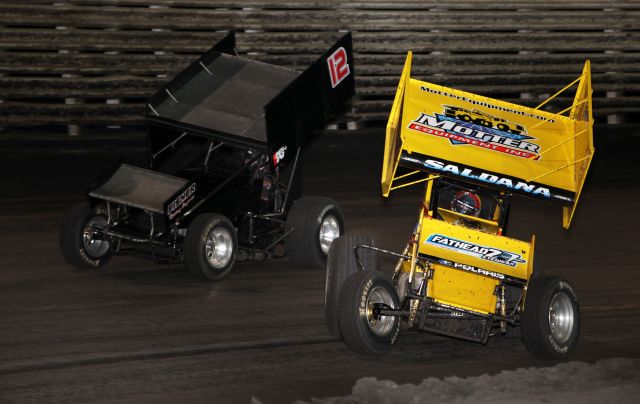 By Susan Arnold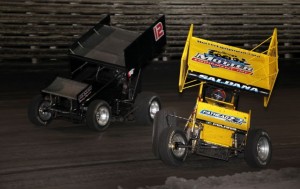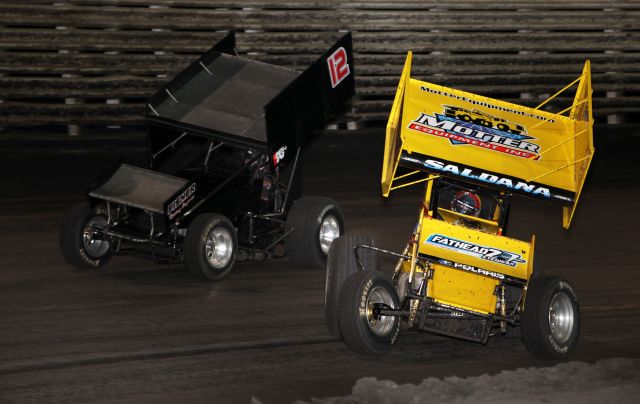 KNOXVILLE, Iowa (July 30,2013) – Perhaps the most precious stretch of dirt in World of Outlaws racing is the sacred half-mile track that is home to the crown jewel of the winged STP Sprint Cars, the Knoxville Nationals.
Four days of racing, Aug. 7-10, and the season's biggest winner's payout of $150,000 draws a huge field of competitors from across the United States.  There are Outlaws, in-laws, fathers and sons, Posse and renegades.  Some race only a handful of events a year and show up to try to gain a starting berth in the biggest show of the year. With more than $1million paid out during the four days of racing, and the last place finisher in Saturday's A-Main taking home $10,000 (a traditional WoO race winner's payout), it's easy to see why this event attracts so many racers.
There's a Saldana name inscribed in the Knoxville Nationals history book, and it was earned in 1970 by Joey Saldana's father, Lil' Joe Saldana.  Second-generation driver Joey has won two Kings Royal events, he's won the Ironman, the Summer Nationals, the Gold Cup, and the Brad Doty Classic.  We could go on and on.  The driver known as the Brownsburg Bullet has won nearly every specialty event on the Outlaws circuit and most in multiples.  He has 83 Outlaws career victories, but he has yet to win the race he covets most:  the Knoxville Nationals.
Could this be the year he gets his wish?
For team owner Dan Motter, a win at the Knoxville Nationals is equally important and sits high atop his list of goals.
"Back in 1991 and 1992 we drove 1,000 miles every weekend just to race at Knoxville every Saturday night," said Motter.  "That's a long drive from our Minnesota shop, but for me, I feel like Knoxville is our home track.  There is no race and no track that is more special to us than this one.
"So winning this race is as important to me as a car owner as it is to Joey, the driver."
The Motter Equipment Fatheadz Eyewear 71M team has a seasoned crew chief in Davey Whitworth. Whitworth and Saldana have partnered previously with success.  The team has proven they have speed having accrued four quick times and two track records this year on the WoO circuit.  For the Knoxville Nationals they will be fielding newly built GF1 chassis that they feel give them the best opportunity to be aggressive and competitive in the biggest race of the season.
There are some drivers that enter a multitude of races at Knoxville during the year just to accumulate data for their tuning notebooks that they hope will give them a winning edge Aug. 10.  That's one strategy and then there are the regular World of Outlaws campaigners arguably touted as the best winged sprint car drivers anywhere, who have two 'tune-up' races on the Knoxville track (May and June) before Southern Iowa Speedweek and the big money event.
"There's no doubt that with so many good cars and drivers, you have to bring your A game to make the field," said Saldana.  "It's a pretty stressful week on all the teams but you can reap big rewards.
"I'm looking forward to this week of racing.  It's another shot at the history books for Dan and Ruth Motter and for me."