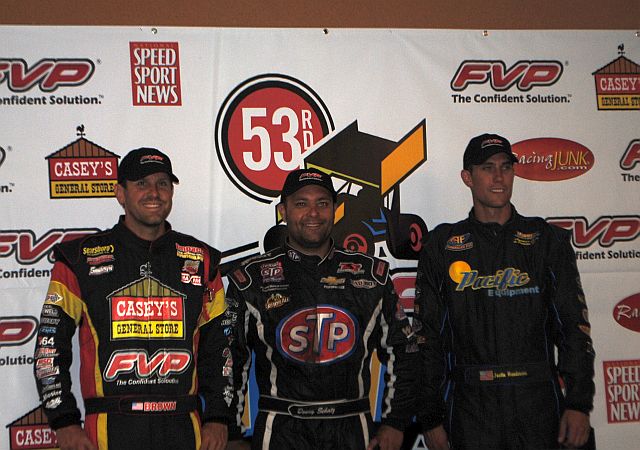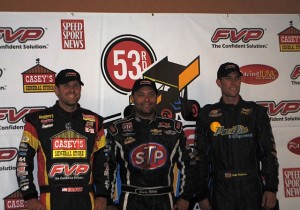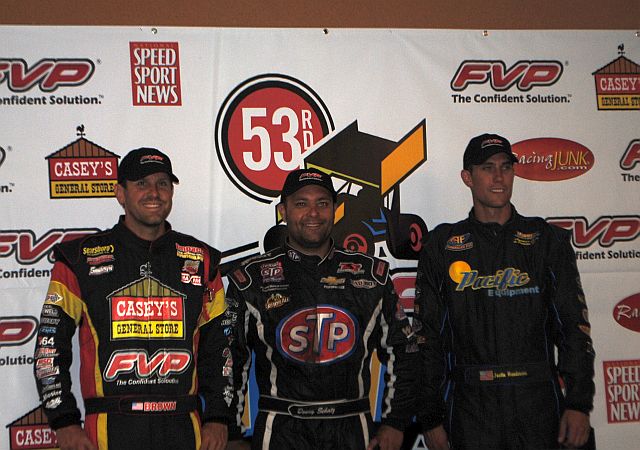 By T.J. Buffenbarger
Knoxville, IA – (August 10, 2013) – Donny Schatz has won the Knoxville Nationals in a variety of different ways, but found a different path to his seventh win in the FVP Knoxville Nationals. Schatz won the B-Main and then worked his way from 21st starting position to victory in the A-Main event. For Schatz the victory was extra special as he celebrated his 36th birthday in victory lane at Knoxville Raceway.
"This is definitely by far the hardest earned one we have had, especially the way we felt all week long. We didn't doubt ourselves, but some days you know what you are doing and you go do it and it doesn't work out the way you expect or work towards you get a little nervous," said Schatz "but to be able to start that far back it's incredible. I was hoping last night I could get through the world challenge. I'm kind of glad we ran the B-Main and it gave that great opportunity to feel the track out tonight. This is definitely the hardest earned. It's kind of hard to rank them versus each other. I'm extremely fortunate to be in this position."
The initial start only lasted one corner when Stevie Smith drifted high and flipped front over back five times in turn one to bring out the red flag. Smith emerged from his car uninjured.
The second attempt at the start saw Brian Brown motor into the lead while Shane Stewart dropped Joey Saldana back to third in turn three on the opening lap. With two laps complete the caution flag appeared for Cody Darrah who jumped the berm and did multiple spins before coming to a stop in turn two.
Stewart attempted to pass Brown for the lead in turn one during the restart, but Brown was able to maintain the lead. Stewart lost momentum with the attempt and Saldana drove around Stewart for second. Then while working lap five Daryn Pittman came to a stop on the back stretch with a flat front tire. Pittman's crew made repairs and he was able to rejoin the field. Brooke Tatnell and David Gravel also went to the work area with Tatnell being the only driver to restart.
Brown pulled away during the restart, but attention immediately turned to Schatz who was in the top 10 and rapidly closing. With 10 laps completed Schatz had already worked his way up to Danny Lasoski, passing him for seventh. On lap 17 Schatz moved passed McMahan into the sixth spot. Just after that pass Ian Madsen slowed on the front stretch with a broken nose wing. Madsen went to the work area, and returned to the tail of the field without the broken piece.
Brown was able to get another great restart and pull away from the rest of the field. Further back Shane Stewart was dropped two positions by Kevin Swindell and Schatz, leaving Schatz to later drive by Swindell on lap 21. Swindell and Schatz continued to battle back and forth until the competition caution on lap 24.
After the teams changed tires and added fuel Brown continued to lead while Schatz disposed of Brown for the fourth spot. It did not take long until Schatz began working Justin Henderson for the third spot, taking third on lap 29.
While Schatz started to run down second place Saldana, Brown began overtaking slower traffic. Schatz continually had a run off of turn four on the bottom of the track that set up the rest of his lap and allowed him to quickly close on Saldana. On lap 32 Schatz used this line to pass Saldana and quickly closed on Brown for the lead.
Even with Schatz on his tail through traffic Brown refused to give up the lead, putting two lapped cars between himself and Schatz. Schatz however quickly disposed of the lapped cars, splitting them three wide off turn two on lap 38. Then on lap 41 Schatz drove by Brown for the lead off turn two. Brown tried to fight back on the high side, but Schatz was too fast and quickly built up a two and a half second lead he would never relinquish. Brown held off a last lap challenge by Henderson to claim the runner up spot. Henderson, McMahan, and Chad Kemenah rounded out the top five.
After the race Schatz had encouraging words for Brown based on his own experience of finishing second four different times before winning his first Knoxville Nationals A-Main.
"You are going to win this. I know what you are feeling. It's not good, but it's not bad either. It pays pretty good for second too."
Brown talked about how the handle went away on his car, knowing that Schatz was coming.
"When we got going again (after the mid-race stop) I looked up on the board and saw 15 and thought 'gosh, there are not any other 15's in the field," said Brown. "Honestly I thought 'shit!'. I continued to look up at the board and saw 15 fourth, 15 third, 15 second, and I knew where I was running and I knew he had to be moving around. My car was a little too tight to run down on the bottom. I also think I used my stuff up trying to get rotated early in that run. I basically held on there at the end. I had nothing for him and I tried to hold Justin (Henderson) off."
A-Main (50 Laps): 1. Donny Schatz (21); 2. Brian Brown (2); 3. Justin Henderson (4); 4. Paul McMahan (6); 5. Chad Kemenah (19); 6. Kyle Larson (17); 7. Joey Saldana (1); 8. Danny Lasoski (13); 9. Steve Kinser (12); 10. Cap Henry (18); 11. Dusty Zomer (23); 12. Greg Hodnett (16); 13. Brad Sweet (5); 14. Daryn Pittman (11); 15. Cody Darrah (10); 16. Kerry Madsen (8); 17. Shane Stewart (3); 18. Roger Crockett (15); 19. Brooke Tatnell (25); 20. Kevin Swindell (9); 21. Ian Madsen (24); 22. Lynton Jeffrey (22); 23. David Gravel (7); 24. Jac Haudenschild (20); 25. Stevie Smith (14);