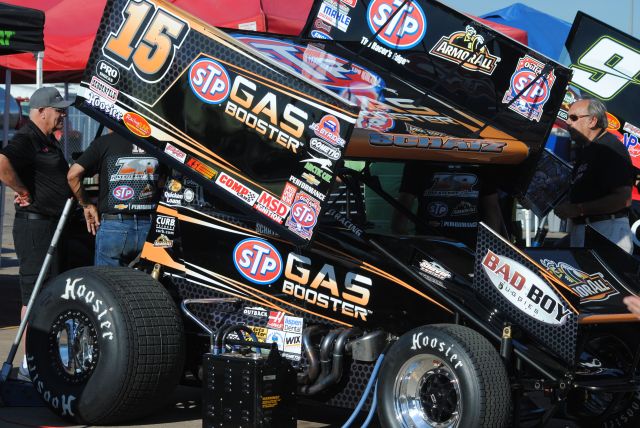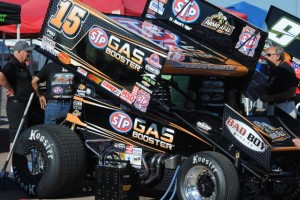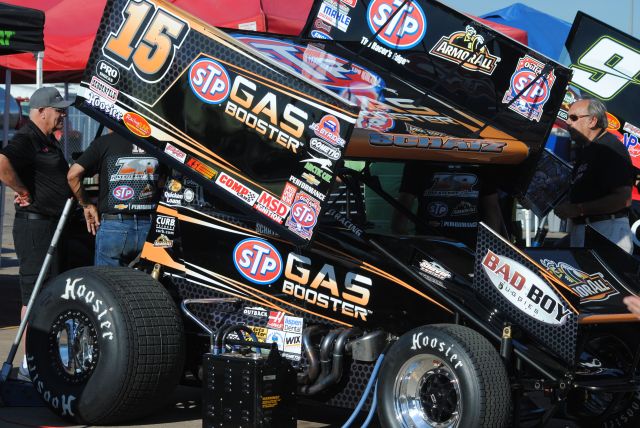 From Bill Klingbeil
Indianapolis, IN — (Aug. 15, 2013) —  With arguably the most demanding race schedule in all of motorsports, the teams that crisscross the country competing with the World of Outlaws (WoO) STP Sprint Car Series always appreciate a little home cooking. This week, it's five-time and reigning WoO STP Sprint Car Series champion Donny Schatz who gets to sleep in his own bed and race in front of family and friends thanks to a pair of races in North Dakota.
The Fargo, N.D., resident and his Tony Stewart Racing team are still flying high after their incredible victory Saturday in the 53rd FVP Knoxville Nationals, and their focus has turned toward chasing the 2013 WoO STP Sprint Car Series championship. Schatz will continue his quest Friday at River Cities Speedway in Grand Forks and Sunday at Nodak Speedway in Minot.
For the seventh time in eight years, Schatz will return to his home state to race one week after winning the sport's biggest event. Last year, he finished second at River Cities and won the A-Feature at Nodak driving the TSR No. 15 STP/Armor All/Chevrolet Performance J&J. Those results were the beginning of a remarkable run over the final three months of the season, which ultimately led to Schatz earning his fifth WoO title.
TSR's Steve Kinser heads back to the Roughrider State with plenty of momentum, as well. Kinser, who finished ninth in the Nationals A-Main Saturday, raced the TSR No. 11 Bad Boy Buggies/J.D. Byrider/Chevrolet Performance Maxim to victory Tuesday night at Junction Motor Speedway in McCool Junction, Neb. The 20-time WoO champion is looking to repeat his performance of two seasons ago, when he swept the first weekend of action following the Nationals claiming wins in Grand Forks and at Huset's Speedway in Brandon, S.D.
Both TSR drivers have been extremely successful at River Cities, which has been called one of the most exciting tracks on the WoO schedule. Since the Outlaws first raced at the 3/10-mile dirt oval in Grand Forks in June 2007, all 12 40-lap A-Features have been thrillers to the end. One of the most exciting races came in August 2011, when Schatz and Kinser exchanged the lead nine times in the final eight laps. Kinser prevailed that night and also was a River Cities winner in June 2010. Schatz won consecutive A-Features in June 2008 and 2009 and has finished inside the top-four 10 times.
Sunday's return to Minot, which is Schatz's hometown, will be the Outlaws' eighth race at the 3/8-mile dirt oval. Last August, Schatz dominated the 35-lap A-Feature and scored his first hometown triumph. Schatz actually has a two-race winning streak in Minot following his Dirt Late Model win at the track in May. Kinser has finished inside the top-10 in six WoO starts at Nodak and posted his best finish of second in August 2010.
Through 53 events, Schatz leads the series with 14 A-Feature wins and has earned 31 top-fives and 44 top-10s. He ranks second in the WoO championship standings, where he trails leader Daryn Pittman by 67 markers. Kinser ranks ninth and has a pair of wins, six top-fives and 21 top-10s this season.
Friday at River Cities Speedway, the pit gates will open at 2 p.m. CDT with the grandstands opening at 4 p.m. Hot laps are scheduled to begin at 6 p.m. For more details, contact River Cities Speedway at (218) 773-3002. The official Web site of River Cities Speedway is www.rivercitiesspeedway.com.
Sunday at Nodak Speedway, the pit gates will open at 2 p.m. CDT with the grandstands opening at 4 p.m. Hot laps are scheduled to begin at 6 p.m. For more details and ticket information, call the Nodak Race Club at (701) 833-6501 or visit www.racenodak.com.
Race fans unable to attend this weekend's events can catch all of the action on DIRTVision.com. Fans can listen live as Johnny Gibson, "Voice of the Outlaws," calls the action as he does at all WoO STP Sprint Car Series events on the DIRTVision.com cybercast, as well as on the DIRT Radio Network. Go to www.DIRTVision.com for more information on all the site features, including live results from the track.
Steve Kinser, Driver of the No. 11 TSR/Bad Boy Buggies/J.D. Byrider/Chevrolet Performance Maxim:
You've said all season that it's been a struggle. Do you feel like your successful week at Knoxville and the win Tuesday in Nebraska have helped you turn the corner?
"I think we all feel a little better about where we are headed. For so much of the season, we just couldn't figure out what was wrong. The Bad Boy Buggies guys tried everything and nothing seemed to make a difference. We came to Knoxville with high hopes. Coming out on our qualifying night and timing in third and doing so well in the heat race gave us some confidence. Finishing ninth in Saturday's 50-lap finale was a major improvement from last year. Keeping it going by winning Tuesday night just confirmed that we are headed in the right direction. The guys kept working hard and now they are starting to see a little bit of reward for their efforts."
With the success of the past week, do you have a renewed outlook on the rest of the season?
"We're just kind of starting from here and seeing how well we can run during the final 25 races of the year. It's always fun going up to Grand Forks. Don Mack and his staff have a great facility up there and the racing is always pretty good. We just want to keep building on this and a couple more strong results in North Dakota would really help us on that big drive up to Edmonton next week. We're just going to keep plugging away. There are a lot of races left this year and, hopefully, we can be really competitive."
Donny Schatz, Driver of the No. 15 TSR/STP/Armor All/Chevrolet Performance J&J:
The racing world is still buzzing about your incredible drive from 21st to first last week at the Knoxville Nationals. Has it sunk in, yet, what you and your STP team accomplished?
"It was an incredible night, that's for sure. We didn't have the kind of week we were hoping for, but the whole team just kept working. I think running the B-Main helped us get a little more information on the car, and I told the guys we're going for gold in the 50-lap final. It really hasn't completely sunk in, but seeing the smiles on everyone's face tells you all you need to know. Everyone associated with Tony Stewart Racing and this team should be proud. Hard work wins out and there just wasn't any quit in any of us. I'm sure we'll look back on it someday and wonder how it happened."
How special is it that you get to race in your home state after such a big win?
"I couldn't ask for a better scenario. There were a lot of family and friends that were able to go to Knoxville, but quite a few more that weren't able to. I have so much fun racing in Grand Forks and Minot. They are both tremendous facilities and the fan support is really good. We'll definitely be carrying some North Dakota pride this weekend. Our goal is to keep all of the fans excited about what we are doing on the track and keep them coming back for more."
About Armored AutoGroup
Armored AutoGroup Inc., headquartered in Danbury, Conn., is primarily comprised of the Armor All®, STP® and Tuff Stuff® brands. The current Armor All product line of protectants, wipes, tire and wheel care products, glass cleaners, leather care products and car washes are designed to clean, shine and protect interior and exterior automobile surfaces. The STP product line of fuel and oil additives, functional fluids and automotive appearance products have a broad customer base ranging from professional racers to car enthusiasts and "Do-it-Yourselfers". Tuff Stuff cleaning products are formulated to tackle the toughest jobs.
Armored AutoGroup has a diversified geographic footprint with direct operations in the United States, Canada, Australia and the U.K. and distributor relationships in approximately 50 countries. For more information, please visit www.armorall.com and www.stp.com.