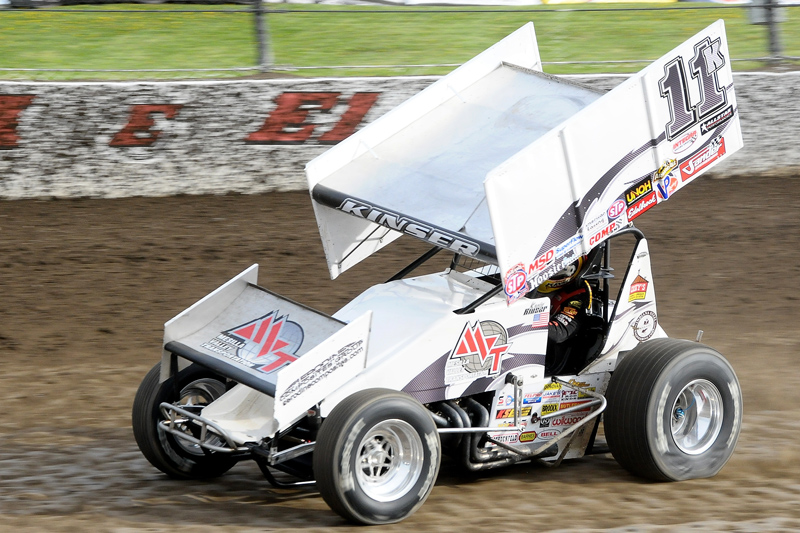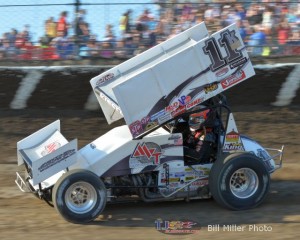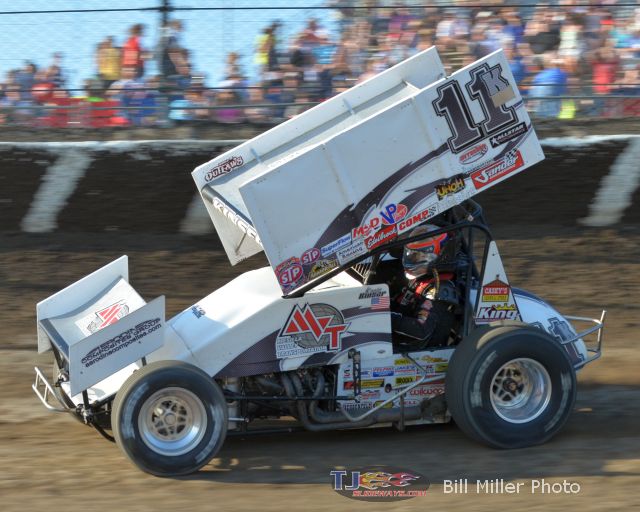 From Kraig Kinser Racing PR
Bloomington, IN — (August 22, 2013) — The trek to Edmonton, Alberta, Canada, is one of the longest trips that Kraig Kinser makes all season and by far the northernmost stop on his schedule, but also it is one of the most enjoyable for the third-generation driver. Kinser will have a chance to visit western Canada again this week as the World of Outlaws STP Sprint Car Series heads to Castrol Raceway for the Oil City Cup.
The Sixth Annual Oil City Cup opens for Kinser, who pilots the Mesilla Valley Transportation/Casey's General Store/King Racing Products Maxim, on Friday, Aug. 23, with a complete racing program and continues on Saturday, Aug. 24, with another full show. Each night will conclude with a 35-lap, $10,000-to-win A-Feature.
"The weather is usually pretty favorable this time of the year up in Edmonton and we've really gained quite a following up there the last few years," said Kinser. "The surface is always very racy and everyone up there welcomes us with open arms. This is definitely one of the swings of the year that we always look forward to."
Kinser finished 11th in the finale of the Oil City Cup last season and was 12th in the opener of the two-night event. He was eighth-fastest in time trials on Saturday night and started on the front row of the second 10-lap heat race and rocketed to the lead at the drop of the green, winning that contest to earn a spot in the dash. Kinser started eighth in the dash and finished 10th. On the opening night of the two-night event, the native of Bloomington, Ind., was 11th-fastest in time trials and finished third in the second 10-lap heat race. In the dash Kinser started 10th and finished seventh, which put him on the inside of the fourth row for the main event.
"We qualified in the right spots last year and were able to get into the dash both nights," he shared. "Getting in the dash is so important right now and starting in those first couple of rows. We were able to come from 14th to sixth the other night at Minot (Nodak Speedway), but if you really want to have a shot at it, you have to start in the top-10 and preferably the top-five."
Kinser made his debut at Castrol Raceway during the 2008 Oil City Cup, which marked the World of Outlaws second visit to the three-eighths-mile. The 2005 winner of the Knoxville Nationals has a pair of Top-10 finishes in Edmonton, including a career-best sixth-place showing in 2011. He ran seventh in 2009 at the facility.
In a pair of starts this season in Canada with the World of Outlaws STP Sprint Car Series, Kinser finish third at Autodrome Drummond in Quebec, and was 13th at Ohsweken Speedway in Ontario. Kinser enters this weekend 13th in the World of Outlaws STP Sprint Car Series standings. He has one victory on the season to go along with 24 top-10 finishes.
"We're looking to gain some momentum down the stretch and contend for wins," said Kinser. "There are a bunch of tracks on the west coast swing that we have traditionally run well at, so that gives us a confidence boost headed into the next few weeks."
Kraig Kinser Racing would like to thank Casey's General Stores, Mesilla Valley Transportation, King Racing Products, Maxim, Aerodine Composites, Sander Engineering, Integra Shocks, All Star Performance, FK Rod Ends, Brown & Miller Racing Solutions, Bell, KSE Racing Products, ButlerBuilt, Schoenfeld Headers, Donovan Engineering, Fel-Pro, Brodix, Wilwood, Dyer's, Barnes Systems, Ringer Gloves, Jakes Custom Golf Carts, and Ben Cook Racing Limited for their continued support.
Kraig Kinser By the Numbers: Castrol Raceway
0.375- Miles around Castrol Raceway
1- Win this season with the World of Outlaws STP Sprint Car Series
2- Career top-10 finishes at the three-eighths-mile
4- Nights of racing this season for the World of Outlaws in Canada
6- Finishing position in 2011 at Castrol Raceway to mark a career-best
8- Average finish in two starts in Canada this season
10- Career main event starts at Castrol Raceway
14- Average finish in 10 career main event starts at Castrol Raceway
24- Top-10 finishes this season through Aug. 18
731- Miles from Nodak Speedway in Minot, N.D., where the World of Outlaws raced on Aug. 18 to Castrol Raceway in Edmonton, Alberta, Canada
2008- Year of first start at Castrol Raceway
6625- Points earned this season through Aug. 18
Keep up with all the action
For the latest news on Kraig Kinser, visit http://www.kraigkinser.com, and follow Kraig on Twitter at http://twitter.com/kraigkinser11k and receive live updates from the track each and every race night.
Tune in
Listen live to each and every World of Outlaws event on DIRTVision.com with "The Voice of the Outlaws" Johnny Gibson on the call. Visit www.DIRTVision.com for live audio of each and every World of Outlaws Sprint Car Series event.