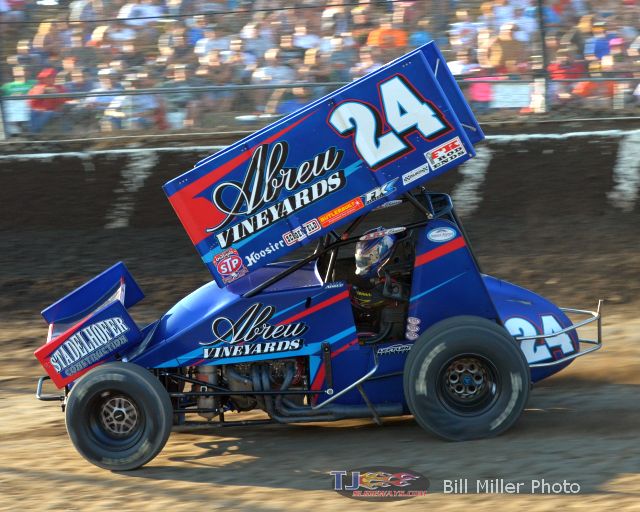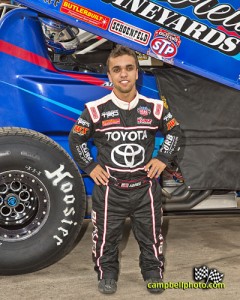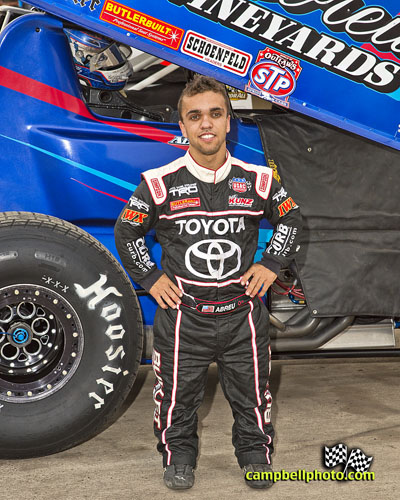 From Peterson Media
Spending nearly the last three months traveling and racing in the Midwest, Rico Abreu returned home to his native California last week, and was in action over the weekend as he scored a second place finish on Friday night in Chico, CA before wining the monumental Johnny Key Classic in Watsonville, CA on Saturday night.
"We worked so hard all summer at getting better on different kinds of tracks throughout the Midwest, and it is awesome to come back home, and have pretty much the best weekend possible," Abreu said in regards to his first and second place finishes.
Saturday night 34 cars checked into the Ocean Speedway hoping to earn one of 18 spots open for the 50-lap feature event, and the Rutherford, CA driver flexed his muscle early as he set the standard in time trials.
With no heat races being utilized, the field was set into three 'B' Mains, with only the top 6 finishers transferring into the feature.
Lining up in the second row of his B, Abreu was able to slip into the third spot, as he safely put his Abreu Vineyards/ButlerBuilt/FK Rod Ends machine in the feature event, where he lined up seventh, right behind the six Dash cars.
When the 50-lap, $10K to win race got underway, Abreu got off to a slow start as he ran just inside the top 10.
The race track was in awesome shape, and as laps clicked away, he began working his way forward, as he threw multiple slide jobs to find himself just outside the top-five when the red flew on lap 24 for Brad Furr, and turned into the halfway point open red.
With Crew Chief, Paul Silva making some changes to Abreu's mount, the youngster came alive when the race resumed.
Abreu was on a mission, as he quickly slid past Bud Kaeding and Kyle to take over the fifth spot, before making work of  Tim Kaeding by lap 31.
A yellow on lap 34 reset the field, and Abreu was able to slid past DJ Netto to take over the second spot, as he set his sights on Tommy Tarlton who was very good on this night.
In open track, Tarlton was able to pull away to a comfortable lead, but in traffic, Abreu was able to close in on him, but was able to get an opening to get a run for the lead.
With the white flag in the air, Abreu continued to chase after Tarlton, though he had just a couple lapped cars in front of him.
Getting into turn three, Tarlton got up hard into the thick cushion, and Abreu was able to take advantage and grab the lead off of turn four, and cruised on to pick up the huge pay day, and hardware that came with it; earning his second last-lap win of the season.
"My guys gave me a really good car after the break, and we did everything we could to get to Tarlton, but he was really good," he said. "He had a little issue on the last lap, and we were fortunate to be able to take advantage and pick up the win."
Abreu was also in action on Friday night at the Silver Dollar Speedway where he again set quick time in time-trials in his final Gold Cup tune up.
Lining up sixth in his heat, Abreu was able to work his way up to he fourth spot, where he finished, putting him in the feature event.
Lining up sixth in the A, Abreu had a very strong car, as he and Andy Forsberg battled lap after lap.
With Forsberg starting in front of him, he beat Abreu to the top spot, and Abreu worked on him and early leader, Shane Golobic as the laps clicked off.
With Golobic having some issues in lapped traffic, Abreu was able to take over the second spot, but Forsberg had built up a sizeable lead, and he settled for the second spot.
"Overall it was a great weekend for our team," he said. "The guys worked very hard, and with the World of Outlaws coming back out here, I'm excited to see how we can measure up."
Rico and his team would like to thank Abreu Vineyards, ButlerBuilt, FK Rod Ends, Schoenfeld, Keith Kunz Motorsports, Brown and Miller Racing Solutions, and Willwood for their support.
2013 BY THE NUMBERS: Starts-75, Wins-6, Top 5's-31, Top 10's-43
ON TAP: Abreu will return to his home track, the Calistoga Speedway for two nights this weekend to compete aboard a Keith Kunz midget in the Louie Vermeil Classic.
STAY CONNECTED: Stay updated with Rico by visiting his website at www.ricoabreuracing.com, 'liking' him on facebook at www.facebook.com/ricoabreuracing or following him on twitter @Rico_Abreu.
VIDEO: Be sure to check out http://www.youtube.com/ricoabreuracing for video of Rico, as content is constantly being uploaded!