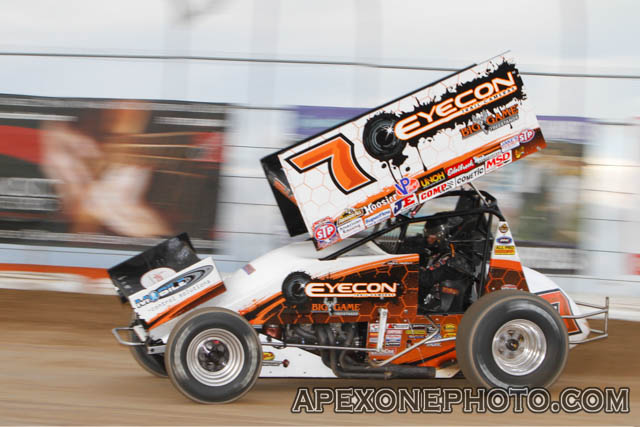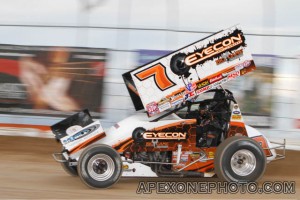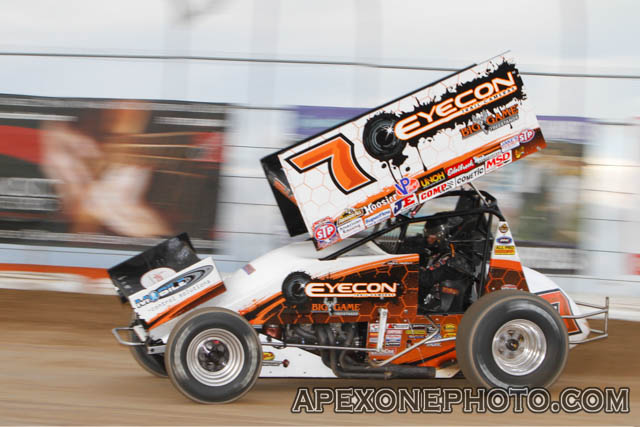 From Craig Dollansky Racing
Since making the schedule in 2007, Castrol Raceway has been a staple on the World of Outlaws STP Sprint Car Series tour.  After the long haul to Edmonton, Alberta for their second and final visit to Canada this season, the Eyecon Trail Cameras #7 team returned to the 3/8-mile where they were victorious in the Oil City Cup opener last year.
Capturing 4 top-fives and 9 top-tens in his previous twelve appearances at Castrol Raceway, Dollansky began the night by posting the 11th fastest lap in qualifying at 13.511 seconds.  Earning the pole position for heat two, the Aggressive Hydraulics Maxim lost second in the early going of the 10-lap race and battled Joey Saldana as the laps wound down but finished 3rd.With attention shifted to the main event, the Eyecon Trail Cameras #7 team of DJ Lindsey, Sean Michael, and Pete Stephens made final preparations before Dollansky started outside row six of the 30-lap A-Main.  Following a caution in the early going, the MobileStar backed entry would bring out the next yellow on lap 15 due to a flat left rear tire.  Able to restart at the tail of the field, 'The Crowd Pleaser' rallied back to just outside the top-ten before a huge multi-car pileup on lap 23 brought out the red flag.  Able to avoid the disaster with just seven circuits remaining, the Elk River, Minnesota native restarted ninth and powered up to 7th before the checkered flag waved.
The final stop of 2013 action in Canada awaits the #7 team tonight with the Oil City Cup finale.